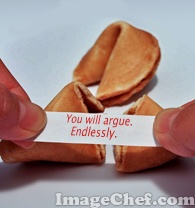 As most of you know (especially readers of the
Flywire
), I've been using the new Space Wolves codex for the last month or so. Whenever you dive into a new codex, you always end up with questions about how the new rules work. As a proud early-adopter, I decided to collect the questions that came up during the games and make an attempt to answer them.
These questions aren't easily answered, so most (if not all) will require an official FAQ. But for to limit confusion on our local gaming group, I'm going to take a stab at answering them. I'd love to get your feedback in the comments – in the form of thoughtful discussion.
Note: These are not "official" answers. I'm mixing a witch hunter's brew of interpretation, desginer comments, and special mind-reading powers to come up with these answers. Your answers are just as good as mine (perhaps better). But until we get a better answer from GW, this is how I'm interpreting the rules.
Q1: Can a character with Saga of the Hunter join a Wolf Scouts pack and deploy using Behind Enemy Lines?
A1: Yes. As long as the IC has the ability to outflank, he can deploy with the Wolf Scouts pack using Behind Enemy Lines.
Q2: Can an Independent Character WITHOUT Saga of the Hunter (or Infiltrate or Scout) join a Wolf Scouts pack and deploy using Behind Enemy Lines?
A2: No. If a unit contains an Independent Character that does not have the ability to outflank, then the unit must be deployed normally and cannot use outflank or Behind Enemy Lines.
Q3: Can a Wolf Priest nominate a unit type for his Oath of War that is normally not subject to Preferred Enemy (i.e., a vehicle without a Weapon Skill)?
A3: No, he must select from the following unit types: Infantry, Beasts/Cavalry, Monstrous Creatures, Jump Infantry, Bikes/Jetbikes, or Vehicles with a Weapon Skill (e.g., Walkers).
Q4: If I have multiple Runic Weapons can I make multiple checks to nullify a psychic power?
A4: No, you may only make a single Runis Weapon attempt to nullify a psychic power.
Note: We went back and forth on this one. The RAW doesn't prevent you from using multiple Runic Weapons to negate a power, but the designer is clearly trying to create a Psychic Hood variant. In our test games, we also determined that it was a lot less fun to allow multiple negation attempts (completely shutting down psykers). So our answer to this question takes into account both intention, balance and fun.
Q5: Can Njal Stormcaller's Staff of the Stormcaller and a Rune Priest's Runic Weapon both be used to attempt to negate a psychic power? Can I choose to use a Psychic Hood (from an allied Inquisitor or Grey Knight) and a Runic Weapon (or Staff of the Stormcaller) to get multiple attempts to negate a psychic power.
A5: No and no. You can only attempt to negate a psychic power once.
Q6: If I take Njal Stormcaller (who has all Space Wolves psychic powers), can I take a second Rune Priest?
A6: Yes. This is supported by Phil Kelly's (the author of the codex) Space Wolves army list in White Dwarf #357, which included Njal and a Rune Priest.
Q7: If I have more than one Rune Priest, can I have duplicate psychic powers as long as one psychic power is different?
A7: Yes, as long as the Rune Priests do not have the identical list of selected psychic powers.
Q8: If Njal Stormcaller dies (e.g., losing his last wound to Peril of the Warp) before his Lord of Tempests power goes off, does the effect happen?
A8: No, as soon as Njal is removed the Lord of Tempests effect ends instantly. — corrected Stormcaller typo (thanks BushidoRedPanda)
Q9: Does a vehicle count as a "friendly squad" for Storm Caller? Does a single model unit (e.g., a Lone Wolf or Independent Character) count as a "friendly squad"?
A9: Yes and yes. A "squad" doesn't have a distinct definition in the rules. This power works on any friendly unit.
Q10: Does a unit that deployed via Deep Strike in a previous turn (but is not a skimmer, jetbike or jump infantry) continue to treat terrain covered by Tempest's Wrath as difficult and dangerous in subsequent turns?
A10: No. Tempest's Wrath only hinders units deployed via Deep Strike on the turn (or turns) they arrive from Deep Strike.
Q11: Does a unit that has taken a casualty from Fury of the Wolf Spirits have to take an immediate Morale check? Or is this Morale check taken at the end of the phase (i.e., a test caused by casualties or one caused by tank shock)?
A11: The Morale check caused by Fury of the Wolf Spirits is taken at the end of the phase in the same manner as one caused by normal shooting casualties. If the target unit also took 25% or more casualties, it only takes a single Morale check. — clarified (thanks kenoh)
Q12: Does Murderous Hurricane require the power to hit or wound its target to "affect" them? A12: No, a targeted unit is affected by Murderous Hurricane even if the power fails to hit or wound.
Q13: Is the unit affected by Murderous Hurricane for the entirety of their turn or just the following movement phase?
A13: The unit treats terrain as difficult and dangerous for the entirety of the next player turn.
Q14: Does Jaws of the World Wolf require line of sight? Does it ignore terrain that blocks line of sight (i.e., impassible terrain)?
A14: Yes. As a psychic shooting power, Jaws of the World Wolf requires line of sight. The Rune Priest must have line of sight to every model affected by the power. But terrain is completely ignored for purposes of determining line of sight for the power (even impassible terrain).
Note: This also caused a lot of discussion on our end. The power is a psychic shooting attack, but doesn't seem to follow any of the normal rules for shooting (besides restricting the Rune Priest from using a second shooting attack). In the end, we settled on requiring line of sight for Jaws of the World Wolf minimized potential abuse.

Q15: Was the reduction in transport capacity of the Drop Pod and Land Raider intentional?
A15: Yes.
Q16: Can Fenrisian Wolves bought as wargear (i.e., using the Loyal Companions rule) ride in a Drop Pod with their owner?
A16: Yes, the Loyal Companion rule allows Fenrisian Wolves bought as wargear to ride in any transport that the character can ride in (as long as there is room for both the character and the Fenrisian Wolves). Remember that Fenrisian Wolves count as two models.
Q17: Does Bjorn's Ancient Tactician rule require for both dice to be re-rolled to determine who picks their deployment zone first? Or does the Space Wolves player re-roll his die? Or can the Space Wolves player choose which die is re-rolled?
A17: The rule says "dice", so both dice must be re-rolled.
Q18: Arjac Rockfist is an upgrade character (i.e., does not have the Independent Character rule), so does he confer the Stubborn ability to his unit?
A18: Yes, the squad benefits from Arjac's Stubborn rule.
Q19: Since Lukas the Trickster is an upgrade character (i.e., does not have the Independent Character rule) enemy attacks cannot be directly allocated against him. How does Pelt of the Doppelgangrel work?
A19: The rule is very explicit that Lukas must be directly targeted. So the Pelt of the Dopplegangrel isn't going to come into play until Lukas can be targeted directly (e.g., the only model left in the squad or he's a single model attached to one or more Independent Characters).
Q20: If Lukas the Trickster is in base contact with an embarked transport when he would be removed from play (and wins the roll-off) what happens to the embarked unit when the transport is removed from play?
A20: There's no way to disembark from a model that's been removed from play, so the occupants share the fate of the transport and are removed from play.
Q21: Does Ragnar Blackmane's Insane Bravado work if his unit Counter-attacks?
A21: No, Insane Bravo only works when Ragnar assaults.
Note: This was another issue that went 'round-and-'round. The final decision was that restricting Insane Bravado to the actual assault was more consistent with rules like Furious Charge and Berserk Charge.
Q22: The Axe Morkai can be used as both a one-handed weapon and a two-handed weapon in the same Assault phase. Does that mean that he always gets the extra Frost Blade attack — even when he only uses The Axe Morkai as a Power Fist?
A22: No, although the Axe of Morkai can be used as a one-handed weapon, Logan Grimnar does not gain the additional attack because he is not armed with a close combat or pistol (Storm Bolter). — correction (thanks BushidoRedPanda)
Q23: Does a model with a Wolftooth Necklace always hit vehicle without a WS on a 3+?
A23: No, the bearer must against a model with a WS benefit from the Wolftooth Necklace.
Q24: Can Fenrisian Wolves in an army led by Canis Wolfborn fill both Fast Attack and Troops slots?
A24: Yes. An army led by Canis Wolfborn can take Fenrisian Wolves as either Fast Attack or Troops choices.
Q25: Can Fenrisian Wolves in an army led by Canis Wolfborn claim objectives?
A25: No, Fenrisian Wolves can never claim objectives.
Note: Canis' The Wolf King rule and the Fenrisian Wolves' Supernumeracy rule cause a bit of a conflict. If you interpret the "counts as Troops" phrase to mean that the units must still be purchased as Fast Attack choices then the Supernumeracy rules invalidates The Wolf King rule. In the end, we felt that allowing them to be taken as both Fast Attack and Troops choices (but restricting them from being scoring units) was most consistent with the intention of the rules.
Q26: Can Wolf Guard units in an army led by Logan Grimnar fill both Elite and Troops slots?
A26: Yes. An army led by Logan Grimnar can take Wolf Guard units as either Elite or Troops choices.
That's the list of major rules issues we've encountered while playtesting the Space Wolves codex (and solutions that work for us). I'm going to delve a bit more into some of them in future articles, including the much dreaded Jaws of the World Wolf.

It's worth repeating that these are NOT official answers. Read them, talk to other players and decide what works for your gaming group.
~As you can glean from the article, a few of the solutions we came up with were debated quite vigorously. I'm looking foward to hearing your opinions and views on our answers. Comments are welcome and appreciated!