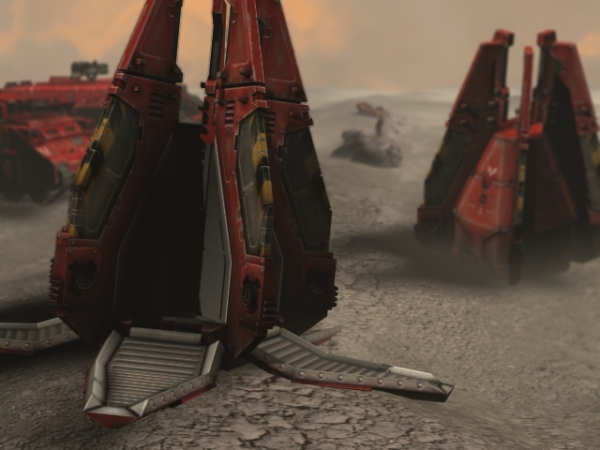 Darkwynn here. Lets talk about drop pods!
Drop pods in 4th edition were one of the top lists back in the day but currently in 5th edition they have moved quite a few seats back amongst the ranks of the top dogs. One of the most obvious choices of playing a drop pod army is if you are going first you will "in theory" be able to perform a surgical strike at key targets crippling your opponent's army.
Unfortunately, the lower cost of a Rhino and their always having mobility makes the venerable Imperial APC a better overall choice than the sexier drop pod in some situations. Drop pods can still be effective in 5th edition IF combined with certain units, and a balanced ground support force.
Problems with Drop Pods
Mobility and deployment can be one of the biggest problem with drop pods right now. When you are sitting off the table and only one or two units deployed and your opponent has his whole army on the board you might have some serious challenges. It will always depend on the mission you are playing but one of the biggest things is once you land on the table, you are committed. You're not getting back in your drop pod and going somewhere else. You are not going to run after the foe to assault him. You are there and you are forced to foot slog if you really need to get to a distant objective with that unit.
This brings me to my next point that most smart players will do against drop pod armies. They will reserve their army off the board and force you to come down with a portion of your army not able to destroy anything. Now you are in a situation where your units are out of position and will be hard pressed to do anything useful. So how do you handle or try to hedge some of these problems that you may encounter?
Castle and Hold
What I do to handle most of these situations depends on the missions. If you are playing an objective based game I decide immidiately which objectives I am able to secure, defend and keep my opponent's army away from. I usually do this picking the farthest objectives in some cases or the densest area that I can protect. If I can keep more than one or two objectives I usually win the game. What you are doing is creating a Castle on those objectives and drop poding around that area. You can't divide your army up because you will just lose units piecemeal and you will not be able to effectively support them. You have to create a castle and commit to it.
If you are playing Killpoints your best bet is to deploy your long range hitting units farther away and wait till your other units come down and create a pincher move with your army. Ideally you want to set up combos like the following: You have a half castle deployed on the table and your opponent is ready to hit your lines the next turn with say a Land Raider Crusader. If you are able to deep strike such units as Dreadnoughts and they are able to destroy the Land Raider, you probably already have the counter assault units in the first drop pod wave ready and you can negate the next turn assault and throw your opponents game off keel.
Drop Pod Tactics that Work
The biggest thing when playing a drop pod army is being able to organize what you are going to put in drop pods and making sure on the amount of drop pods you have in your army for deep striking. Before going further I have found that a mix of drop pods with mechanized support as a hybrid list does a lot better than all drop pod army. That being said, if you are going to do a drop pod army I would suggest anywhere from 6-8 pods at a minimum to get the most effective deployment of your army and using other units that will give them synergies.
Units that are Effective in Drop pods:
-Tactical Marine Squad with Combi Melta, Melta gun, Multi-Melta or Missile launcher: Perfect all around unit.
-Ironclad Dreadnoughts or Regular Dreadnoughts with some type of Multa-melta load out + heavy flamer: Perfect for hitting tanks or flaming squads
– Small Stern guard squad with 3 or 4 Combi Melta: Also does very well to take out key tank or hit certain small squads
-Assault Marine Squad: Drop Poding them into certain areas might be beneficial to either hold objectives or to tar pit certain units.
Dirty Tricks
– One of my favorite units is Scout Bikers. A lot of people write them off because of 4+ save and BS:3 and just really go into how bad the unit is but they are one of the best delivery systems for Drop pods. Put a locator beacon in the unit. They will Infiltrate on the board and they will have a scout move which you can turbo boost across the board for a 3+ save. When your first turn comes up you are able to deploy drop pods 6 inches away from them without a chance of scatter and you have your unit's right in your opponents face. The key goal of the biker move is to allow the pod's 6 inch radius from the beacon plus 2 inches from disembarking from the pod should get your melta weapons easily within 6 inches of target vehicles for double penetration rolls.
– Drop pods with Locator Beacons being deployed in second or third round. Use these to aid a Librarian with Gate and certain spells such as Avenger or Vortex and such. You would be able to teleport to the Drop pod in safety and get into position to either flame or shoot that key target unit.
Drop Pod Synergies
Units that add great synergies to Drop pod armies that I love are things such as Vulkan which makes sure your melta and flamer weapons are going to be more effective on your surgical strikes which gives you the added benefit of having to take less special weapons and adding that cost into other areas of your army. Tigurius is another great unit to take with a drop pod army as it allows you to have better control of when your army comes in. If your opponent is reserving his whole army off the board and you have deployed your tactical squads at a good distance you can just wait till they come on. By using Tigurius you can at least control when you need your key units to deep strike.
~These are just some quick pod tips that popped out and from my personal experience. Generals the floor is yours. Tell me how well Drop Pod armies have worked for you in 5th edition! As usual, tips and tricks are welcome.