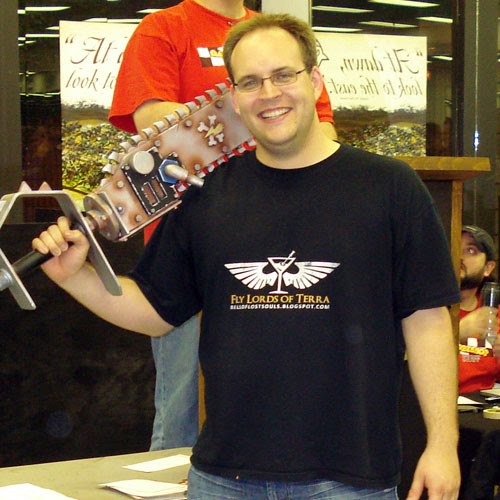 Ard Boys Battle Report Game 3
Dj and Orks vs "The Leafblower"
Scenario 3: Diz Iz My House!

Mission: Capture and Control
Deployment: Spearhead
Dj's list

Ghazghkull
Elites
10-Gray Nobz w/ truck powerklaws cybork with pain boy and banner
10- Green Nobz w/ truck powerklaws cybork with pain boy and banner
10- Black Nobz w/ truck powerklaws cybork with pain boy and banner
Troops
10- Red Nobz w/ truck powerklaws cybork with pain boy and banner
12-Blue Ork Boyz 12 boyz with nob /w pk
12-Purple Ork Boyz 12 boyz with nob /w pk
12-Black shooty Ork Boyz 12 boyz with nob /w pk rokkit
12-Gray shooty Ork Boyz 12 boyz with nob /w pk rokkit
12-Green Shooty Ork Boyz 12 boyz with nob /w pk rokkit
Deployment: I set up in the back as I won the roll to go first. I set up a castle of Chimeras and moved most of my heavy artillery on the back center line. I deployed my veterans and flamers units close to the middle and left side of the center in case he is going to reserve and I still have the ability to pull my troops out of there and shift the game. Dj deployed his boyz in the trucks in the center of the board as close as he could and sets them up as they will give him cover to each of his important nobz trucks. Dj figures that I am already setup for him to come on my left side with reserves and goes for the deployment in the middle and will just have to grit it out like a true Ork does.
My Turn 1: I start moving Chimeras and break them out from my point and try to change the board to a pitched battle instead of a spear head as I want to take the assault that will be coming away from my Objective. I moved flat out with one of my valkyries and veterans out to the far right to start harassing the units that would be left behind and also to be able to grab or contest the objective at any point. I moved my other Valkyrie to the far left back table to put pressure on both sides. I unload most of my units blowing up or immobilizing four trucks. I only killed two Nobz from the Manticore strike as I saved that for last hoping to destroy Nobz that would be nice and clumped up while bypassing cover saves from any Ordnance Barrages.
Dj's Turn 1: Dj started moving his trucks out of the backfield and tried to get them out to the front line. He kicks two boys squads out of the trucks and gets them to move forward and one sits on the objective. He gets his two Nobz squads that got blown out of their trucks into the empty boyz trucks. Then he moved three trucks with Nobz along my left side on the table's back edge to take advantage of cover. He also moved his 4th unit of Nobz on foot as they didn't have a truck nearby to pick them up. Another unit of trucks moves up the right side of mine and another unit of boys on foot headed towards my front line. He takes a shot with a rocket and misses.
My Turn 2: After seeing Dj committed moving to the left I reposition my tanks back and shuffled to the right more. I also got ready for the assault in case he got into my line. I stuck all my Heavy Flamer Chimeras in the front and SWS squads with Demo charges up front. I made sure at least most of my tanks would move 6 inches or 12 inches so it would make it tougher for him to assault. I had to focus weapons on this Nobz and get rid of them. The two wound multi wound allocation with Painboy squads are just so resilient. Having to face 40 of them I had to destroy them all and get rid of them as quickly as possible. I blew away all three of his trucks when I started to shoot and then dropped the Manticore on the area with 40 nobz. I killed a good portion but still didn't get to pin anything or make them flee. The Psyker Battle Squad couldn't pick a target out as they were out of LOS from the hill in front of them. I blew the rest of the trucks up on the right side and moved my valykire closer at least 15-18 inches away from the last objective.
I shot and forced a LD check on Ghaz squad to make sure he runs away and I want to use the psyker battle squad on him. I look at Dj and he knows what is coming towards him and Ghaz would run off the table it would be such a sweet victory. So Dj started looking around for a good 2 minutes and I am kind of waiting thinking to myself going what is going on here….. So he puts his head down and lets out a sigh. I am thinking great I got him on the ropes maybe? Nope, He turns up and lets this huge WAAAAGGGHHHHH out where the whole room hears him and I am literally stunned for a good 5 seconds thinking what the hell just happened…
His Turn 2: … So after I clean up DJ starts moving and the Orks come up over the hill in a great charge. They of course Fleet and get in position to assault one of my Chimeras and he was going to fall short of the other two Chimeras. He assaults the regular troop squad with autocannons and blows them out of the Chimera. He moved more of his Nobz in position to hit me for next turn and he still has about 35+ Nobz and is just going to take it to the face and break through or at least try. If he does I will have to scatter and it's going to be hard to get away from the mobs.
My Turn 3: I moved most of my guys back 6 inches to hopefully buy time. I put the Medusa in position to fire on Ghaz' squad which is bunched up from the assault on one of the Chimeras. I move my commander squads to get in position to take out Ghaz and force him down. I also backup my Chimera with my Psyker squad back but I roll a 1 and immobilize it and it's stuck out in the open. I moved the Inquisitor back to take the second charge to protect the Hydras and my objective. I get my Veterans out and get ready to melta gun one squad down and take the other special weapon squad out to demo charge the red Nobz squad. I have one black Nobz squad dead and the other Green nobz squad running off the table. The special weapons squad is pushing them off making it hard for them to regroup. Next turn I will have his one Nob squad in assault with my Psyker Battle Squad which will destroy them and another one that will be in range in two turns to assault my line.
His Turn 3: DJ moves Ghaz in range to assault my Medusa and smashes them to bits. His other Nob Squad gets in position after killing my Psyker Battle Squad to get close enough to the Hydras and Inquisitor which will assault next turn. His other Nobz squad he runs on the left side closer to support them the next turn if they are not there. His other two back supporting Ork squads try and assault my Valkyire that is close to his objective but can't hurt it because he can't roll a 6 to hit it with the power klaw.
My Turn 4: This is the last moment of glory as this will be the make-or-break turn. I get my Veterans out of the left Valykire and get ready to fire Melta and demo charge into the Nobz squad that is going to support the Nob squad on the line. The special weapons squad is forcing the other Nobz squad not to regroup but is also in range to support the veterans with another demo charge on to that 10 man nob squad. As for the other Nobz who only have 5 guys left I focus mass fire power and try to kill them from sheer numbers of dice. Veterans droped demo charges along with the Special weapons squad killing all of the Nobz with support of melta guns. The other Nobz squad gets dwindled down to three models and I say screw it, time for the Inquisitor to get in there and charge. Inquisitor goes first along with another ten man troop squad assaulting the last standing Nobz. The Inquisitor Force-weapons the Painboy and beats the Nobz in hand to hand combat before they get to swing back.
His Turn 4: Dj after looking at what options are left, surrenders and we congrat each other on a fun game. He said I was ready for the assault and didn't expect me to handle the the massed Nobz so well.
~It was a great Game overall with DJ and I wish we had more people this into the game. I mean how many folks still yell WAAAAGGG at the tabletop anymore? But when they do…. Beware! The floor is your generals.