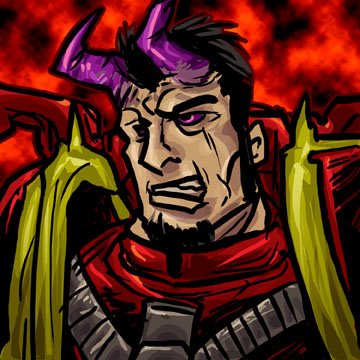 I have been playing a lot of 40k lately. It might be the smell of a new codex or a desire to find the new "it" thing in 40k. In any case, I've been throwing a ton of dice lately. In my latest gaming I have noticed a common problem with some players. The trend is being over-protective with their units.
I know we all want our squads to do as much as they can and still survive the battle but we have to start really questioning what each unit job is actually good for. I have seen a lot of players play like an over protective mother. I have won a few games just by controlling the opponent's real threat by making them play timidly. In all reality if the unit isn't scoring, its job is to be thrown at the opponent in some hopes that it takes a good chunk of flesh out of whatever they hit.
A good example of this was in a local tournament when I was playing against a new marine player. I was playing Orks and he has a terminator/LRR build. Now as you know Orks have a terrible time dealing with a LR, especially a LRR that is designed to get in my business. This isn't even including the goodies inside of it and how I would try to deal with them. Now the player was new and didn't quick understand how hard it would be for me to deal with the threat. Instead of throwing it in my face and make me react to it, he played conservatively and let me control the situation. This allowed me to piecemeal his threats and get a Warboss up there and hit the LR a few times to take it out. I got very luck with this situation and was able to do well enough in the tournament to place third.
What should he have done differently? Well obviously the amount of terminators he had was going to cause me problems. He should have run the LRR straight forward, moving 12 inches until he could drop off this terminators somewhere annoying as well as getting those LRR super flamers right in my face to take out tons and tons of green skins. This timid fighting style can turn the game from a massacre into a loss due to not trusting in your guys to get their job done.
Right now in 5th edition, the only units with more than 2 jobs are the troop choices. Every unit's job is to destroy the enemy in someway. Whether that is getting your guys into a better position to hurt your opponent or to actually do the damage, everything's job is destruction. Troops are the only units that have a second job, holding the objective so you can "win". So what does this mean for all the other army choices? Well if they are not hurting the opponent then you are wasting their potential. Every turn they are not causing someone to roll some kind of armor save is a turn you have just given the opponent to ignore part of your army.
This game, just like many others is all about time management and turn management. And the more time you have pouring firepower into your opponent, the more likely you are going to win the game. So throw your guys into the fray. If they are not troops, then they don't matter in the end when the smoke is clear and the only thing left is the random bits of model on a base surround by the army choice you had to make. Onto this week's latest army list:
Space Goat – Army build 2.1 –
HQ: Rune Priest – Powers JoW, Murderous Hurricane
HQ: Rune Priest – Powers JoW, Living Lightning
HQ: Wolf Lord, Thunderwolf, Frost Axe, Saga of the Wulfkin, Runic Armor, Belt of Russ
HQ: Wolf Lord, Thunderwolf, Thunder Hammer, Saga of the Bear, Storm Shield, 2 Fenris Wolves
Elites: Lonewolf, Terminator Armor, Chainfist, Stormshield, 2 Fenris Wolves
Elites: Lonewolf, Terminator Armor, Chainfist, Stormshield, 2 Fenris Wolves
Troops: Grey Hunters (10), Meltagun (2), MoW
Troops: Grey Hunters (10), Meltagun (2), MoW
FA: Thunderwolf Cav (5), Powerfist
FA: Fenris Wolves (10)
Heavy: LRR, MM
Heavy: LRC, MM
This is the next build I am trying out to see if I like it better. I did a test game versus JWolf with the early build I posted, and I did some goofy stuff with Jaws of the Wolf that was a bit nuts. Beyond that I found that it took 900 points worth of his army to kill the 230 points of Thunderwolves. I would say that is a pretty good representation of what their power level is and how they can be used to not only hurt your opponent, but stall them as well. Beyond that I also think Rune Priests are pretty dang sweet.
Next week Thursday I plan on testing some Njal games for the owner of Battleforge Games. He wants to see if Njal is a bit too much for normal game play and to see if there is a need to ban him from regular tournaments. I think he might be a bit too much, but will see as I try to break him in with tough Space Wolves armies. I am also leaning towards testing out Logan in some builds as he might be what makes the Space Wolves tick. His ability allows you to create a cool and effective army while Njal is just good on his own. Either way, look for more Space Goat conversions. Next testing will include Space Wolf Scouts as well as trying out Wolf Guard in some kind of fashion. Will see how it all works out.
As usual shoot me an email at [email protected] if you have any questions or want me to review an army list. Do you have an over-protective streak when you play, or do you burn your units mercilessly to achieve victory? Your turn.