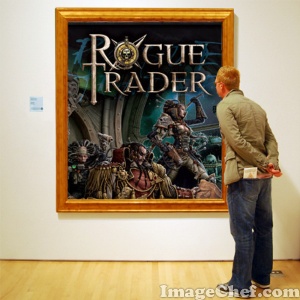 Every once in a while, something cool arrives in the mail. I don't mean my e-mail inbox; I mean in the real, honest-to-goodness mailbox. I remember getting an unexpected postcard from a friend in Canada (a cute polar bear wearing a "tuque") and once in a while I get to flip through the unsolicited Victoria's Secret catalog before it's snatched away (complete with ensuing glare), but those happy surprises can't compare to my most recent arrival. This week's package set my heart a-twitter because inside was the gorgeous new Rogue Trader RPG from Fantasy Flight Games!
Okay, I can admit it. I've been a Rogue Trader fan since 1988 when I finally managed to track down (that's pre-Amazon, pre-internet "track down") the very cool hardback book written by Rick Priestly. That classic book has been well-loved and has a place of honor on my bookshelves. And even though I've played Warhammer 40k for a long time, I can honestly say I've been waiting twenty years to play Rogue Trader.
For two decades I've been building a mental image of what a Rogue Trader is, so Fantasy Flight had their work cut out for them. When I opened the book, I had this weird dejà vu moment back to sitting in a dark theater waiting for Peter Jackson's Fellowship of the Rings to start. I have to admit that when I closed the Rogue Trader book, I had the same sense of "he read my mind" that I had when I left the theater. The guys at Fantasy Flight Games really hit the nail on the head.
THE BOOK
The weight of the book was the first thing I noticed. It's a hefty book. It's a nicely-bound 400-page, full-color book, filled tons of gorgeous images. They did an awesome job putting this puppy together and you'd be proud to have it on your coffee table (assuming your friends and family know you are a big gaming geek, that is). The second thing I noticed was the FOUR PAGE INDEX in the back. Nice job!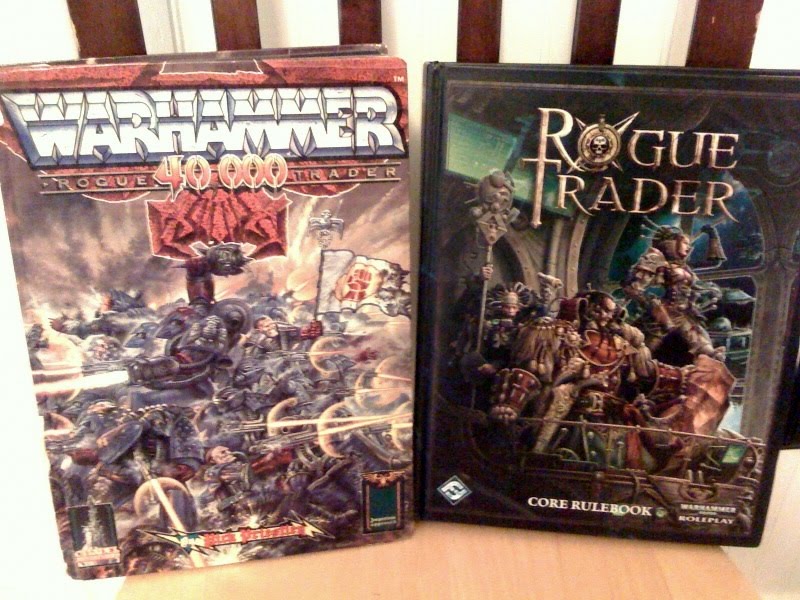 Here's a shot of the new Rogue Trader next to the old one. The new cover art is gorgeous!
CHARACTER CREATION
I had a ton of fun with Rogue Trader's character creation! Using an innovative tool, called the Origin Path, you trace your character's path from origin word to career path. The Origin path really made the character creation step interactive and fun for everyone. It was quick, easy and intuitive and led to lots of laughing and fun "background incidents" floating around the table. When the characters' origin paths began to intersect, the players worked hard to figure out how their characters knew each other. I've been playing role-playing games for decades and I've NEVER seen anything like it. Best. Character. Creation. Ever.
Note to Game Designers: Every role-playing system should steal the Origin Path. Full stop.
The end result of the Origin Path is the player's Career Path (read: Class). But each of the characters had the feel of a very complete, unique and interesting character. Just add water (equipment either/or's then spend your experience) and, presto, you're ready to build your ship.
BUILDING YOUR STARSHIP
We were expecting spaceship rules. It's Rogue Trader, so of course there's going to be a ship. But did you expect it to be 4.5km long and house almost 100,000 people? Well, I didn't and it was jaw-dropping.
Starship building is almost as much fun as character creation. By the time the players are done with this organic process, they end up with a spaceship that's every bit as alive as their characters. It really felt we needed a seat at the table for the ship.
Complaint #1: Okay, so I got 209 pages into the book before I had a real complaint. While the designers spend around 40 pages of the book on starships, it's not just enough. The starship is a living, breathing character in your game. It's home to the players and launching pad for every endeavor. There really needs to be more ship building options — and a better description of "ship life". Also, there are only a handful of NPC vessels to use in the game — and only a single Xenos ship (the Onslaught Ork Raider). It's enough to get you started, but I'm already running into problems building NPC ships. I sincerely hope there's a ton of focus on this in the upcoming
Rogue Trader Game Master's Kit
.
THE RULES
I have to be honest and admit I never got around to playing Dark Heresy. Although I bought (and enjoyed) the books, I just never got into the concept of being lackey's for an off-screen Inquisitor. The game was a great read, but it just wasn't big enough to fit my idea of high-adventure. So, although I had read the Dark Heresy rules, I wasn't too familiar with them when I sat down to run my first Rogue Trader game. I will say that glad I bought them because I'm tearing them apart for Rogue Trader game hooks and NPCs!
All-in-all, the system is a good one. I struggled a bit with "low" being good sometimes and "high" being good other times. But the rules are well organized (and the index is awesome), so we managed to blaze through character creation, ship building, a tactical combat AND a ship combat in a single evening. Pretty amazing for five players and a single rulebook. (By the way, our second session had three rulebooks and things moved a lot faster.)
House Rule: Almost immediately, we had a problem with auto-fire. With world-spanning resources, powerful weapons are readily available to a Rogue Trader and his crew. Players quickly determined that auto-fire was _the_ optimal way to deal with a baddie. Left unchecked, auto-fire can quickly take over the tactical combat section of the game – making melee combat, psychic combat and other cool parts of the game pointless.
So I'm using a little game theory to fix the problem in my campaign. Every time a player uses an auto-fire weapon, I tally the number of missed shots. At the end of the endeavor, I total the number of auto-fire misses and make a check against that number. For each success, I reduce the Profit Factor Reward by one. This represents damage done to their ships and cargo, reimbursements made to planetary governments for damage, etc.
In our last game, even mentioning that you were going to use auto-fire created a clamor (and lots of social pressure to not damage the ship). I've already noticed that auto-fire is becoming an "emergency only" option.
One thing that became very clear very quickly is that the game is deadly. Firefights are quick and bloody. You can instantly go from full health to having your head "burst like an overripe fruit and spray blood, bone and brains in all directions). Go first, use cover and don't skimp on the Fate Points.
Ship combat is equally dangerous. I don't have room to go into details in this review, but the ship combat rules are a TON of fun. We're finding ship combat to be as much fun (if not more fun) than the rest of the game. Players frantically trying to give orders and use their skills to make the ship go where they want (while fighting off murder servitors that have teleported onto the bridge of their ship). That part of the game has been particularly exciting.
PROFIT FACTOR AND ENDEAVORS
Rogue Trader isn't your average role-playing game. You sit at the head of an ancient world-spanning and extremely powerful dynasty, so concepts like "searching the bodies for spare change" don't work in the context of the game. To deal with that dramatic shift in resources, the designers came up with another innovation — Profit Factor.
Basically, if you want something (e.g., a cargohold full of square watermelons, a fancy new gun, a platoon of highly-trained Imperial Guardsmen or a new Dauntless-class light cruiser, etc.), you make a check against your Profit Factor. If you succeed, then you get it. If you fail, then you don't. On the surface, it sounds a bit unbalance but it works surprisingly well in the game.
To increase your Profit Factor, you take on Endeavors. Each endeavor is something of a business venture – an investment of time, resources and political/military power with the end goal of turning a profit. As a GM, I design the Endeavor and the various Objectives needed to accomplish it. Once they collect enough Achievement Points, the Endeavor is complete and they gain the benefit from it.
ONLINE SUPPORT
Fantasy Flight Games has done a good job of supporting the game on
their website
.
You can find a well-written introductory adventure (with quickstart rules) called
Forsaken Bounty
. It comes with three characters, but they were smart enough to give you some
bonus characters
as a separate download. And there's a sequel to Forsaken Bounty called
Dark Frontier
that is also a free download.
There's also some cool previews of the Rulebook and a forum. I've already spent a decent amount of time reading other player's campaign ideas and adventure hooks. The other players seem very responsive to questions.
CONCLUSION
Rogue Trader is an outstanding product. I'm hooked. I've read the book from cover-to-cover (and have started on my second pass). I've mailed the free adventures to my Kindle and listened to them using the Text-to-Speech function while I drive. I've ran two games so far and my players are posting blog comments, texting me, IMing me and emailing me – almost daily – about the game. I can't think of the last game or product that we've been so excited about.
So if you like Warhammer 40,000 and role-playing games, then Rogue Trader is definitely the game for you.
~ Disclosure: I love games, especially role-playing games. I read game systems like other people read paperbacks. I play them as often as I can, but family and a business make it impossible to try out every game that finds its way into my greedy hands. But I'm playing Rogue Trader! And loving it!