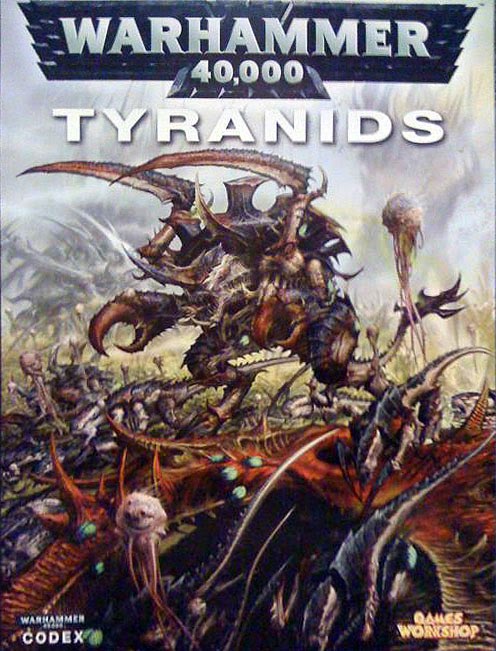 Latest Tyranid scrapings from Warseer's TheDude and StickMonkey:

2nd Trygon Variant: Mawloc
"The Mawloc is a Trygon variant with a distending mouth (like the Red Terror) and lots of funny spines all over it."

Hive Guard
"… the Hive Guard look awesome, surely a model everyone will want to have, but imo is also going to be a new "Zoa" in terms of its tippy-ness. It's a tall bit of metal. Those others who have seen can confirm.For me, i'm thinking weighted bases may be in my future."
Carnifex Stats
To support more Fex' in the army an overall reduction in stats should take place, however, increases elsewhere compensate (not sure if they mean in weapons or in the statline)
Biomorphs and Weapons
Crushing Claws are huge "can openers"…+1A, double s (10Max), ignore as, add d6 pen, d3 "wounds"/"vehicle hits" (too good to be true, IMO). The rumors around CC are running rampant. There is no doubt their effectiveness will be improved in the new codex. Models equipped will get a strength boon and the additional glance or wound on hit, so you can say these will be can-openers. I also heard the rumor that the nid ability that has been mentioned prior with CC is they can latch onto vehicles and prevent movement away from combat at the expense of their bonus attacks.
Talons +1A, "pinning"?
Envenomed claws, upgrade to CC symbiotes, wound on 3+
Rending Claws, autowound on 6 on hit, more expensive
Spinefists, fire and run (is this the rumor "subconcious weapon" we heard before?)
Barbed Strangler, large blast, entangle…unit next move as difficult terrain (Again, I thought this was a rumor elsewhere, too)
Bone sword, pretty much the same
Lashwhip, remove X attacks from attacking unit (allocate as wounds), can target individual, but then only affects single model. no min 1A. no longer base contact constrained. (a lot here and it seems complex, so I highly doubt all (or any) this is true, but I have no way to separate wheat from chaff)
Surprise Assault. (I'm not sure where this fits, if its an ability, a psychic thing, a army rule, a deployment rule, etc. If I were guessing I'd think it's lictor or Scuttlers related.) Unit enters play from reserve anywhere on table. must be 12″ from enemy. Cannot assault the turn it enters play. Allowed normal DS "run"
Models
Ravenors (plastic) are 3 models per sprue. @ $29
Gargoyles (plastic) are 10 per box, and armed with fleshborers as the only weapons. @$44
~As usual, caveats apply. We are just around the corner from seeing official stuff start to hit the street. Won't be long now. I like those crushing claw rumors…very cinematic stuff there!