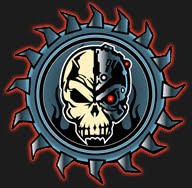 Adepticon released it's tournament packs last week and we have the wheels already turning in the BoLS team. Not too long ago, there were some people asking on how we gear up for Adepticon, tournaments and just general understanding of what we do before the big showdown. I am going to go through the latest breakdown of what we have down for two of the major tournaments that we love to play in.
Gladiator:
Last year the Reaver was the big winner and Adepticon has made some recent changes such as restructuring which Super heavies are allowed. Nothing more than 4 structure points, and ruling that flyer blocking is out are the two biggest changes they have made. This has obviously adjusted the power level and balance of the tournament as other uber-units are going to rise to the top. Here are some of our quick first pass ideas of what may be the most potent units and list combo's that people could bring.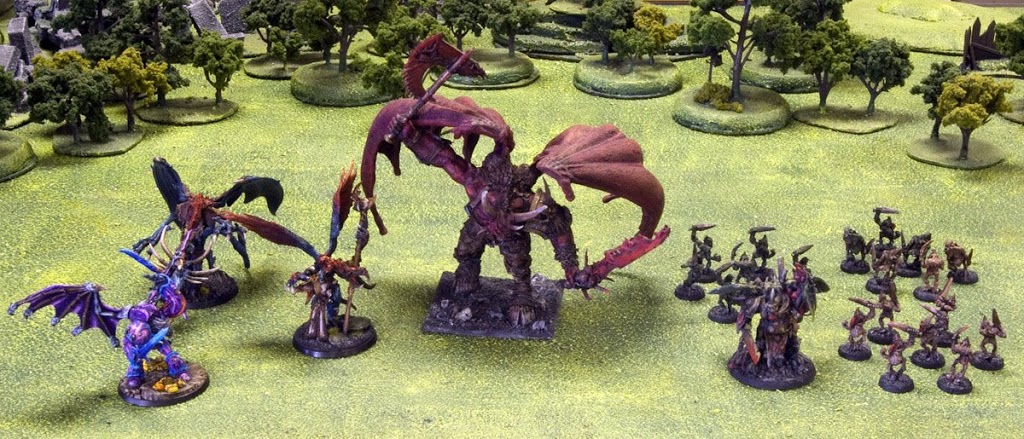 An'ggrath and Fateweaver:
An'ggrath is a monster with 10 strength, 8 toughness, 8 wounds and a crazy amount of attacks that can scale up quite nicely. He also has a 12 inch move that ignores all terrain he can just tear up units. Having a great armor save and with re-rollable saves from Fateweaver he will be a hard combo to take down.
Hierophant:
This big monster is toughness 9 , with a 2+ save and regeration. Its horrific bio-cannon's fire up to 16 shots at str 10 ap 3! per turn That is a lot of pain and it can move 12 inches and fleet up to 2d6 in a turn while still getting that 6 inch charge. Having this unit that will be in your face, can shoot, and assault will be tough for a lot of armies to deal with.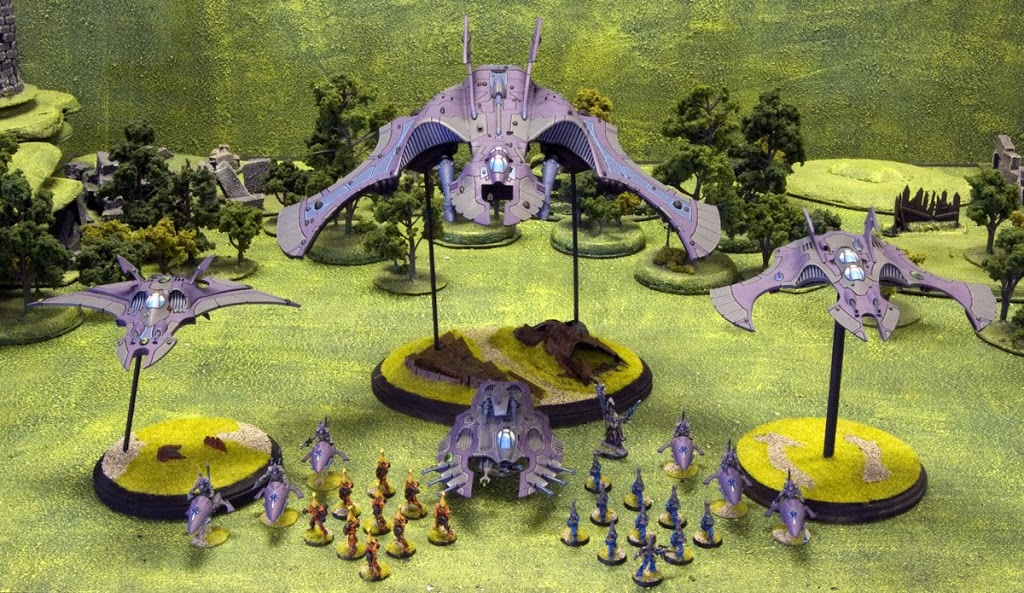 Eldar Flying Circus:
(Vampire and multiple flyers): This list will play to the Eldar's true strengths and fall under Fritz 5th dimension of scoring last turn and you can't touch me. This is a heavy flyer list that will sit off the board, come in with devastating precision strikes, then take objectives at the last turn. A lot of weapons will not be able to hurt flyers and the Eldar Flyer's two additional saves they will be even harder to take down.
The current meta-game this year may hurt the big tanks and titans because in all honestly they are pretty easy to kill. Imperial Guard, Marines and a lot of other lists can make short work of titans and the common superheavies or at least make them ineffective. The big threat may indeed be the potent gargantuan creatures that you are going have to deal with or well protected flyers that can also protect scoring units.
Team Tournament:
So far we have decided it's going to be Goatboy, Jwolf and myself. The fourth person is an unknown yet but the one thing that I have to say I love about our gaming group is our ability to work together and develop lists. Our process has been selecting a theme or idea that we can to go with and trying to build the list on our theme. Team tournament is really about having fun and coming up with crazy ideas. (we hear that Goatboy may be playing in an *unique* outfit this year). We started talking about what we wanted to play. We broke apart ideas, tore down suggestions, make changes , studies point values like an accountant, and that's just the first week. Whenever we build lists as a group we take a break-build approach which has benefited us greatly. We build the list trying it out over a bunch of games breaking it down and trying to tweak certain components of the list all the time. We do this with multiple list and units. The vital thing is keeping an open mind, and letting multiple people from our group challenge and improve our lists, instead of getting defensive.
Playtest:
Which brings me to the next thing, once we have done all of the theory crafting we start play testing. With scenarios from previous Adepticons on hand we sit at our game store on Thursday nights and hammer through the contenders. With a ruthless ability to call games the moment you see that something won't work, we are often able to finish games in under 30 minutes. Playing 7 hours a week, you can see it is possible to get a dozen+ games going per testing pair. When people come up with these lists they need to do sufficient play testing to work out the kinks because there are times that you will forget about certain units or you just feel that this unit doesn't work for you. Sometimes weapons ranges don't mesh well in a list, units may not work efficiently in tabletop use, or spending 1000 points on a super cool model only got you a neat collectible but no easy way to use it. In the end, its good ideas, elbow grease and a bit of luck that will get you there!
~We want to see what other people are doing to gear up for Adepticon? How do you play test out certain units and assemble your lists in the first place? Does your group try to work together to make better list and create a synergy between your gaming group or is it every man for themselves?