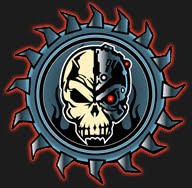 AdeptiCon 2010 News and Updates
Wargaming hobbyists from across the country are signing up to become a part of AdeptiCon 2010 in numbers larger than we've seen in years! With the addition of Battlefront Miniatures and Privateer Press as core events alongside our Games Workshop signature events, AdeptiCon 2010 is on course for our best year ever. Don't miss out on your chance to experience the fun, excitement, and camaraderie that has made AdeptiCon the largest fan-run convention in the miniature wargaming hobby.
AdeptiCon Poker Tournament and After-Con Mixer

Why let the excitement end on Sunday at 5PM?
Enjoy a fully catered meal and a seat at the first AdeptiCon Poker Tournament/After-Con Mixer! We'll provide the food and non-alcoholic beverages (with the hotel providing a cash bar). You just have to sit and relax amongst friends, reminiscing of battles won and lost throughout the weekend. You'll also have a chance to win some great hobby prizes, with the top 20% of players receiving awards and gaming swag.
So bring your hat, glasses and a stone cold face, because the AdeptiCon Poker Tournament is sure to be the grand finale of the weekend. You can register for this event at –
http://www.adepticon.org/cart/index.php?main_page=product_info&cPath=12&products_id=235
Learn from the Masters – AdeptiCon Hobby Seminars

The AdeptiCon 2010 Hobby Seminar line-up is, without a doubt, the most impressive set of classes and workshops ever offered at AdeptiCon. A fantastic group of award-winning painters and veteran hobbyists are ready to share their knowledge and experience with you!
Whether you're a seasoned painter or a complete beginner, AdeptiCon offers a Hobby Seminar to suit your skill level. Classes this year range from basing and vehicle seminars to advanced level competitive painting and airbrush workshops. Whether you're a complete novice or an award winning artist, we encourage you to take advantage of this year's great collection of painters, gamers and hobbyists.
Click on the link below to see the full roster of AdeptiCon 2010 Hobby Seminars.
http://www.adepticon.org/?page_id=979
Space in all of our AdeptiCon 2010 Hobby Seminars are limited, so register online today at:
http://www.adepticon.org/cart/.
Take Your Game to the Next Level – Warhammer 40K Tactics Boot Camp Level I
Coming into town on Thursday night? Want to be a better Warhammer 40K general? Thought you were missing something crucial in your games? Then this might be the seminar for you!
Join Jay Woodcock and Shaun Kemp, members of the multi-award winning DaBoyz, as they cover various techniques that will greatly improve your generalship, such as:
-Ensuring you have a balanced force to meet whatever your opponents throw at you
-Determining you and your opponent's strengths and weaknesses
-How to review your opponent's army list quickly and pick out the dangerous units from their list
-Methods to throw your opponent off their game without being a poor sportsman.
-Incorporating effective timing for your game actions
-Team tournament techniques
The instructors have won multiple Games Workshop Grand Tournaments and the AdeptiCon 2008 Warhammer 40K National Team Tournament. The Q & A session will try to address as many questions as possible. Attend on Thursday night and you'll be able to apply the lessons learned on the battlefield during the many events at AdeptiCon 2010.
You can register for this event at::
http://www.adepticon.org/cart/index.php?main_page=product_info&cPath=14&products_id=234
Team America Qualifier – Warhammer 40K European Team Championships –

Ever imagined representing America in a world-wide event? If so – it's time to step up to the plate!
Eight players will travel from the US to represent our great country in the European Team Championships held on August 7-8th, 2010 in Munster Germany.
Six of the eight slots have been filled. The remaining two slots will be filled through a qualification round held at AdeptiCon 2010. Only players who "opt in" during registration will be considered for a place on the American team. Registration for both the AdeptiCon 40K Gladiator and 40K Championships is required for this qualifier.
So if you believe you have what it takes to represent the US – then read all of the information at the following link and register for the appropriate events:
http://www.adepticon.org/cart/index.php?main_page=product_info&cPath=10&products_id=135
-or-
http://www.adepticon.org/cart/index.php?main_page=product_info&cPath=12&products_id=179
Register Online Today!

Become a part of the experience! You can view our full lineup of events and register online at http://www.adepticon.org/cart/ .
Our host is the Westin Lombard Yorktown Center, with great rates for all AdeptiCon attendees. Rooms are available at the special AdeptiCon rate of $114 per night. This special group rate is only available to AdeptiCon attendees, and can be reserved through the link below:
http://www.starwoodmeeting.com/Book/adepticon10
Stay tuned for more news about AdeptiCon 2010! See you in the Windy City!