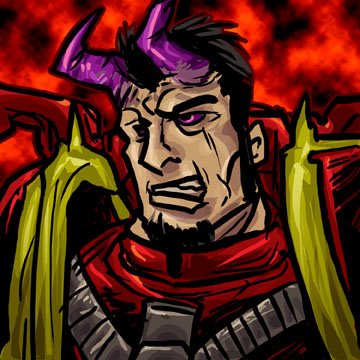 It's Goatboy here again, chatting it up about some of the Wolf Lord builds I have been thinking about for my current Space Goats army. The army initial build out is finished and I am now starting on the extra additions I normally do for my armies. I don't like to play the same thing all the time, so having all the options lets me create a force to try and optimize either its fun or butt kicking potential. With that in mind, lets look at some of the Wolf Lords I have thought about for my army.
Let's start with the big bad boys – the Wolf Lord Thunder Wolf monsters. I think this Wolf Lord design gives you the best chance to get 10+ attacks, cause your opponent lots of pain, and give you a chance to make one hell of a good looking model. We all know it gives the guy +1 strength, toughness, and attack. This makes the already combat heavy Wolf Lord into a much more brutal combat monster. You add onto this much faster movement as well as rending at strength 5. The rending came in handy this weekend when my Wolf Lord got into a fight with a Defiler and had to resort to rending it out instead of trying to hit it with a Frostblade. Lucky for me I hit 3 rends and blew it up. JWolf wasn't too happy after that and the poor misunderstood Wolf Lord promptly took a las cannon in the face.
So here are some Wolf Lord Thunder Wolf builds and how I would use them.
Wolf Lord – I LIKE TO ATTACK!!!
Wolf lord – Thunder Wolf Mount, Frost Axe/Pair Wolf Claws, Storm Shield/Belt of Russ, Saga of the Warrior Borne, Runic Armor – 255/265
This build out is designed to abuse Saga of the Warrior-borne. I prefer the Frost Axe weapon choice as the Storm Shield combo gives a better inv save – which can be handy in times of need. The Wolf Claw set up is all about maxing out your attacks. Try them both out as they both can be fun and frustrating for your opponents. Remember, you can always just switch to your basic rending attacks if need be versus dreadnoughts/defilers/etc.
This guy needs to run with a crowd so he has a better chance to hit some opponents. You can either run him with Thunder Wolf Cavalry or just with a bunch of Fenrisian Wolves. It will give you a lot of wounds to dump off the Main Man and let you get a better chance of reaching your enemy.
Wolf Lord – Pain in the Butt Lord
Wolf Lord – Thunder Wolf Mount, Thunder Hammer, Storm Shield, Saga of the Bear, 2 Fenris Wolves – 260pts
This guy is designed to run behind a Thunder Wolf Cavalry squad or Fenris Wolves squad. The two extra dogs are looked at as extra wounds for the Lord so he can survive to get to where he needs to bring his business. Depending on the FAQ, his strength looks to be 10 and he can smash apart vehicles and other such nonsense that might be around. Use him as a living bullet design to gum up units and be annoying for a few turns.
Wolf Lord – Like a Cat Lady except with Wolves
Wolf Lord – Wolf Lord, Thunder Wolf Cavalry, Frost Axe, Saga of the Wolfkin – 185pts
This is designed to utilize the power of Fenris Wolves. Initiative 5, 3 attacks, and strength 4 makes for a great assault unit. 8 points a piece makes it super cheap and the model being fairly large creates a great foot print to annoy the opponent. If you like to run Special Characters, Canis is a great option for this type of army as he costs the same, has a lot more options and funky abilities that can cause fits for your opponent. His leadership of 8 is an issue, so usually if you want to run him make sure you have another Thunder Wolf Lord running along side to help out.
Now I know I like Thunder Wolf Lords, but the regular walking lord is also a beast to deal with. I am tempted to run one instead of the other Rune Priest I currently run. I think there has been too many times I have needed another combat lord that isn't running ahead of the crowd and getting shot up. Here are some designs I think might be worth wile to ride along side your guys in a Land Raider or Rhino.
Wolf Lord – Everyone's Best Friend
Wolf Lord – Saga of Majesty, Runic Armor, Storm Shield, Thunder Hammer – 195pts
This guy is designed to allow you to not get randomly hosed by pinning or other leadership causing issues. I know we don't see them all the time, but it is something that can come up and just randomly lose you the game. This guy can also be added to a drop pod style list that plans on dumping 3+ pods down into the enemy on the first turn. This is a guy designed to be a utility character along the lines of Vulkan and other models.
Wolf Lord – Surprise PUNCH!!!
Wolf Lord – Wolf Claws, Belt of Russ, Saga of the Warrior Borne – 200
This is a cheaper version of the Thunder Wolf guy. He is great to have ride up with Grey Hunters in a Land Raider and surprise an opponent with some quick kills and ramp it up into something insane. Not being on a wolf limits some of his mobility, but it does let him hide a bit easier and usually ignore the first few turns as he gets into place for the surprise punch.
~Hope these help you think of some new ways to have your Wolf Lords running around. The change of the codex to allow up to 4 HQ slots really lets you go crazy with some of them. This creates an interesting type of army that you can really play up the whole Saga aspect as well as the idea that you can make your own "unique" characters.
As usual, lets hear about your Wolf Lord ideas and if you have any questions shoot me an email at [email protected].