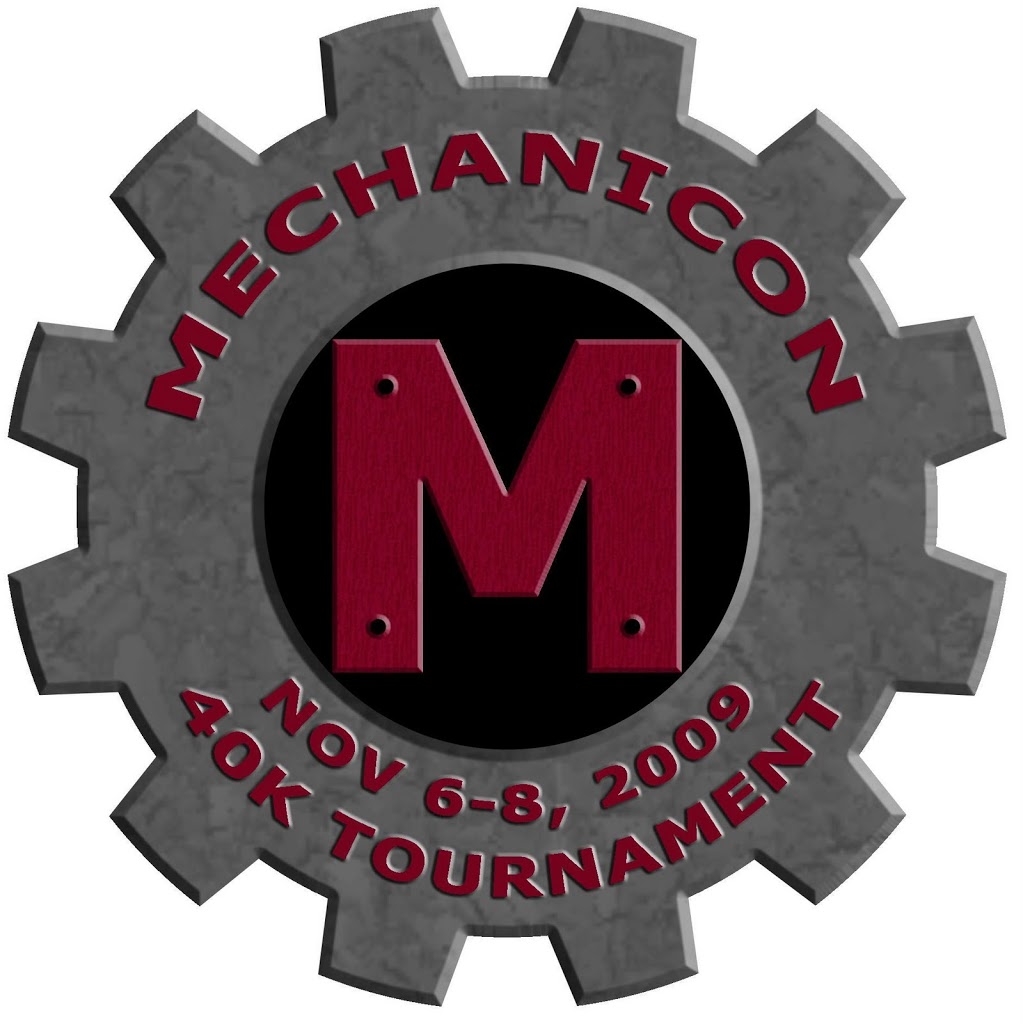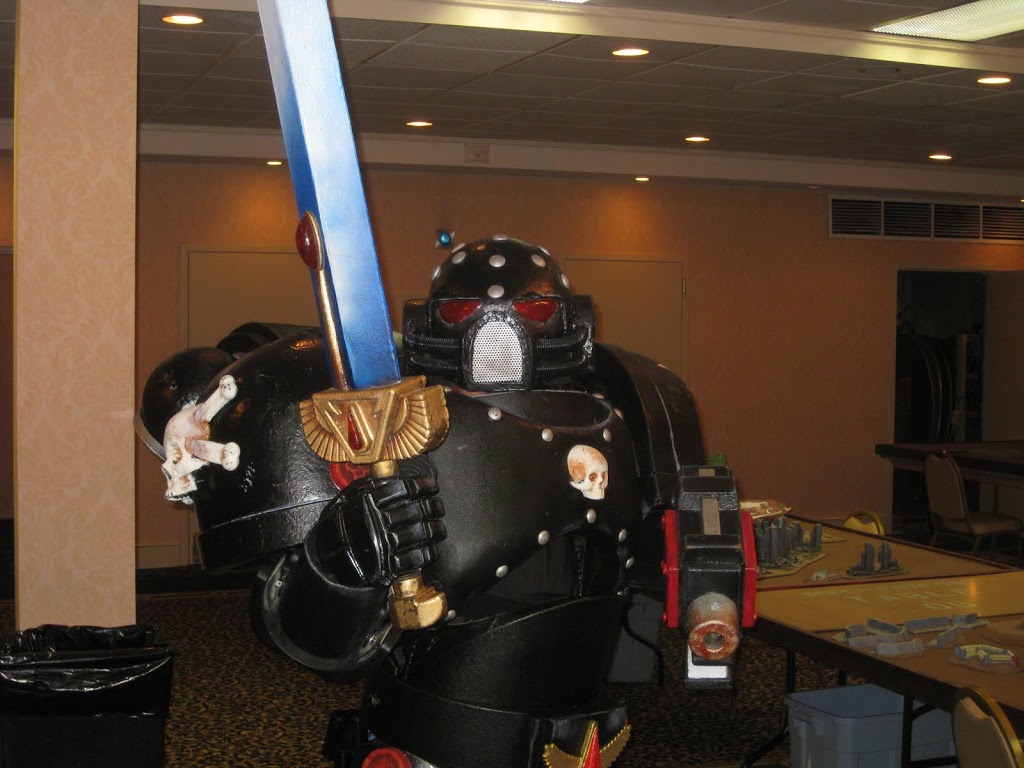 Hey folks, Jawaballs here!
Mechanicon has come and gone and I have to say it was an outstanding weekend. When I got there, the first thing that struck me was the smell of paint hanging in the air. Thats because they just finished painting row after row of brand new tables and terrain for the tournament. When I say beautiful, I'm not kidding! Every table had original GW terrain pieces that as I understand were graciously donated by the big boys themselves. But in addition, there were many hand made pieces consisting of destroyed ships from other genres like Star Wars. I noticed an A wing fighter, X wing fighter and Millenium Falcon all in the debries. It was fun to play find the fighter! Most notably was the size of the custom tables. Each table was regulation size, plus 2 feet on the end to give room for army boards. Also, they had wooden ridges around the table edges to stop dice from rolling off the table. Genius!
Pre-Tourney Events
I got registered and met the guys running the show. One was a Blood Angel player I met at the last GT Jeremy. The whole thing was run by Tony who probably had not slept in 3 days at the point when I met him so he looked like he was the living dead. But a quick shower fixed that for him. 🙂 Jeremy walked me through the festivities giving me some behind the scenes info. One major event was the Chris Bledsoe Charity Tournament for Leukemia. I did not know him, but Chris was a major player in the miniature gaming scene and an all around swell guy. He passed much too early, and his family donated some of his belongings to be auctioned for charity. Other notable items in the auction were the rights to design your own model that will be mad by Ral Partha and a combat ready stage prop replica Light Saber that light up. It would be mine… oh yes… mine.
Open gaming started on Friday night early, and I got in two games. I was up til about 2:30 am hanging out with some cool dudes and having a blast! They had a bar in the convention room and all the guys were friendly and open. I will be posting batreps on my blog for all of my games. One is already up.
I did not get to see the rest of the events, but I believe there was a successful Blood Bowl tournament going on upstairs. I will leave that stuff for another reviewer.
The Tourney
How was the tournament? Top notch. The rules were very well written and the point system helped to even the playing field between some of the cheezers and some of the fluffers. Most of the games played a modified victory point set up and Kill Points were eliminated thank god. You earned victory points for completing certain objectives, like having all of your heavies survive, or taking table corners or objectives. The game was decided by the difference in each players victory points. A 400 point difference was a minor victory, and so forth. Well thought out and implemented, if a little difficult to figure out… great stuff!
The games went well and from what I could see, there were no uglies. Every one was there to play like gentlemen. The encouraging thing that I noticed was the large number of young players in what was a very expensive tournament. I am glad some of these young guys, who I had a chance to play against, (and lost to) were able to come represent!
The judging was straight to the point. Any rules dispute? If the judge could not answer them immediately, or find a definite answer in the book, roll them off in the spirit of the true GW rules. When it came down to some of the wonky arguements like Tank Shocking with Star Engines where there is no winner or loser I believe it was the best way to go. Punish neither camp with a rock hard ruling. Leave it up to chance!
The games went smoothly and they could have actually taken some of the time to play them off. I think they gave us 2.5 hours to play each game and that could have easily been 2 hours in my opinion. I don't think any of my games went over 1.5 hours.
On Saturday night I went to the auction to claim my Light Saber. I don't know why, but I wanted it, plus I wanted to help out the charity. So, 180 bucks later I walked out with the saber which will find a reserved spot on my wall of loot, and arm loads of gaming materials for my after school club. It made me happy that I was not only giving to charity, but giving to my kids at school. I'm a teacher and I have a gaming club on Tuesdays. The kids will be thrilled to see the cool stuff I got them! Unfortunately there was not much else in the auction I could bid on. If only there was some lots of 40k stuff, or an army or two. That would have sparked some rabid bidding I'm sure.
Sunday would wrap up the gaming and the competition was fierce. To cut to the chase, yours truely won 3rd best overall. It was my own fault though. I changed my list 4 days before the event and had to get it table ready. I had no time to give my new pods and squads the love I usually do, and I lacked a pretty display, so I ashamedly lost points on painting. What the hell Jawa?? But what it all came down to was the last shot of the last game for me. I was winning and all I had to do was keep my commander in his immobilized Rhino for the win. Instead I panicked because it was facing an assault by two Carnifexs. So I bailed and tried to run him away behind other tanks. He got caught and instant killed in a Str 8 blast from a shooty tyrant. This turned the game from my victory to a draw and probably cost me 1st Best Overall. Drat!
Pros and Cons
It was a great event and well run by Tony and the gang. I will be first in line for next years tournament despite the fact that it was nearly a 5 hour drive home for me on Sunday night. Curse You, George Washington Bridge in NYC! There was a lot of prize support, and I believe this was probably the first GT in history where EVERY ONE left with something. They also did a very unique thing by adding an Army Domination prize. For every codex army they gave a prize to the most dominating player. I won for Blood Angels being the only BA player there. 🙂 But it is a cool idea and will reward some of those guys playing weaker armies!
Were there any cons? A few and I would not be a fair reviewer if I did not point them out. First of all, the location was less then desirable. I had no problem with the remote place, but the hotel was in the crux of a busy intersection next to a highway on-ramp. There was no light to get out of the hotel, and I literally sat there for about 10 minutes at one point trying to get out. I believe the numbers would have been higher if the cost of the entry fee were lower, but I completely understand the price. You have to understand that these convention spaces cost money. Plus these guys spent a load of cash building tables and organizing, not to mention time. But none the less, I feel that the price excluded some gamers who are already strapped as it is, especially the casual guys who would normally go to a GT just to get in 5 fun games even though they know there is no hope of winning. For them the price tag may have been a little steep. Instead I think this one was mostly the competitive guys, painting or playing who showed. Was it worth it? Absolutely. I feel I got every pennies worth. But that still doesn't help the guys whou could not scrape up the cash.
My only other con was the time that elapsed between games. For example on Sunday 2.5 hours elapsed between game 4 and 5 for me. The games were scheduled with a lot of time in between and spending so much down time made it tough to come back and be sharp. Some of the larger armies required more playing time I understand, but I definitely felt it in game 5, and so did Paul my opponent. If Tony can take any thing from my experience at Bolscon, it would be to cut down the lag time between games and at the end. I was finished my last game before 3 but it was after 4:30 before I was on the road facing 4.5 hours of driving. But I am sure they will improve on that naturally with time!
Summing Up
So there you have it. An event well worth the time and money. Every one left with loot in their hands and an exhausted smile on their face. The boys put on a great event with very few snags that I could see and that is the best you can hope for. I will be buying my ticket for next year as soon as they go up for sale and I hope that more of you all can make it. I would love to get my hands on some of the BoLS boys again without flying half way across the country.
Be sure to check my blog for all of my batreps, and also look for me on youtube for video of the event. I got lots of behind the scenes footage, interviews and fun stuff.
Jawaballs
~If you had your choices for a dream GT event, what would you include? What sorts of side activities would you like to see? How about prize support? How can independent guys like Mechanicon and BoLScon make the Super GT? What do the fans desire?