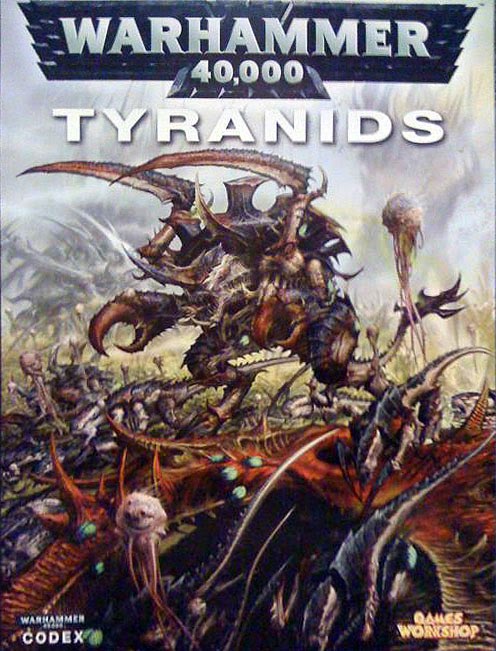 Lots of reports coming in from overseas of 1st hand views of the codex at long last:
Here are some confirmed morsels to keep you on the edge of your seat:
Carnifex: WS:3 BS:3 S:9 T:6 W:4 I:1 A:4 Ld:7 Sv:3
Scary options such as the return of old-school bio-plasma which is now a 12″ Plasma Cannon
Groups of 1-3 confirmed, +2 I when charging. Costed as Leman Russ Eradicator
Trygon: WS:5 BS:3 S:6 T:6 W:6 I:4 A:6 Ld:8 Sv:3
Its bioelectric field is a 12″ S:5 AP:5 Assault 6 weapon.
It indeed deepstrikes and leave a marker behind that other tyranids can reserve through.
Costed as Baharroth.
Zoanthropes: WS:3 BS:4 S:4 T:4 W:2 I:3 A:1 Ld:10 Sv:5
Dual modes of fire are 24″ S:5 AP:3 Assault 1 Blast, OR the 18″ S:10 AP:1 Assault 1 Lance (move over Tau)
Unit sizes are 1-3 and they are Elites. Costed as a SM Predator.
Tyranid Warriors: WS:5 BS:3 S:4 T:4 W:3 I:4 A:3 Ld:10 Sv:4
Can be put in a landingspore, unitsize 3-9, costed as a CSM Termy.
SwarmLord: WS:9 BS:3 S:6 T:6 W:5 I:6 A:4 Ld:10 Sv:3
Causes Instant Death, Armed with quad boneswords, 4+ Invulnerable, Gives +1 to reserves.
Costed as a pair of Colossus.
~Thats just the tip of the iceberg folks. Stuff is coming in hot and heavy now from eyewitnesses. Expect lots of Nid goodness coming down the pipe. The Swarm is here, ready your weapons, steel your will, and keep an eye on your wallet! Follow along with even more developing news in the Lounge here.