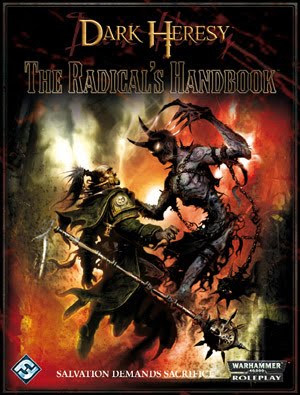 Hi all,
Its review time, and let me welcome you to our latest Dark Heresy overview. Lets take a look at Fantasy Flight Games' latest Dark Heresy expansion: The Radicals Handbook.
First up, the basics. We have a hardcover supplement for Dark Heresy, weighing in at 238 full color pages. The book is well put together and is a lavishly illustrated with a combination of old 40k classics and all new paintings and illustrations.
The Radicals Handbook is a very difficult to pin down sort of supplement. Part background book, part adventure guide, part career class expansion, and part monster manual, this one has it all. What we have here is very much an "opening up" of the entire premise of the Inquisition and its inner workings which will allow a huge increase in scope of the Dark Heresy roleplaying experience.
We are given a full detailed guide to the darker natures and factions of the Inquisition from the Istvaanians to the Xanthites as well as copious background on both the how and WHY even a Puritan Inquisitor may eventually fall from grace, in his dark embrace of Radicalism.
As with all the earlier Dark Heresy books, this one is fixed firmly in the Calaxis Sector, and the reader is treated to a huge list of terrifying Radical Inquisitors, mysterious locations, proscribed equipment, and foul beasts that walk in the footsteps of the Radical, with a myriad of story hooks to allow them to be added to any adventure group.
What is perhaps the most notable trait of the book is its utter lack of bias in the matter of Radicalism. Here you have every tool a group of Dark Heresy players would desire to either stand firm in the face of Radicalism, facing down its well detailed horrors, or instead run an entire Radical party, using many of the book's NPCs as dangerous not-quite-allies.
This format is wonderful for both the GM and the players, as the background descriptions and play aids are fluffy and particular. Filled with all the detailed dark horror and dread we expect out of the 40th Millenium, they are exactly what you need to add a good amount of texture to your playgroup. Choose wisely friends, for the path of Radical is one that allows no backtracking once undertaken.
Availability: Out now
MRSP: $49.95
4 Stars (Out of 5)

As usual, comments are welcome all.