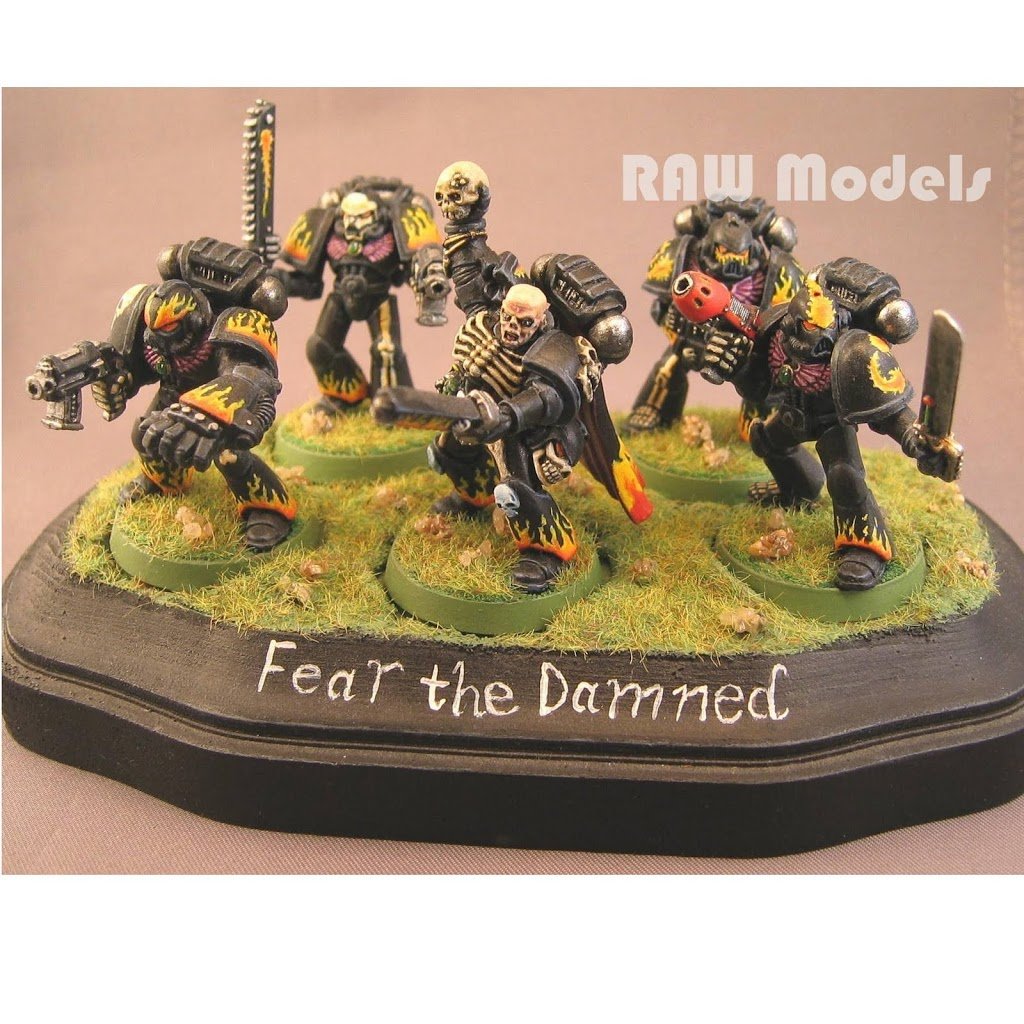 Since the release of the latest Codex Space Marines in September of 2008 I've been scheming to build some Legion of the Damned (LotD) models by converting existing plastic Space Marines. The new metal LotD miniatures from Games Workshop released on January 2 are gorgeous and inspiring and I seriously considered buying these models, but in the end I felt I had a strong and fun conversion concept that I really wanted to try out, so in a rare moment of self-control I refrained from ordering the new models for myself (although I did buy them for my son) and struck out on my own damned path (pun intended) by conversion.
Before getting started I had to determine what I'd be using to accomplish this project. After some rummaging and reflection, I settled on the following core materials:
1) Space Marine Tactical Squad
2) Kneadatite ("green stuff") by Polymeric Systems
3) Flagellant sprue bits
4) Skeleton Warrior sprue bits
5) Devastator sprue bits
6) Khorne Berzerker bits
Here are some pictures and descriptions of the results.
The Sergeant's sword hilt is a skeleton pelvis and his helmet (see inset) is a modified Khorne Berzerker helm: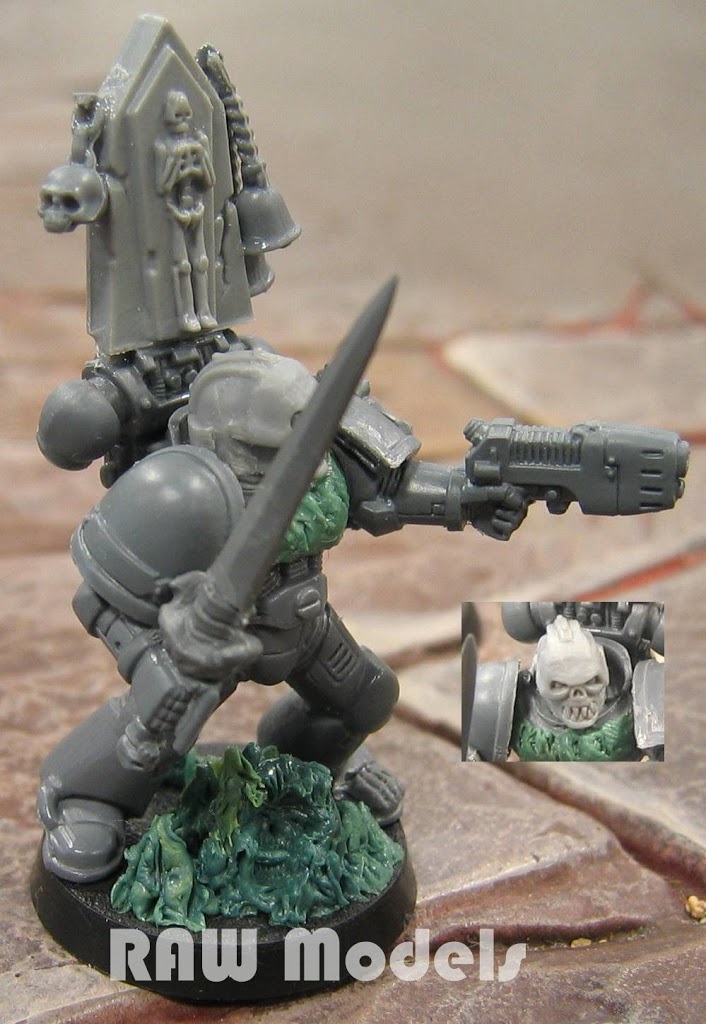 All models have ghostly flames licking about their feet. Spectral skeletal faces can be seen dancing in some of the flames. Each model has one armored foot that appears skeletal on its outer surface. Chest plates with eagles on them were modified with Kneadatite to display flames or rib bone-like structures: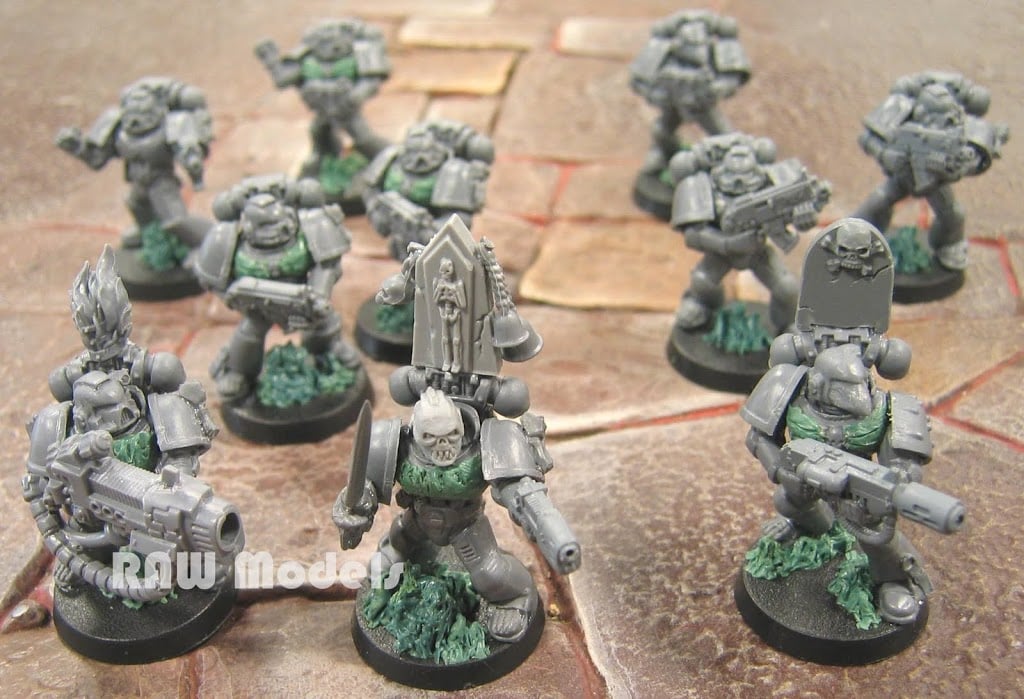 The connecting hoses for the plasma cannon are leg bones from a plastic skeleton while the power pack is "disguised" as a magic tome. The existing segmented fuel hose connected to the leg bones will when painted in bone colors visually suggest vertebrae. Note the plastic flaming brazier on top of the backpack similar to that on the new metal sculpts from GW: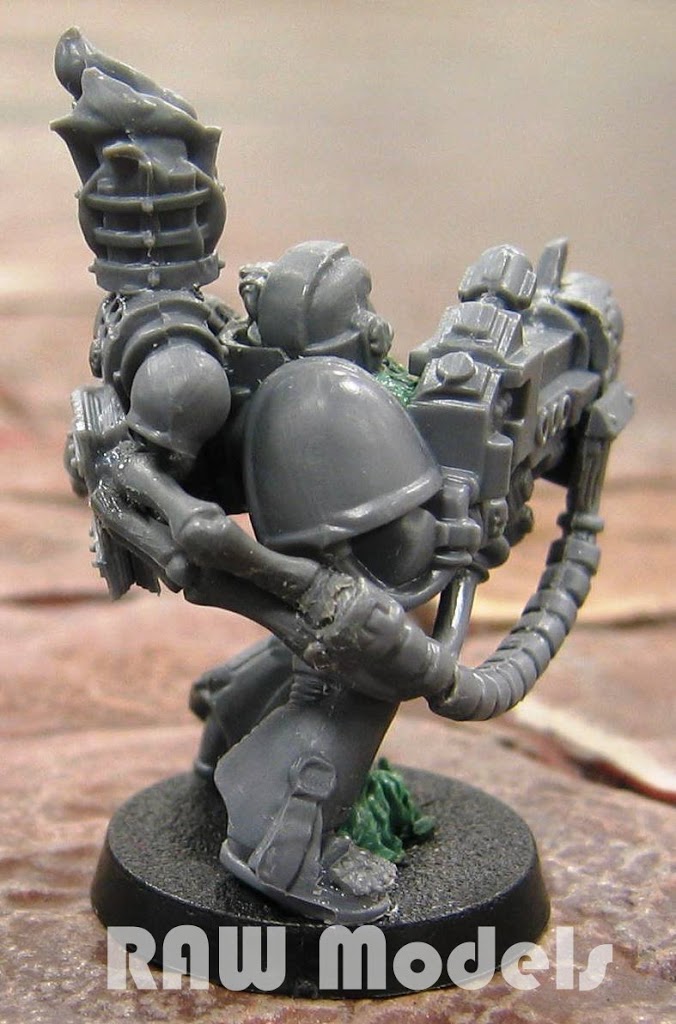 Each model in Mark VII armor has a skeletal fist on its left pauldron. Note the ribcage bit on the backpack: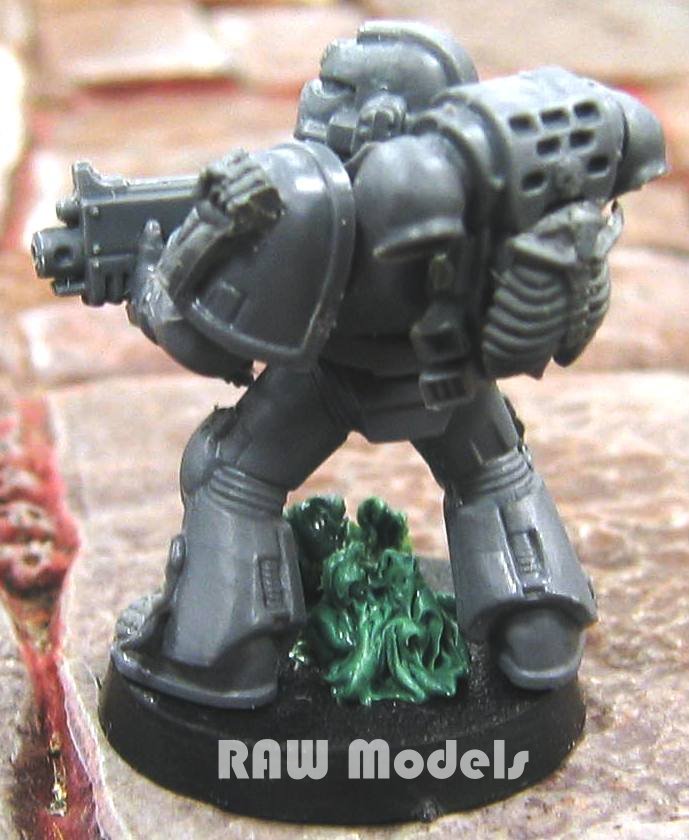 When these ten models are painted they will receive hand-painted flat designs in strategic areas with varying patterns of the core bone and flame designs similar to the patterns I painted several years ago for fun as shown in the picture at the top of this article. Note Sgt. Centurius is front and center in that little display piece which I painted many years ago. Also notice that I painted the flames in a stylized "backwards" manner so that the yellow would be between the red and black for maximum brightness contrast. This is the same technique now used by the GW studio painters on the latest LotD models.
Here's a peek at a partially painted model. This is my favorite of the ten conversions shown here. I've used a modeling knife and "green stuff" to emulate the skull shaped Mark VI "beak head" helmet on one of the new LotD models from GW. This model is only partially painted and still very rough, but it will give you an idea of what mid-stage painting looks like and the direction that painting these models will take. Again, when finished these models will also have unique free-hand designs on their flat areas like the finished models shown at the top: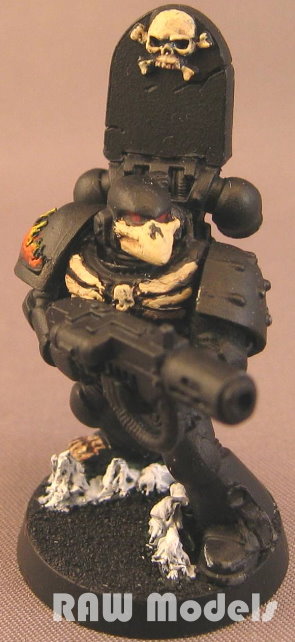 Just after I took these photos and before I began painting these models I added additional detail to some of them by both sculpting and by adding more plastic bits from other GW kits. This whole project has been a bit more work than building and painting the new metal LotD miniatures, but in the end I feel I'll have something with a unique twist of my own that will make it worth the extra effort. It was fun seeing if I could execute the concept I've had in my head for the past 15 months and I'm mostly pleased with the results. Hopefully fully finished, clean paint jobs will make these really "come to life", or perhaps I should say un-life for LotD.
So how many of you out there have been fielding LotD in games before the new models were released this weekend and what did you use to represent them till now? How many of you plan on adding LotD to your army now that the new models are released? Feel free to share your own LotD stories with the community in the comments area below and please make them "damned good"! Sorry, I couldn't resist one more LotD pun. Happy New Year!