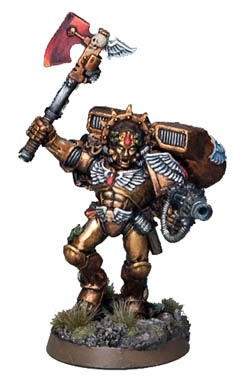 Hi everybody, here is the latest chatter we hear regarding Blood Angels Commander Dante. He sounds like a real monster:

Commander Dante
Master of the Chapter, Jump pack, Perdition Pistol, Fearless Artificier Armor, Iron Halo (2+/4+)
Death Mask: Commander Dante gains an additional attack in assault for each enemy attack that targets him and misses, capped at a maximum of +4
Axe Mortalis: +1 strength power weapon
Inspiring: Friendly units within 6″ of Dante's Honour Guard are fearless, and Honour Guard units are scoring
Seen it all: For each enemy unit placed in reserve to either deepstrike or outflank, do the following:
-Any enemy HQ must make a Leadership rolloff versus Dante. If Dante wins, the unit must deploy normally with its army. If Dante loses, the unit may deploy as intended by the enemy player (This power has no effect on units which MUST deepstrike – pods, etc…).
~Remember that caveats apply, as we are still far out, but my traitor titans are already cheering at not being reduced in BS when near old Dante. There is all kind of talk regarding that rumored Librarian Dreadnought, so we'll do some digging… Have at it guys