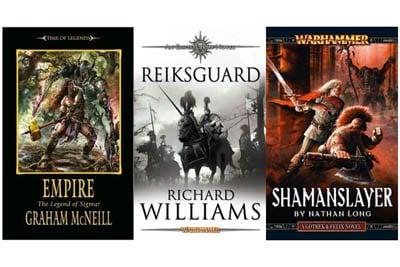 Hi Guys,
Just want to alert you all that we have recieved word that a trio of Black Library books are up for the David Gemmell Award and the voting is open to all.
It's an opportunity for you Warhammer fans to let the rest of the publishing world know that Black Library has a strong following and that you love their novels. Show your support for Black Library by following the link below. The three novels up for the 2009 award are:
Empire: Graham McNeill
Reiksguard: Richard Williams
Shamanslayer: Nathan Long
Vote for your favorite at the David Gemmell Legend Awards at: http://gemmellaward.com/page/vote-for-the-legend-here
~Lets show the world we care about our Warhammer universe novels. Get voting.