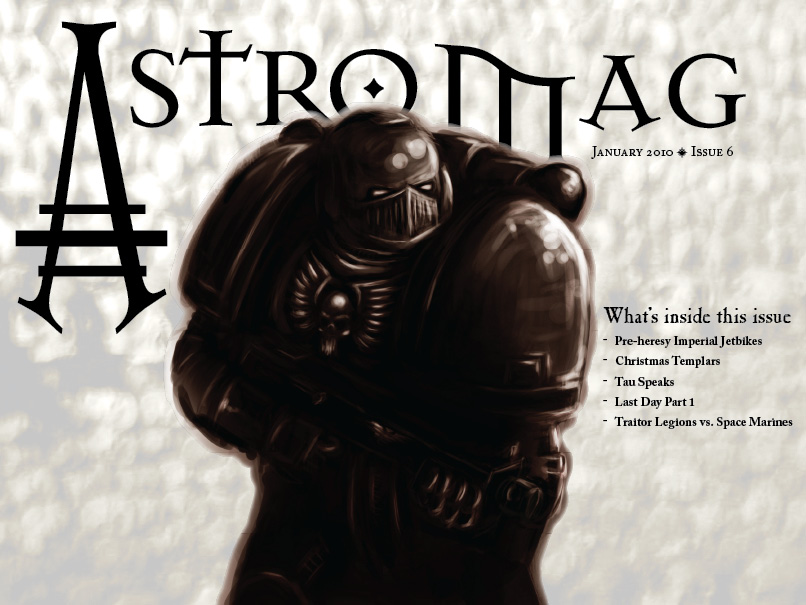 A couple of items to get out to you fine folks today. Let's talk Astro mag and Adepticon.

Astro Mag #6 Out Now!
Thats right, those awesome guys over at the AstroMag have cranked out their latest creation, chock full of goodies from Pre-heresy jetbikes, to Tau jargon, so go download it here.
Adepticon Latest News
Warhammer 40K Championships: It's Mutating!
The response to the AdeptiCon 2010 Warhammer 40K Championships has been overwhelming! The event sold out much quicker than anyone excepted and it seems to have caught a number of people off guard. We have been hatching a plan to remedy this, and are pleased to announce the availability of 60 additional tickets for the event (offered to people on the waitlist first)!
Now you might be asking yourself, how are they going to run a 3-round, 240-person Warhammer 40K event? The answer is, we're not going to! Sunday will now be broken up into two, concurrent 120-person events – each with its own full set of awards! Additionally, each event will act as a qualifier for the Games Workshop Tournament Circuit, securing the top two finishers in each tournament a spot in Las Vegas! There are an extremely limited number of tickets available and once they sell out, no additional tickets will be added, so get them fast!
Warhammer 40K Championships [Sunday 7:00AM – 4:30PM]
Pre-measuring Pre-registration
When we say AdeptiCon 2010 is going to be the biggest AdeptiCon ever, we're not just speaking metaphorically! AdeptiCon 2010 pre-registration is through the roof! Because of this fact, we are limiting the contents full swag bag to the first 1000 pre-registered attendees who purchase a Weekend Badge (this does not correlate to your Order Number, an announcement will be made here when we reach 1000 attendees). Past swag bag contents have included novels, acrylic templates, one of a kind models, unique miniatures, tokens, templates, magnets, bases, discount coupons, and much, much more. We'll be continually announcing the contents of this year's swag bag as we get closer to AdeptiCon 2010. Here is a small preview of what you will receive in this year's swag bag, courtesy of Black Library:
-Courage and Honour (Hardcover) by Graham McNeill
-Empire in Chaos by Anthony Reynolds
Reserve your swag bag by pre-registering for AdeptiCon 2010 today.
~Rest assured the whole BoLS crew will be making our yearly pilgramage to Adepticon. You've seen us in our YouTube videos, and we look forward to meeting you all and having a blast in person!