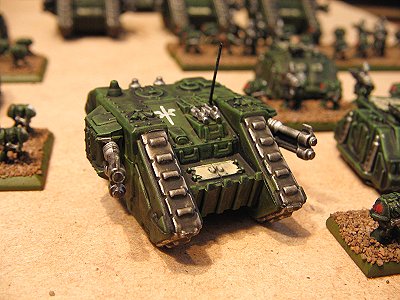 In the universe of Warhammer 40,000, the Space Marines of the Legions Astartes are THE iconic army. And within the ranks of the Space Marines, the Land Raider is THE iconic armour unit. Lets take a look at why is it, then, that in Epic:Armageddon you rarely see the formations of Land Raiders on the Epic tabletop?
In Epic, an individual Land Raiders is a tough and effective anti-tank (AT) unit. Its dual twin-linked lascannons distribute pain to armoured targets within 45cm on a 4+, and each fires twice. In addition, infantry and light armourned vehincle targets within 30cm will wear the twin-linked heavy bolter on a 5+. Even better, the Land Raider wears tough armour, and so benefits from both the Reinforced Armour rule (can re-roll a failed armour save; gets a save from standard macro weapons fire, but not titan-killer macro weapons fire) AND the Thick Rear Armour rule (does not suffer from enemy crossfire) making the Land Raider very resilient.
Yes. The Land Raider appears to be something of a beastie. The problem then? On the tabletop, in a formation of four…it just isn't.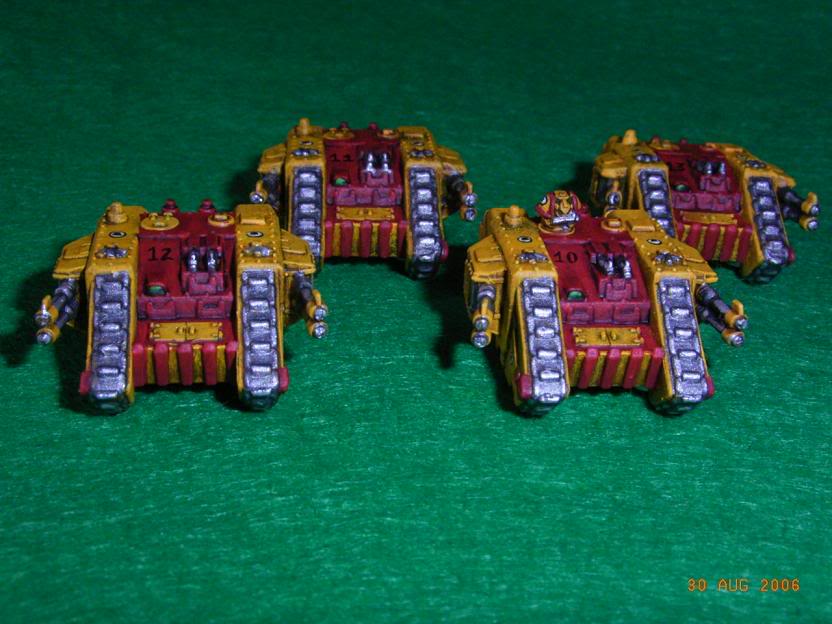 In WH40K, the Land Raider is a prince among peasants because it stands above units like the Predator and, in many ways, even the Leman Russ. But in the Epic-scale game, where Titans and Super Heavies are a common sight, the Land Raider's light is somewhat dimmed.
The real problem with Land Raiders is at the formation level, though; a formation of Land Raiders is relatively unappealing for two reasons:
At 350 points, when compared with other available formations, a formation of Land Raiders is too expensive considering its relatively low battlefield impact (that is, low bang-for-buck)—why would you take Land Raiders over, say, Predator Annihilators?

The formation structure is artificially restricted to no more than four Land Raiders—you can add up to two Vindicators and one Hunter to the formation; however, given the general community consensus view that Vindicators are not useful in this role, including them in the formation amounts to adding really expensive sandbags.
Adding insult to injury, while you can add Land Raiders to Devastator formations as transport options (replacing the Rhinos), doing so costs 100 points per Land Raider, which again is very poor bang-for-buck. Worse, you cannot add Land Raiders as transports to Tactical formations, which again strikes me as a very artificial restriction.
So what is the solution? My personal theory, which I have recently trialled on the tabletop in limited playtesting, is the following:

Land Raider formations (of four) should cost 300 pointsLand Raider upgrade units should cost 80pts each

Land Raider formations should be able to add up to two additional Land Raider units (at 80 points each) OR Vindicators OR Predators, thereby taking the total availalbe formation size to six (seven if you add a Hunter)

Up to three Land Raider units should be available to Tactical formations as transport replacements (at 75 points each)
So what do you think, Epic-playing community? Will you help playtest my thinking? Why not try fielding a mechanised (infantry and armour) Marines force that includes a few six-strong Land Raider formations and let fly?
MASTERCLASS
If you want to get really wild, try including a few Vindicator or Predator Destructor formations at 200 points each, or Predator Annihilator formations at 250 points, and make Vindicator and Predator Destructor upgrades 50 points each and Predator Annihilator upgrades 75 points each.
If you do run a playtest using any or all of these suggestions, post your battle reports (or just your results and conclusions) in the BoLS Lounge Epic forum.