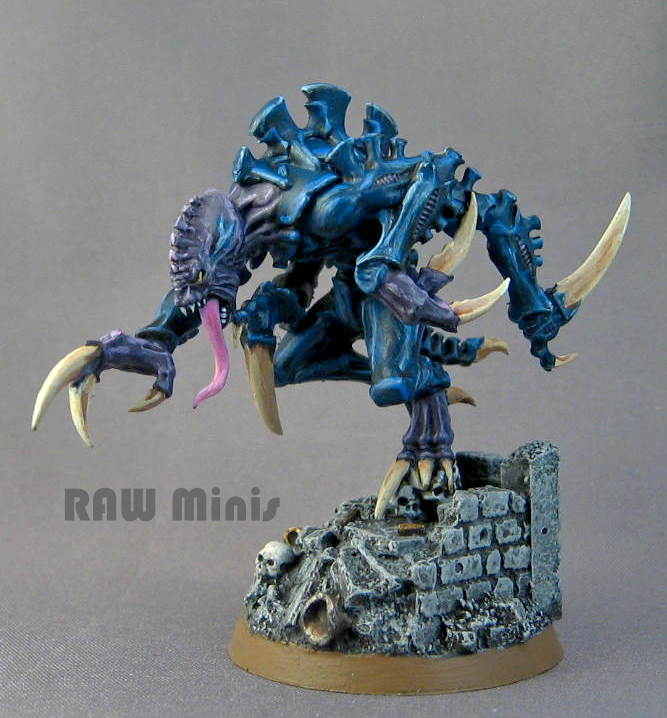 The new Codex Tyranids seemed so well done to me that I decided to revisit my long neglected Tyranid army for the sake of this exciting new army book and some of the fun new models that can be used with it. First among them is the Space Hulk Broodlord. For my taste this may be the best looking alien monster mini that Games Workshop has ever produced, so I decided to add a few of them to my Tyranid army.
First, I wanted to paint one exactly as it comes out of the Space Hulk box with no conversion work other than to put it on a 40mm round gaming base. Painting the Terminator helmets in Blood Angels colors is a nod to the original and current Space Hulk board games.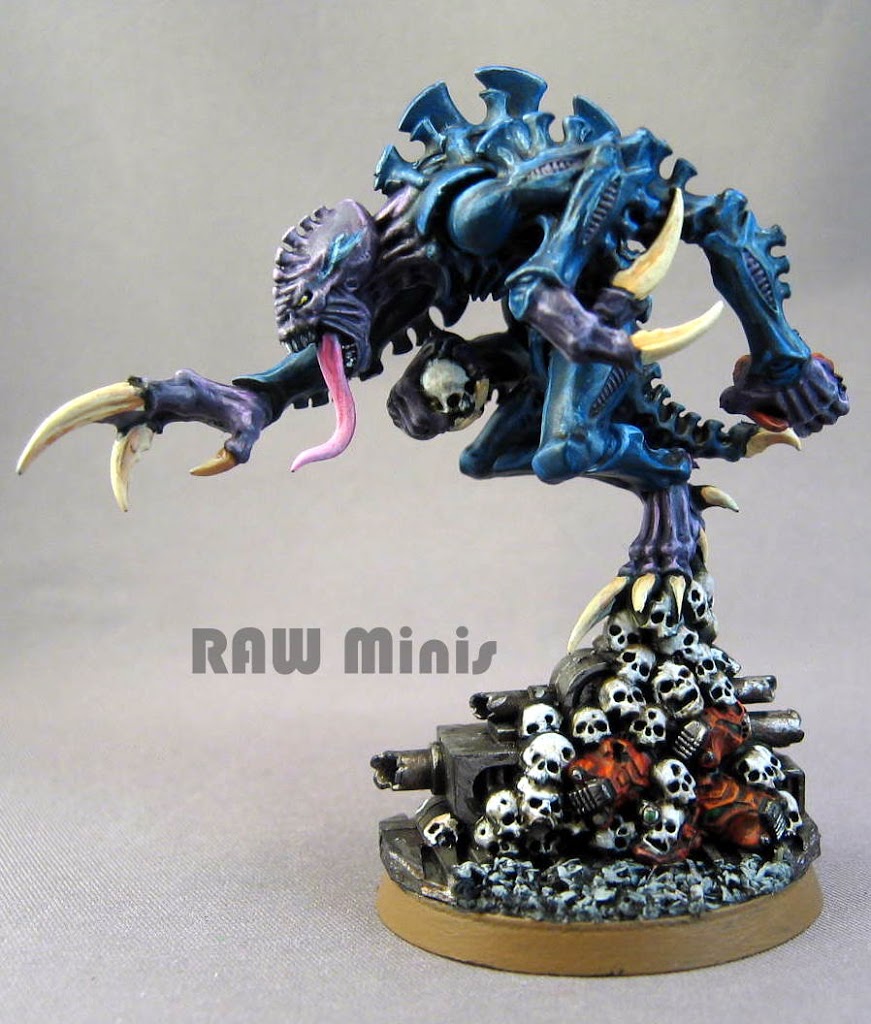 For the next two Broodlords I wanted to change the basing a bit so that the models would not be identical. I didn't want to heavily convert the Broodlord miniature itself. I set about using a hobby saw to remove them from their scenic skull base at the spot shown in the photo below. This now provides me with two spectacular scenic bases for some of my upcoming Chaos Marine conversions.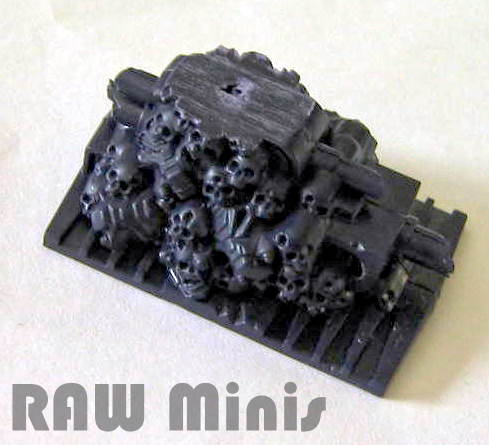 The model shown in the photo at the top of this article is pinned with a bit of brass rod and some super glue to a scenic resin base from Dragonforge. Dragonforge produces a wide variety of base styles and they are some of the coolest looking cleanest bits of resin base casting I've ever come across. The base I used in the photo shown at top is the 40mm Heroic Base from the Urban Rubble Wasteland series. I also converted the lower hands on the model to scything talons using bits from the Ravener plastic set.
For my third and final Broodlord I wanted to create my own little scenic base. I cut and glued some Plastruct Diamond Plate plastic card to a GW 40mm round base and then glued a scenic bit from GW's Imperial City building set to the plastic card. Since everything used here is made of polystyrene I was able to assemble this entire model with plastic cement. Here's a photo of the model before painting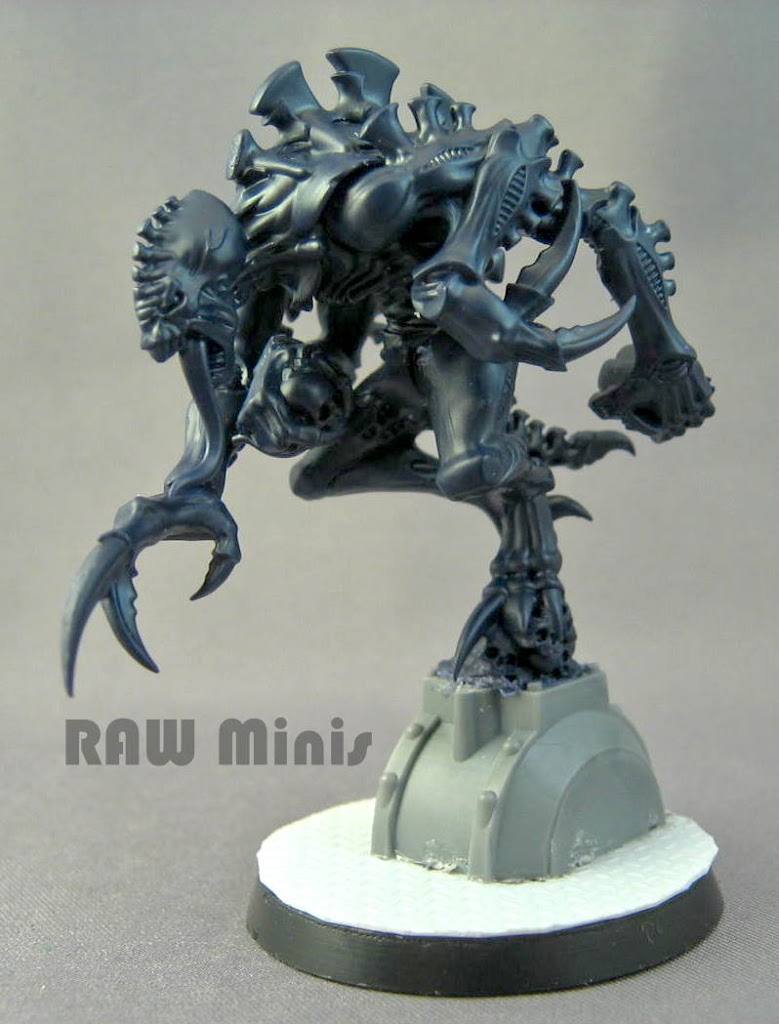 and after painting.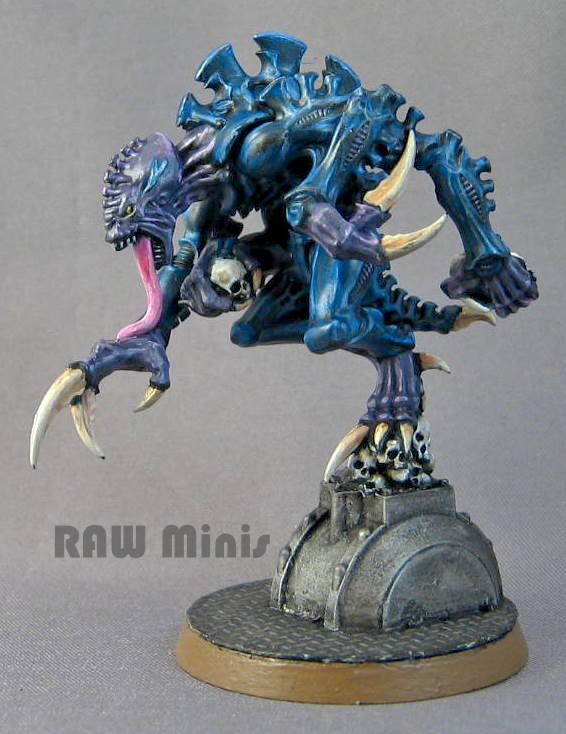 The main colors used for these models included GW Regal Blue, Ultramarine Blue, Asurmen Blue, Hormagaunt Purple, Bleached Bone, Skull White, Leviathan Purple, Snakebite Leather, Devlan Mud, Baal Red and Ogryn Flesh.
I've been working on Tyranids a lot lately, including Trygons, Raveners, Shrike conversions and a Tyrannofex conversion. I'm also building and painting a new plastic Venerable Dreadnought for my custom Space Marine chapter. So what personal projects have captured your imagination lately? Did the new Codex Tyranids reignite your interest in that model range? What do you think of the 40K model releases for 2010 so far? Personally, I think the quality of the plastic Warhammer models is improving so fast it's getting harder to choose what to work on next all the time.