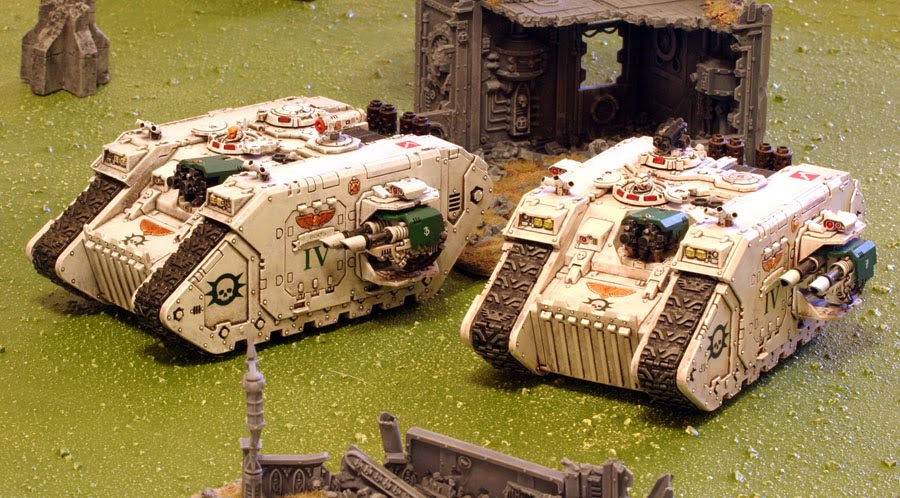 Could there be a more iconic image of Space Marines then the Land Raider? Can you play Space Marines and not play a Land Raider? Is there nothing more satisfying in the game then crashing that 'raider though terrain and unloading those assault terminators into the heart of your opponent?

Right now in the meta-game I'm not quite sure where Land Raiders stand. The rise of cheap melta options has made cutting through that ceramite and steel behemoth no different then vaping a Vyper. When you are starting at S8 and rolling 2d6 for the armor pen AV 14 suddenly means a lot less. And once that tank pops the guys inside are stranded at best, and vulnerable to everything else that can shoot and assault on the table at worst.
Are the days of the 'raider rush over? Hardly! Only if you are still trying to push it across the table and wondering why it never makes it there. Despite screaming forward to thunder across the table and unload one needs to show both restrain and guile in employing this iconic model.
Before we even get into some of the basic ideas to deliver the package we need to look at the package itself as the cost of the Land Raider is only half the picture- what you are putting inside is the other half. Perhaps for this reason alone min/max power gamers shun the Land Raider as a tremendous point sink. Not as bad as three Monoliths, but perhaps almost there.
Whatever your codex flavor is you are going to have to put some super killy in that 'raider. Vanilla assault terminators or bland tactical marines just won't do! Part of the strategy (and fun) is to bling out your unit so much it just screams out as a fire magnet to be destroyed! Right off the bat this is used to peel away enemy units from your core, objectives, and the like by making a choice- go for the Land Raider or go for the other elements in your army. Not letting your opponent's army gang up and wolf pack you is important and nothing helps prevent this like a Land Raider.
Since I still roll with Black Templars, (all hail Dorn!) my little combo works off the synergy of the Emperor's Champion and the ability to still take veteran skills. Man, I hope GW never gets around to updating the 'Templar codex…
Lightning claw terminators with furious charge striking at I5 and S5 on the charge while re-rolling failed hits (Vow = preferred enemy) and rerolling wounds thanks to the lightning claws means these guys are the Ivan Drago of 40K- whatever they hit, they destroy! Put something like this in the land raider and you now have the complete package.
From here the key is getting your opponent to come to you followed by using screening forces to sweep aside any incoming melta units. Here is the setup I often employ in conjunction with my supporting assault marines…
In an objective mission I make sure one objective goes in the center of the table as this is where the 'raider is going to pounce. Something is going to have to move into its treat range at some point. While I am waiting the 'raider goes behind cover as close to the center of my deployment zone as possible and plinks away with its heavy bolter and twin linked las-cannons. Personally this is why I prefer the godhammer pattern as it gives the tank something to do while waiting to roll out. And two las cannons supported by machine spirit, mounted on AV 14 is nice. Chilling next to the raider is a group of assault marines ready to move out when the time is also right to speedbump any incoming threats to the land raider.
Black Templar 'raiders still enjoy the old smoke rules so they are extra resilient! When the guys inside absolutely have to be delivered use terrain or other vehicles to create cover and then pop smoke. This gives you two layers of defense- the fist is a 4+ cover save followed by all penetrating hits going down to a glance.
Apparently there are different variants of smoke in the Imperium of man. It must be that Black Templar incense.
The next question is when to get your opponent out on foot. Busting mech is all the rage, and most of the time the further away you can do it the better. With the Land Raider I want to try and wait to bust my opponent on turn two when they are almost to the objective, so I can then roll up and gobble them up. When both playing and facing a Land Raider you need to always visualize and project the threat bubble on the table- move 12" + get out 2" + assault 6", perhaps more if I'm playing Shrike or Mepheston in the list/raider.
Of course, once the Land Raider delivers its surprise those assault terminators are going to be targeted by anything and everything so there is nothing left to get back in last turn. This is where using the physical bulk of the massive model comes into play as a tactic since everything is true line of sight.
The key is to unbalance/soften up one side of the table with long range fire in advance of your raider striking. Don't drive up the middle to engage/assault that enemy unit, drive up on one side, get out, and then tilt the land raider to face the stronger side to create a wall. Assault your opponent, and wipe them out- if the raider bulk doesn't block LOS, right away, the massacre roll on the assault will let you get beck behind it- another reason why you need to be super killy and wipe out what you hit in one turn.
What combos are you guys rolling with inside your land raider? Cassius? Land Raider Variant? Am I totally crazy for still playing one? Has the land raider just been relegated to n00bslayer status? Fritz out.