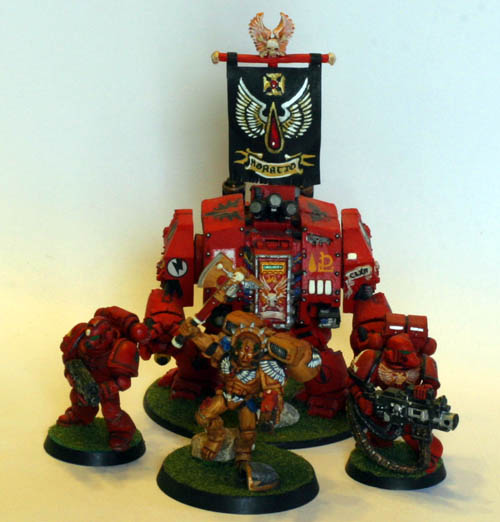 Mr. Black here once again, we've made it past HQs and now we're rolling onto Elites, showing off some of the most interesting units to grace the gaming table.

Elites, they can be the backbone of the army, and are usually the hardest hitting of the lot. So what does Codex: Blood Angels bring new to the table? We'll let's dive right in and see; we've got eight units to run through, so no more time wasting, let's begin!
Chaplain Ok, so this was a surprise to see. No, it's not a typo, we have Elite Chaplains now. Basically we have the Reclusiarch, the old-style melee powerhouse one, and the standard Chaplain, who is point-for-point the HQ version from Codex: Space Marines. Makes you feel a little jealous doesn't it?
I wish i could say more about him, but we've already reviewed the Reclusiarch, and he is the exact same Chaplain from the standard Space Marines, so I'm at a loss as to what to say. One thing I will note is, like the Reclusiarch, he carries the Liturgy of Blood ability which, most notably, allows the Death Company to re-roll both misses to hit and ones to wound. Combine him with Astrath the Grim's removal of the 0-1 restriction on the unit and again we see the potential of a full Death Company army coming to light (of which someone may or may not already be building… Not saying who, but maybe one should look out for such things in time to come…)
Final Comments: In the end I do feel this is the spot the Chaplain belongs in; his Codex: Space Marine stats just don't justify the HQ position to me, and it shows since the decline of his use has been very noticeable. I feel that Codex: Blood Angels is definitely the re-launching point for him, both as an HQ and as a powerful elite edition to the army.

Sanguinary GuardI really wasn't looking forward to going over these guys… Most of the reasons I discussed with the Honour Guard, and have alluded to in various other parts of my run-down as a whole, but now we have to face it head on. Bat-Nipples.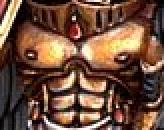 *Note: For those who have no idea of what I'm referring to the costume in Batman an Robin, one of the worst movies ever made, in which the feature character's costumes came complete with built in Bat-Nipples on the costumes.
This is a huge plus for anyone who ever wanted an army of golden Adonis', complete with chiseled muscular chest. Speaking of Dante, he let's you take the Sanguinary Guard as troop choices. Now what does this mean as a whole? Well I do suppose I should get around to speaking about their actual mechanics, now shouldn't I?
Well, as far as Space Marines go, these guys are flying Terminators, through and through. Same number of attacks, stats, everything… Except the invulnerable save, and that is the catch. Any AP2 weapons are going to ruin their day, and this fact drastically reduces their survivability. Yes, they can hide around cover, but cover is something that Jump Infantry also needs to worry about, least you lose an expensive model on a botched Dangerous Terrain roll.
Weapon-wise, they get Glaive Encarmines and Angelus Booltguns, which are fancy ways of saying two-handed power weapons and AP4 Storm Bolters. Not bad, but nothing to write home about. If they had better weapon skill, or if the Glaives added a touch of strength, they'd be a fantastic unit choice through and through, but the more I see them, the more I simply see some new shiny bat-nipple laden toy which in the end could be replaced by Terminators, who would probably have a much higher reliability rate in making their points back.
Now, yes, the Sanguinary Guard have The Red Thirst, and have access to Sanguinary Priests, so yes, some of my issues with them can be fixed via those applications of Furious Charge, but the same can be said as the army as a whole, so to simply say "That fixes them" wouldn't be fair. By themselves, they are impressive on paper, the end issue is still prevalent though: they don't have the stats to back up their fun toys.
And what of the Dante-led all Sanguinary Guard troop army? Well it's a neat concept, and as I've said before, variety is something I will never complain about. I'm sure en mass these guys would be a fearful sight to behold, but you'd be looking at a small army. But there is something to be said of a small, versatile strike force of elite troops. I can't say I have any experience with such, but the comperable to me is Deathwing, so I see it playing much the same way. In the end I'd love to see the full tactical might of this army, and I won't say anything negative of it because, I will stress once more, variety in an army should never be downcast.

Final Comments: Bat-nipples.
Furioso DreadnoughtNine. Nine is the amount of Dreadnoughts you can fit into a 2000 pt game with Codex: Blood Angels, and that is merely a points restriction, by Force Org. it's eleven.
Here we have the Furioso Dreadnought, a returning and revamped favorite from the old .pdf codex. Boasting a weapon skill on par with Space Marine Captains, the front armour of an Ironclad Dreadnought, and the psychic powers of a Librarian. My my this is a fun unit now isn't it?
Lot to cover in this little present so let's keep it organized. Starting with wargear we see the typical DCCW (Blood Fist… Har har, I see what they did there…) with built in Storm Bolter and built in Meltagun, so already we have a nice set-up for the points. In addition to this, for free we can exchange the Blood Fists with Blood Talons, which as I'll explain are very, very dangerous weapons.
First to note, Blood Talons are not DCCWs, so you'll be hitting at it's base strength, which is still a respectable six. In exchange for that you get weapons that function as Lightning Claws with the bonus addition of generating an additional attack for each wound you cause… And yes, they trigger off themselves. So, here we have a high WS unit, with matching Strength, usually killing things on twos, that gets a re-roll to do so, and each time he does it it generates another volley of attacks… I think I just found my new favorite. This monster here is capable of, on average, wiping out most squads it encounters rather easily through a combined effort of volume-of-attacks and high armour, the standard Power Fist needing a five or six to even scratch it.
Oh, and did I mention it has The Red Thrust? So potentially factor in Furious Charge into all the above.
Another wargear option worth note is the newly introduced Magna-Grapple, which functions as a meltagun (well, minus the melta ability) and grants the effect of, on an armour penetration, to drag the vehicle an inch away from the Dreadnought, causing Tank Shocks along the way. Now, for me, the actual ability of the weapon is rather situational, for me the punch comes in giving your Dreadnought two high-strength low-AP shots at a vehicle per turn, before factoring in any charges. I'm still not entirely sold on spending the points on this particular wargear option, but I'm sure others will have those moments where it earns its cost back in spades.
And now to move onto my favorite upgrade option. For the cost of two Power Fists you can upgrade your Furioso to Librarian status, granting it the standard load-out expected of one, Force Weapon included. This is definitely an attention-grabbing power and opens up a world of possibilities to the army, given the Dreadnought carrying ability certain Blood Angel vehicles have, combined with the effects of taking a Librarian who the opponent has to focus anti-tank fire on to fell.
But is it worth it, or is it just a gimmick? Well, the standard Furioso is a steal for his points, and adding the Librarian effect will bring him just a little shy of 200 points, so you'll definitely be paying for it, but now ask yourself: Is a mobile, Ironclad-armoured Psychic Hood worth it? Is a vastly mobile Jump-Packing Dreadnought who can tear appart infantry and tanks a good buy?
Honestly, I think it speaks for itself.
Final Comments: A fantastic choice for most any army, the Furioso Dreadnought, in any form or wargear option, is one of the best buys the codex has to offer.

Terminator Squads, Techmarine and Sternguard Veteran SquadSome may not like it, but I'm going to be skipping over these units. They have been covered before in Codex: Space Marines and the differences between these and their counterparts are few and far in between, in fact, I can sum up the major difference in three words: The Red Thirst.Sorry, but there is precious little space to use up talking about units of which we already know how awesome they are (Terminators), have already seen full armies built around (Sternguard), and are an oddball choice to see fielded (Techmarine).
Final Comments: If you wish to know more about Terminator Squads, Techmarines, and Sternguard, visit your local Black Library, and other online resources such as other nice articles right here on BoLS.

Sanguinary PriestAnd now we come to the Sanguinary Priest, who I will almost bet will be the poster boys of Codex: Blood Angels. These guys will make armies and I have a hard time envisioning most people not taking at least one of these guys.
So what makes them so good? Well they give any unit within six inches Furious Charge and Feel No Pain. Yep, that's right, they turn any nearby units into a mixture of Khorne Berzerkers and Plague Marines (IE: Death Company). Not only that, but you can buy a handful of them as a single Elite Choice, which means more room for things like Furioso Dreadnoughts.
I cannot explain the drastic impact even just Feel No Pain gives to an army, effectively doubling the resiliency of any and all troops nearby; anyone who has ever played against a Nurgle Army, I'm sure they can tell you just how annoying it can be. Now add in that Blood Angels, with their sheer number of Jump Infantry, with have the speed and tactics to usually grant themselves the charge, and we see the two-fold hit that Furious Charge will also bring. Truly this Independent Character makes monsters out of standard troops.
Of course, they are not without their downsides, most notably a combined hit in their high point cost and low wounds (which surmounts to: one). Paying almost as much as a Chaplain, Librarian, and other such choices make it a hard cost to deal with, especially since, given his IC status, if anyone wants him dead in CC, it very well may happen, that is, of course, wagering that is actually in the combat, and not merely watching from the sidelines, throwing Feel No Pain unto units.
Final Comments: High reward unit that is sure to be seen in many, many army lists. He is a buffer unseen before in the Space Marine world, capable of turning those already-fearsome Assault Squads into true close-combat monsters.

Brother CorbuloCorbulo, in the .pdfs of old, was the choice for any Blood Angels army, seldom was a list seen that did not make the room for this exceptional Special Character. In the new Codex: Blood Angels, the very things that made him unique are now commonplace in the Sanguinary Priests, so what did they give him to make him unique once more?
For starters, as you may have noticed, he is now an Elite choice, and can be bought as one of the Sanguinary Priests that would comprise a single Elite Slot. In addition to this he boasts a boost in stats, namely WS, BS, I, A, and, most importantly, wounds. This alone would be worth the fact he costs double the amount a standard Sanguinary Priest costs, but wait, there's more!
Included in that cost we get some special wargear and effects. First, his Red Grail, which functions in every way as a Sanguinary Priest's Blood Chalice, with the added edition of making his Feel No Pain 2+ for himself. He also carries around Heaven's Teeth, which is a strength boosting, rending Chainsword (not as big a boost as, say,Gabriel Seth's, but it's a nice thing to have), so unlike most normal Sanguinary Priests Corbulo can hold his own in combat.
All those would be enough to make me ignore the fact he can't take a Jump Pack, hell, even just the additional wound would be enough to convince me of that, but Corbulo holds one other ability, which seals the deal to me that, if you have the points, he should be included in your Sanguinary Priest buy:
The Far-Seeing Eye.Yes, it seems a bit of Sanguinius' clairvoyance power was dealt to Corbulo in the form of a once-per-game re-roll. Yep, choose any die you want and test fate again. From a botched scatter on Descent of Angels, to a critical Leadership Test, to even Seize the Initiative or Red Thirst (one I think people will overlook). An ability like this hasn't been seen since the olden days of Brother-Captain Stern of the Grey Knights, and having played that army for many a year, I can say that that one critical re-roll can be a game breaker or maker. Factoring it into the equation and Corbulo truly shines as an all-around good buy.
Final Comments: The old staple HQ of the Blood Angels finds new life as a powerful addition to it's Elite Section. If you have the points for an upgrade, and don't mind a loss of a Jump Pack, Corbulo is a hard-to-pass-up buy.
~And there we have it, the Elites section of Codex: Blood Angels. Here we see the first tidbits of what the codex offers as a whole, from powerful and ability-laden Dreadnoughts to assault forces that will prove both resilient and deadly in combat. We have only hit the tip of the iceberg so far, and next time we'll look over the real meat of the book, the Troop choices. It is here that you will see the synergy begin to built, slowly transforming a loose collection of good units into an unstoppable horde of red death. Looking forward to it! -Mr. Black