Hey Folks.  Jawaballs here!
Every once in a while I like to do product reviews for stuff I use in the hobby. Or stuff I have tried. This time, I would like to talk about Quickshade from The Army Painter.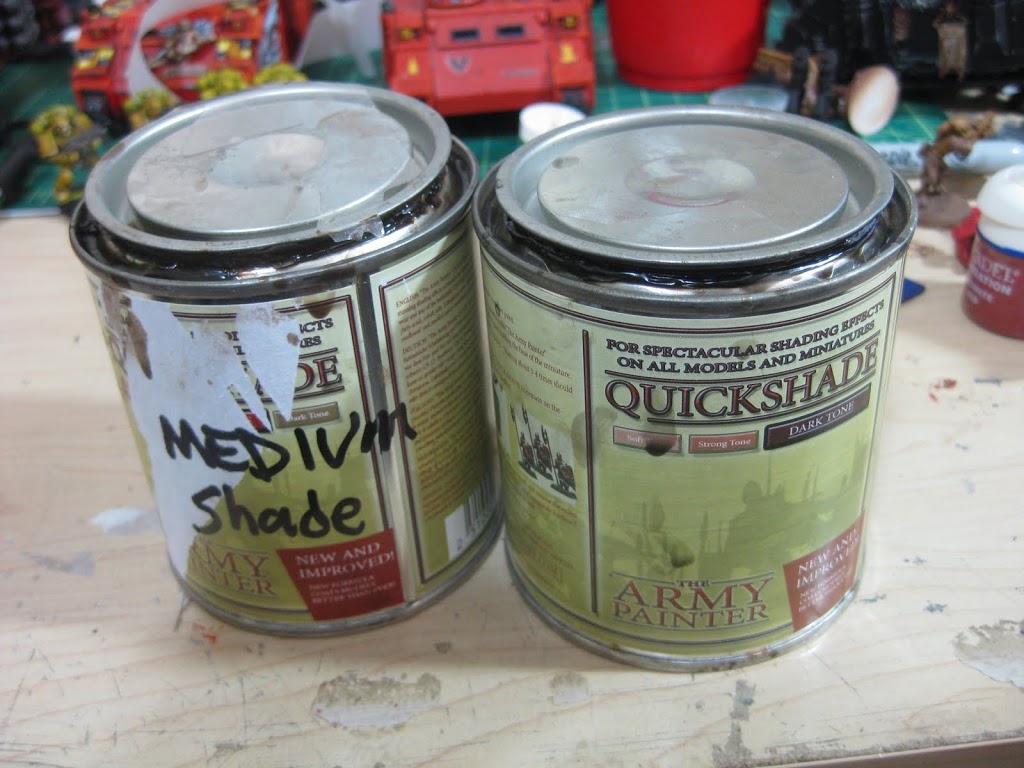 What is this stuff? If you are new to the hobby, you may have heard of something called "Dipping" your model. This is the act of painting a model, then actually dipping it into some sort of varnish or other material in an attempt to easily and quickly finish the model. The idea is that the material you have dipped your model in will seep into the recessed areas of the model, leaving a nice shading. If done well, you can easily finish entire armies in no time. There are pros and cons to this method which I will discuss first.
Cons:
Dipping is Messy:
The material used to dip usually fills in the recessed areas of your model completely, and then some. It can be very thick, and not run off the model, covering areas that should remain clear of shading. It can make a huge mess of any work space.
Difficult to Use:
It can be surprisingly difficult to effectively dip models. It is very easy to use too much, and ruin the model you are working on. Also, it is suspect to weather conditions. Working in very humid weather, or very hot or cold weather could have an ill effect on the material. Finally, it tends to leave the model with an extremely glossy finish, which will require some sort of Matte varnish spray to reduce. I am a big hater of Matte varnish in any way shape or form as I have ruined many a model trying to use it.
Not Professional:
Dipping is considered by many to be unprofessional and can be frowned upon. Honestly, it is not something I would do with my competition quality paint jobs. But having said that, it is fine for getting a table top army ready to play.
Pros:
Speed/Effectiveness:
Dipping is fast! Not all of us are professional painters. Not all of us have the time to paint our models with the care and love that we would like. But we still want to paint our own armies, and have them look half way decent! Dipping provides a quick way of getting a nice shaded effect on your models.
Evens the Playing Field:
Related to the first pro, dipping sorta evens the playing field. It is possible to get a look similar to that done by professional painters, but with a fraction of the ability.
Ok then. Having quickly reviewed the pros and cons, lets talk about The Army Painter Quickshade.
They offer the product in three different shades. Soft, Strong and Dark. I have experimented with Strong and Dark.  They are shades of brown, with Dark being the blackest. So before you start, understand that they will stain your models brownish.
I used quickshade on four different sets of models. Some Imperial Fist Space Marines, some Tau Fire Warriors, some Tau Pathfinders and some Tau Crisis Suits.
I will begin by saying that NONE of these models are intended for competition. I am not trying to impress any one, and I am not trying to win Best Painted. With those expectations aside, I can still say that the models look fairly good, and definitely better than many armies I have played against. But more importantly, they were done in minutes. That is the key here. Speed. I am working on a Tau army to play as an alternative to my Blood Angels. All I am trying to do is get an army on the table that does not fail my minimal standards. I think that these examples so far accomplish that goal.
First of all, the Imperial Fists.
I used two techniques. I painted them all with The Army Painter Demonic Yellow color spray primer.  I sprayed the yellow directly onto the grey plastic. If I were to do them again, I would spray them white first. The yellow looked a little greenish after spraying onto the grey.  A white prime would brighten and purify the yellow spray.
So the first two were done using Citadel Ogryn Flesh first. I wanted to see how they looked shaded with just that. I gave them a final extreme highlight of white after the wash. The white looked a little too extreme and could have used a little toning down.  But then I dipped them with Quickshade Dark Tone. I think this perfectly finished the models as it toned down the white highlight, and gave a stronger shaded effect.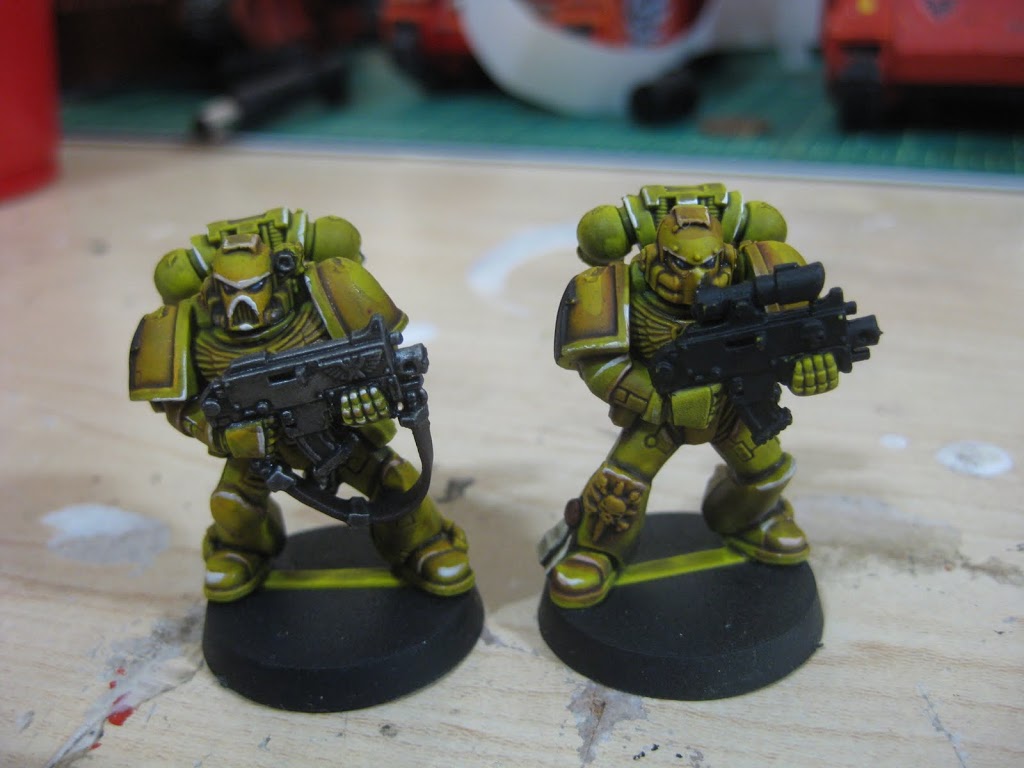 The second two models were done the same, only I used no white highlight and no Ogryn Flesh. These were simply sprayed Demonic Yellow, touched with a few details like the bolters, eyes and purity seals, then the Dark Tone was brushed on.  They were finished with a quick blast of Army Painter Anti Shine. Both of these models literally took a minute to paint. Not too shabby considering their time investment. I don't doubt that an entire army painted to this quality will look good on a table. You can see that the Ogryn Flesh made the first too look much darker and is unnecessary. But some one had asked me what would happen if they used that was first, so I wanted to show them.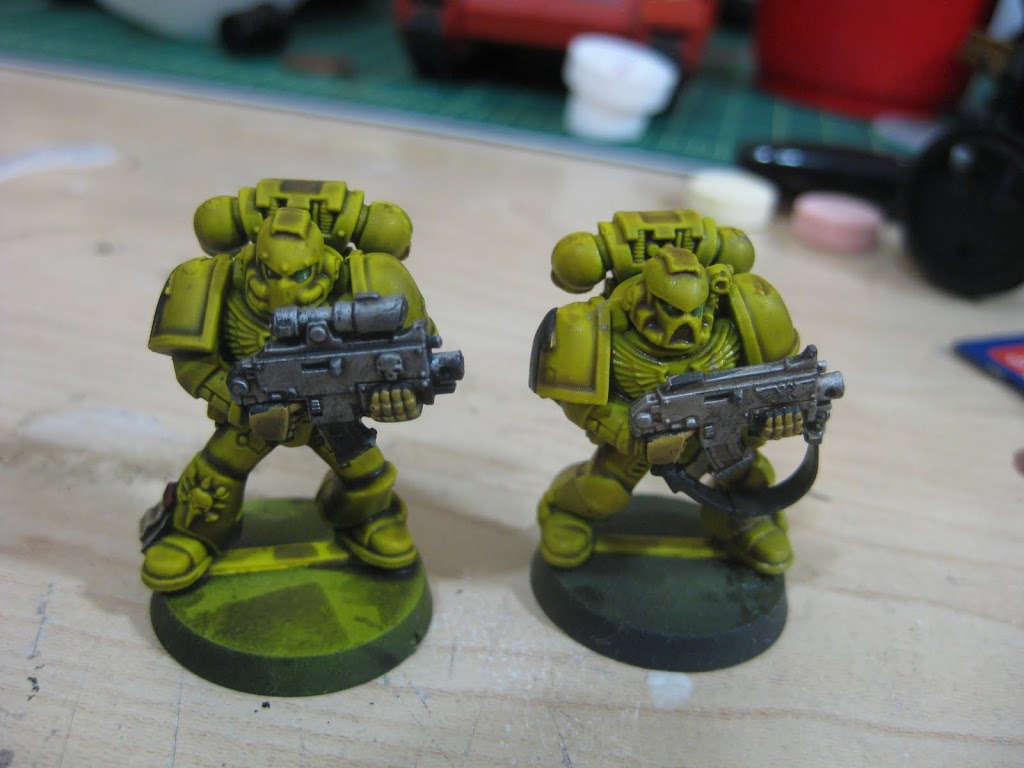 Next came a small group of Tau Fire Warriors.  (I have not based them yet.)  For this group I sprayed them using Army Painter Desert Yellow spray primer. I then did the fabric parts of their uniform with Scorched Brown right over the primer. Then I dipped them right into the Strong Tone can! I did tutorial video on some of this that I will add at the end of the article.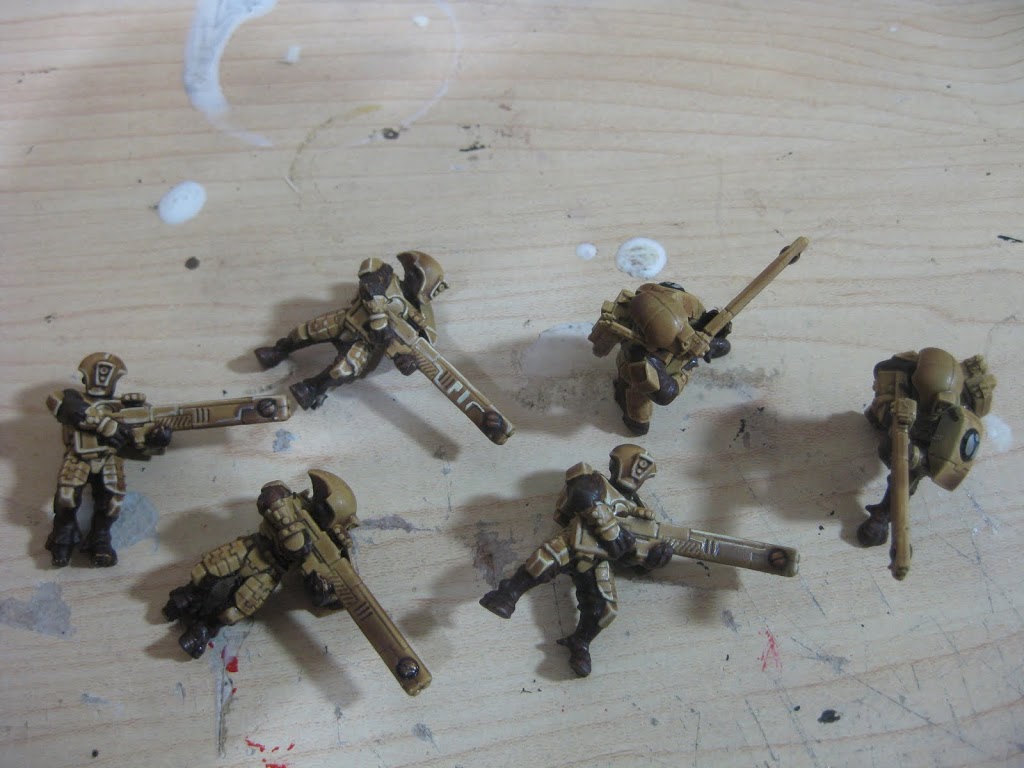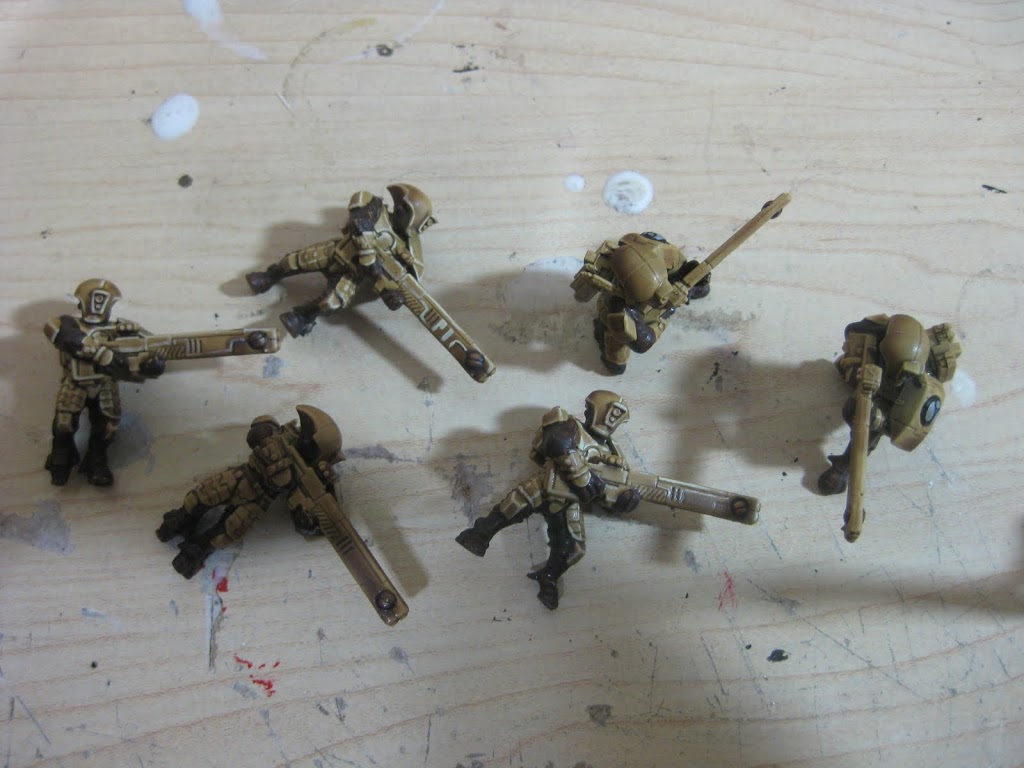 I think the finished look was outstanding! Tau can take quite a while to paint to a high standard. But the finished result using this Quickshade surpassed my expectations in a fraction of the time.  To push the model even further, I spent a few extra minutes going over some of the edges with a Bleached Bone highlight and I gave a few squad markings to some of the models.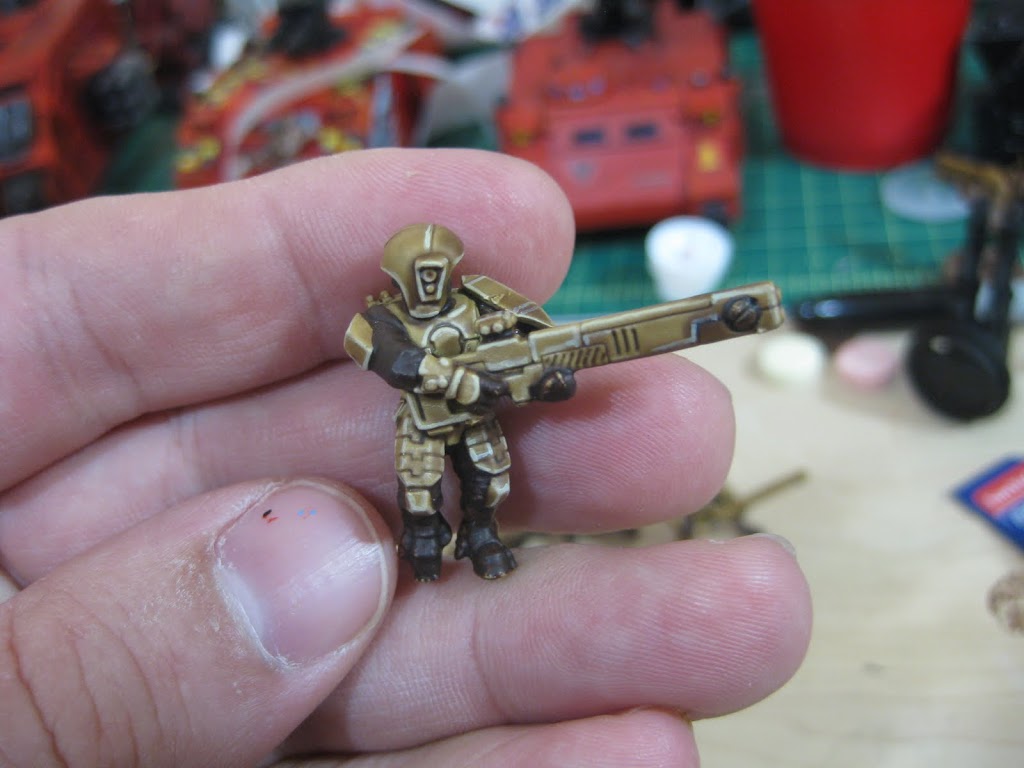 Then I painted a pair of Crisis Suits. The one on the left I actually dipped right into the can, and the other I used a brush to apply the shade. You can see the difference in how much accumulated on the feet. I was more careful to dab away the excess shade on the second model. All I did for these was spray them with Desert Yellow, then apply the shade and anti shine, then gave them a few highlights with Bleached Bone. Note, I could have toned down the bleached bone a bit, or used a darker shade of brown. It was a bit too extreme and in the future I will take it down a notch, but still, I think the models look good considering the time it took to paint them.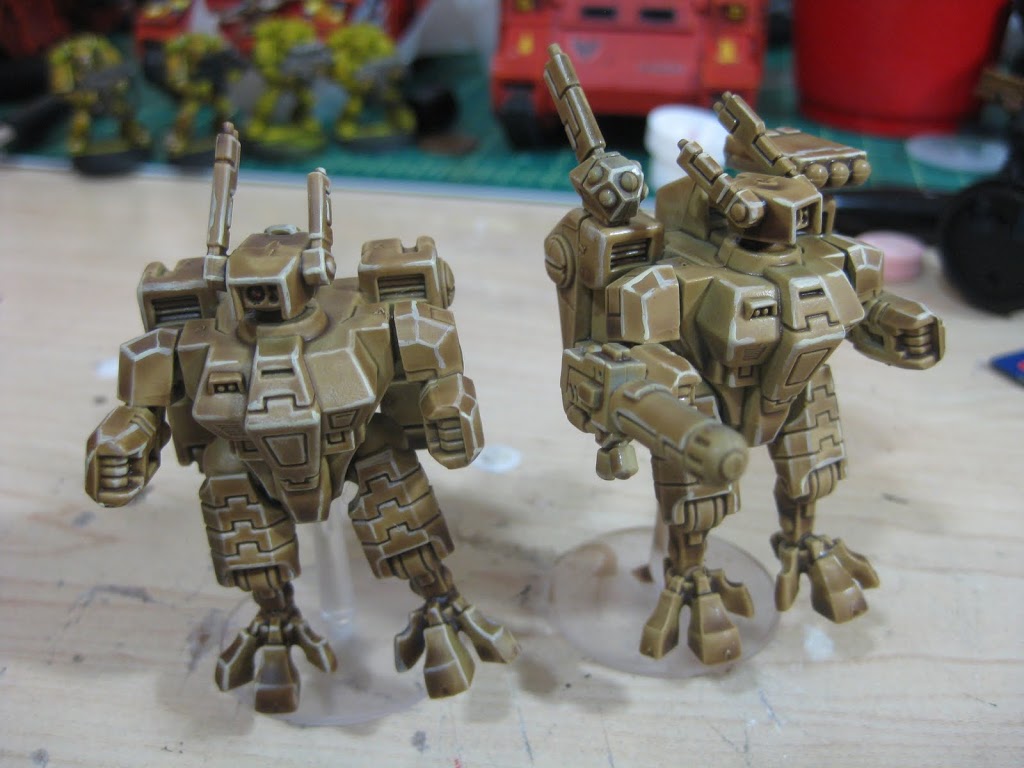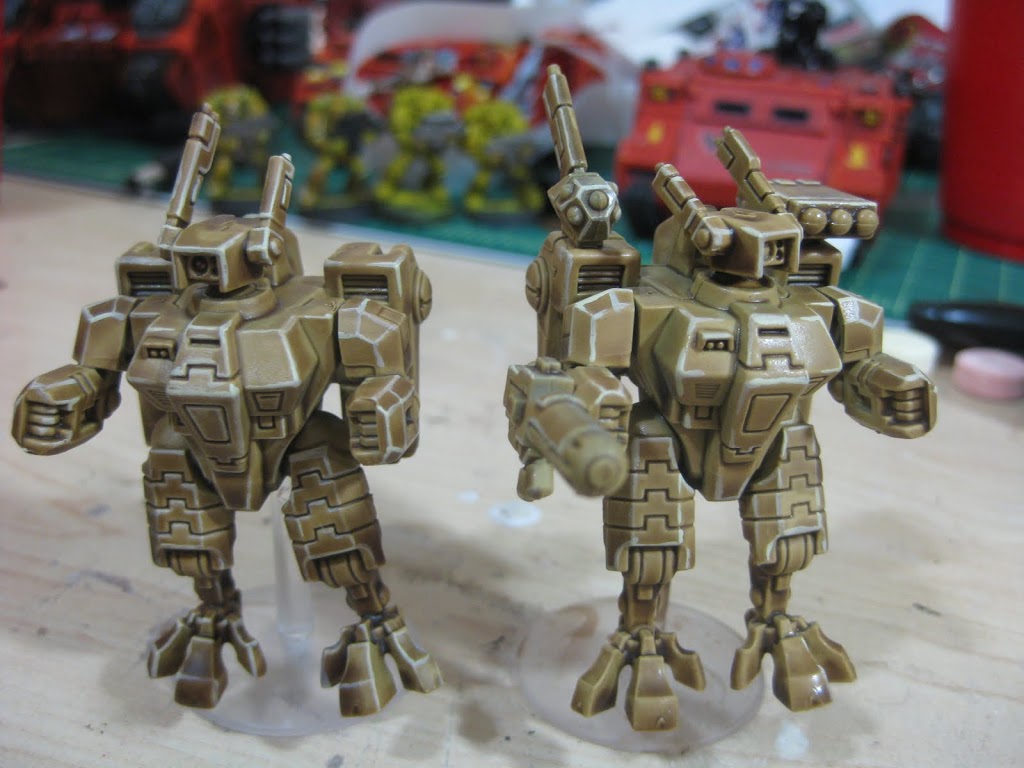 Again, this is all about speed here. I am in the middle of a complete revamp of my Blood Angels army and simply don't have the time to spend doing another competition level job. I want to play the Tau for fun!
Finally I did a squad of Pathfinders.  These guys I sprayed with Army Painter Leather Brown, then used Citadel Foundation TauSept Ochre on the armor parts.  The sergeant's head is done with Bleached Bone.  I applied the quickshade with a brush on these, and gave them each a blast of anti shine. On the sergeant you can see I went back in and gave him a highlight of Bubonic Brown on the armor, and pure Bleached Bone on the helm.  The guy on the right also got a bit of highlighting.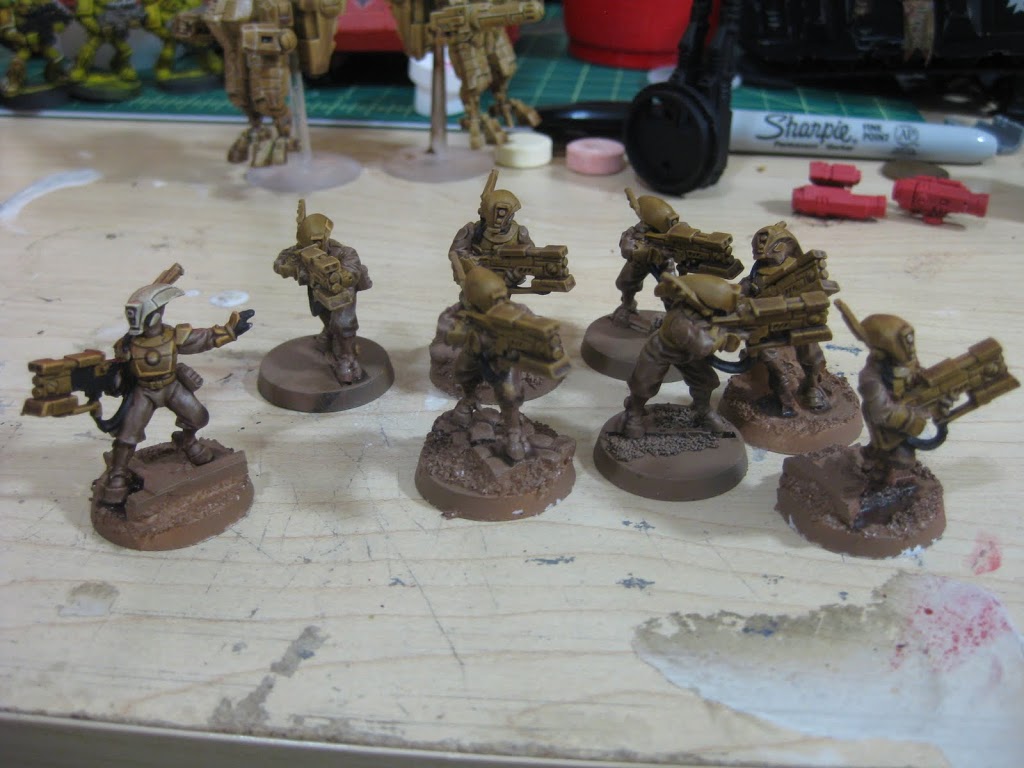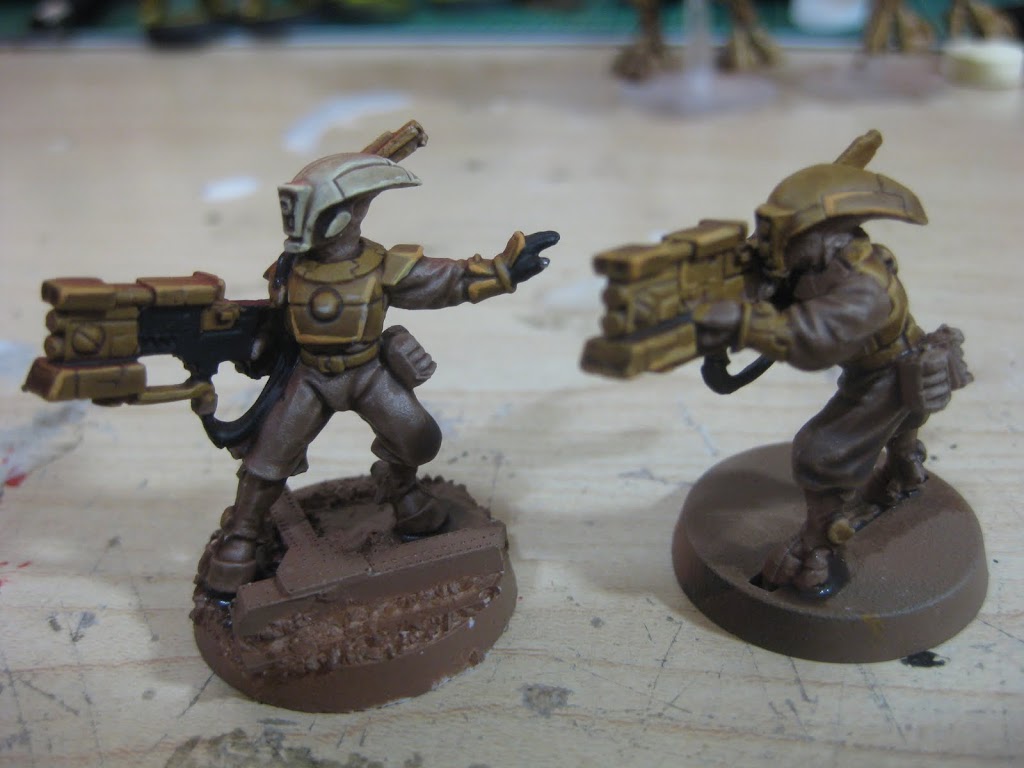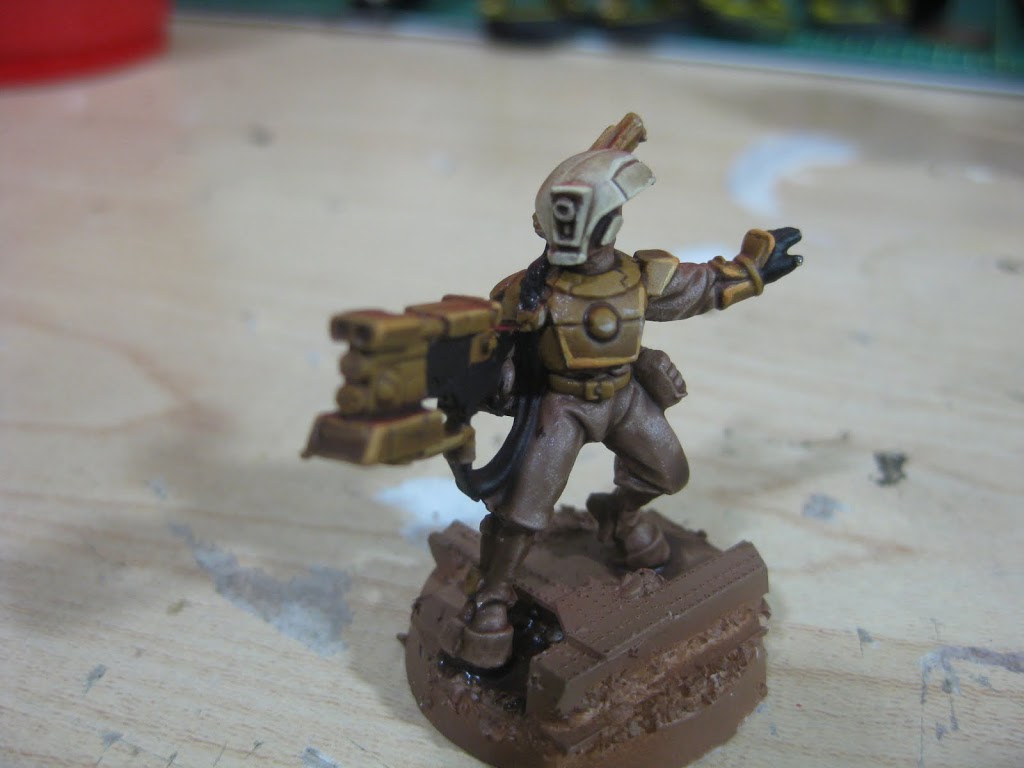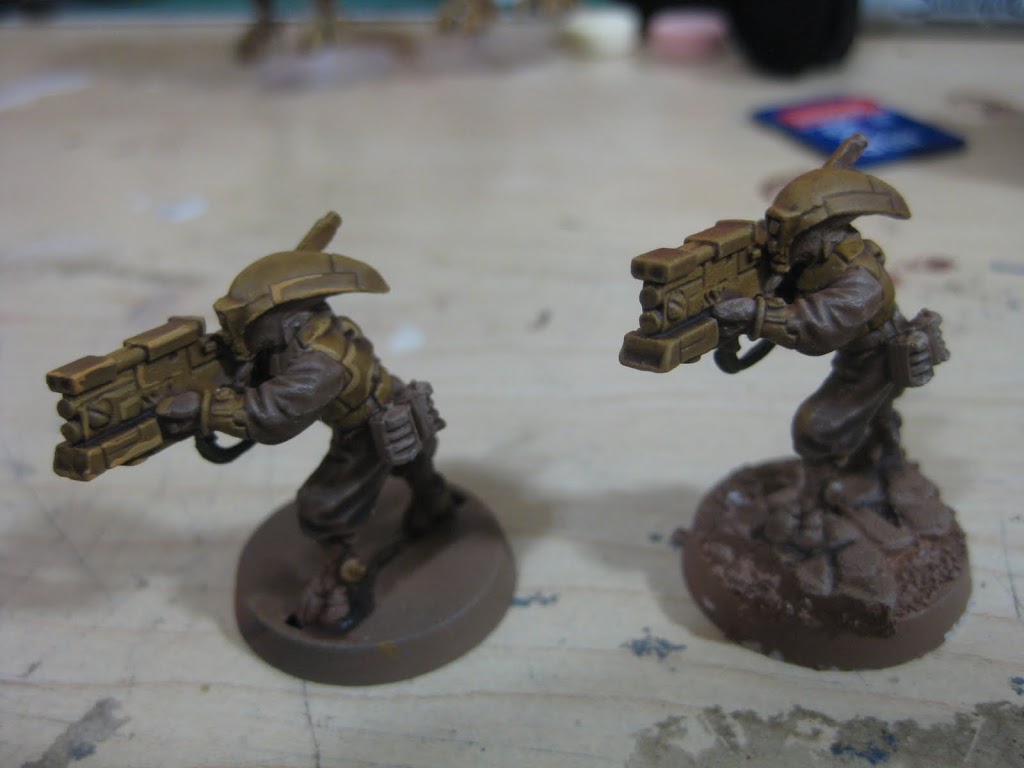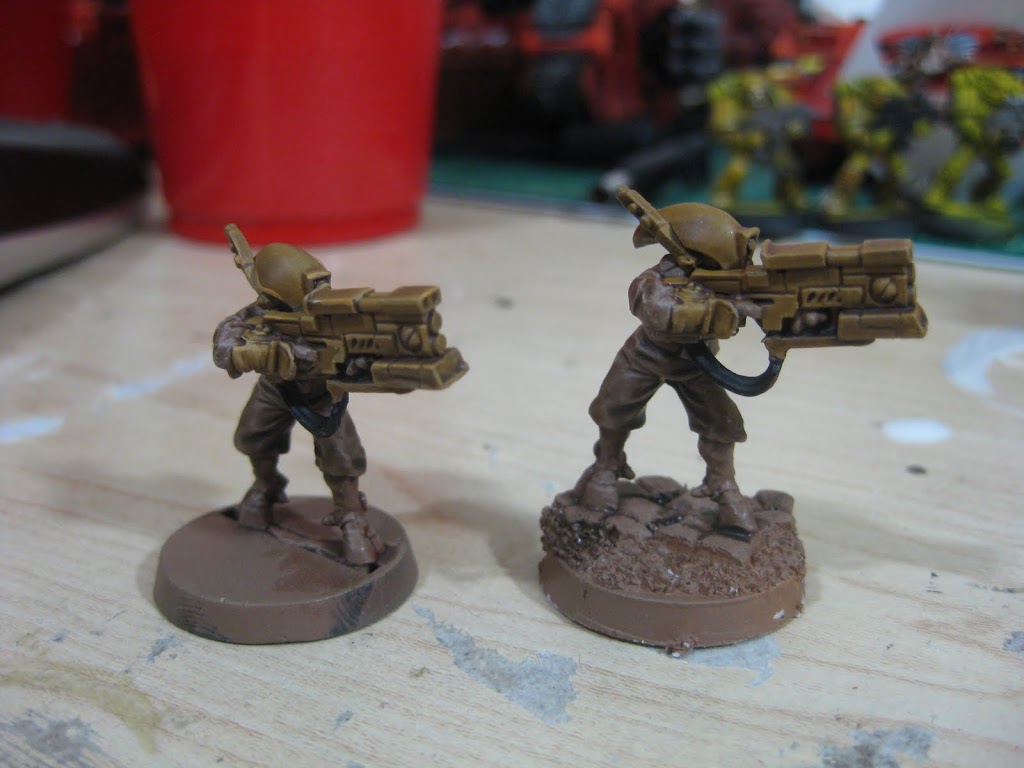 In the last pictures, the model on the left was the one given the final highlights, while the others were given none. Just so you can see the difference. The final highlights are not necessary at all! I would estimate the total time spent working on this full squad at 20 to 30 minutes.  All they need is a little bit more highlighting love, some squad markings and some fresh Jawabases. Please forgive the quality of the pics.
If you are interested in seeing a step by step picture tutorial of how I did the Crisis Suits, I posted one up on MY BLOG HERE.
To conclude this review, in meeting my desired goal, I would give this product an A-.  As previously stated, my goal here is simply finishing an army in the least amount of time possible, yet having it look half way decent. To that effect, this Quickshade is brilliant. I like the dark and gritty look of the models. An added bonus is that the quickshade is a heavy varnish. It hardens to a nice shell that is very resistant to chipping. This is great when dealing with squads of metal models that die by the droves like Pathfinders. I can scoop em off the table into a dead pile and not worry about chips and dings.  Despite the heft of the material, it is designed to seep into the recesses of the model and leave the edges clear.  I think that this claim was substantiated in use, however may require some dabbing with a brush to clear off the largest accumulations of shade, primarily towards the bottom edges of the model where gravity pools it up.
Quickshade leaves a VERY glossy finish. This may be desirable for greasy looking models like slimy Nids. But is probably not what you are looking for. This will require you to use Anti Shine Matte Varnish spray to finish the models. A word of warning, make sure your Quickshade has had at least 48 hours to dry and set. If you try to spray the anti shine too soon, it will fog up and or flake off and not set right. I like the Army Painter anti shine vs GW Matte Varnish because it was formulated to give the absolute minimal effect. Your model is already heavily varnished. You don't need another layer. So a VERY QUICK blast with the Anti Shine is all you need. And I am talking just a light touch. You can see what I mean in the videos.
But Quickshade is no substitute for good ole fashioned skill. I have a friend that was chosen as a Golden Daemon Finalist with a model that he painted in 3 minutes then dipped. So dipping does have the potential to wow people, but in general, if you consider yourself a painter trying to field the best army possible, quickshade is probably not for you. It is fantastic for my Tau project, however I would not use it on my competition Blood Angels. But most of us are simply satisfied with something that looks good while playing with it, and if you fall into that category, Quickshade is a great investment, especially when combined with Army Painter colored spray primer. In all examples above, the spray primer eliminated several steps, and combined with the Quickshade equals a pure win.
I will leave you with a picture of my Quickshade Sergeant vs the Fire Warrior I painted as the example for my How to Paint Tau Fire Warrior video set.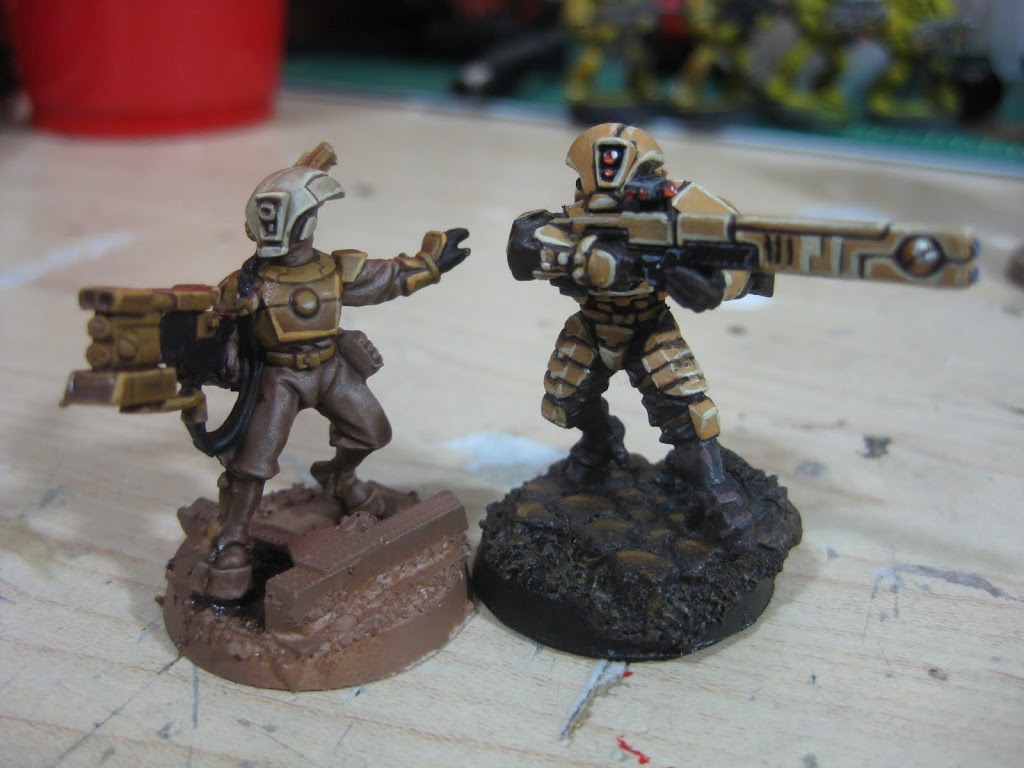 The Fire Warrior was painted with many layers of paint and painstaking attention to detail. He took about 45 minutes to an hour. The Pathfinder took about 3 minutes.  When weighing the finished product vs time expenditure which is the better payoff?
The US webstore for The Army Painter is open for business. Or support your local boys. If you have never dipped your models before, but want to get a job done fast. I say give it a shot, it is certainly worth the investment.
Jawaballs Approved!


More to come.