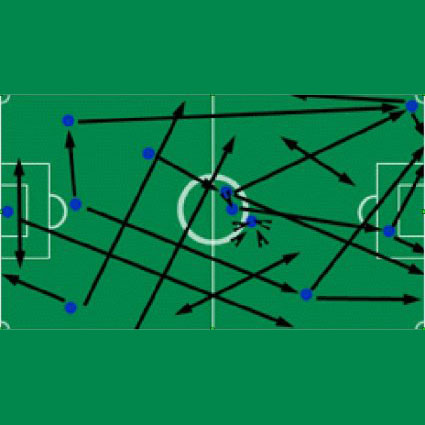 Hello everyone and welcome to another Spacecurves' Tactics class, where you learn practical knowledge you can apply to your games of 40k. This week I'm once again going to talk about some deployment strategies.

As I've said before, deployment is a crucial part of 40k. The way both sides deploy can determine the entire flow of the game. There are many factors that determine how you should deploy, the scenario, your army, your opponent's army, etc. Despite all these factors there are some general deployment strategies that are useful to know, much like Chess openings. Today I'll talk about two of the most basic, and most useful, deployment strategies.
Refused Flank
Perhaps the most well known deployment strategy, it is also one of the most useful.
When do you use it?: When deploying second. Deployment zones should be similar to "pitched battle" or "dawn of war."
How do you use it?:If your opponent has deployed relatively evenly across their deployment zone, deploy your forces entirely in one part of the battlefield. The side of the board you don't deploy anything on is the flank you have "refused". This will leave a portion of the enemy army out of range/assault for at least the first few turns of the game before they can redeploy. In other words, it lets you begin the game in a good position to be stronger at the points of contact than your opponent. It doesn't matter how globally weak you are, if you are always locally strong.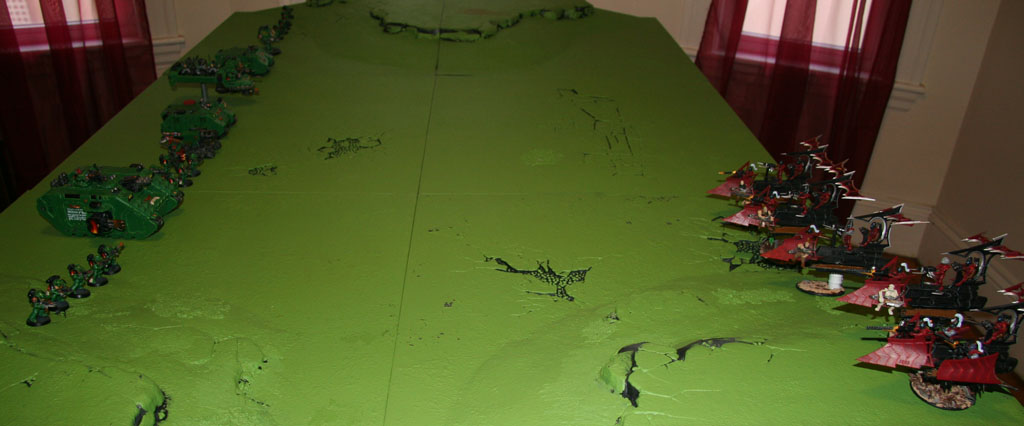 Picture 1: Refused Flank Deployment
If the deployment rules for the scenario are similar to dawn of war, simply create this scenario by moving your forces onto only one section of the battlefield.
If you are going first, you can sometimes still create this scenario. Let us say for example you are playing against a massive ork horde with a pitched battle deployment. You deploy in one corner. The ork player wants to deploy as close as they can to you, but their large model count and the dimensions of the deployment zone force them to spread out to a certain degree anyway.
The Oblique
A way to create a refused flank using speed and deception.
When do you use it?: During deployment, when going first or second. Deployment zones should be similar to "pitched battle".
How do you use it?: This deployment strategy can be used to create a "refused flank" scenario in your favor when deploying first or second. It is most effective when you have multiple fast units. (eldar skimmers, Valkyrie heavy IG, Blood Angels etc.) Deploy spread out across the length of your deployment zone. Put all your fast (24″) movement units on one half of your deployment zone.

Picture 2: Oblique Deployment, step 1
This will entice your opponent to also deploy spread out to engage all your units. Then using scout moves, or just on the first turn, move your fast elements to the other side of the table to concentrate your forces on half of your opponent's spread out army. This in effect creates a refused flank scenario in your favor.
Picture 3: Oblique Deployment step 2

Homework Question 1: As with any strategy, there are pro's and cons to refused flank. What could be some disadvantages of hugging one side of the board?
Homework Question 2: What are some other ways you can think of to create "local strength" regardless of "global strength"?
Class Dismissed!
-I hope you learned something useful you can apply to your next game!
-Spacecurves