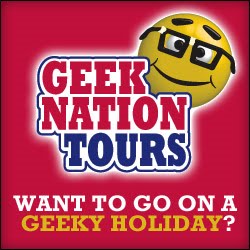 Our buddies at Geek Nation tours are headed back to the UK this year and they have trapped a very special creature for your entertainment… More after the jump.
After the huge success of our 2010 tour Geek Nation Tours is returning to the United Kingdom in the fall of 2011. Every miniature wargaming Geek's dream is to visit the UK as here one can find a multitude of gaming related destinations plus really really great beer. Traditionally we have had loads of promotions and this year is no exception. What's more, because you requested it – more Days! more Gaming! more Sites and more Fun….

Geek Nation Tours is proud to announce that we will again be joined by 40K Radio this year. In addition Thomas Reidy or "Goatboy" from Bell of Lost Souls will be joining us. Geek Nation Tours has promised that we will keep them out of jail – but only "just" … Their antics can be heard at 40K Radio and seen on Bell of Lost Souls. They should be a great addition to the tour….

If you are a fan of 40K or Fantasy and want to see many of the wargaming sites in the UK while being surrounded by people of like mind – this is the tour for you. You will meet people that are just as enthusiastic about 40K or Fantasy as you are. Our tour participants agree that while not only do you see super cool places and things while on tour – but you also make friends with great people from around the world.

Promotions? We got em! This year we will not only have our traditional welcome Titan draw and Battlefoam bag draw but also Gary from Maelstrom games is throwing in 15% off at his store…

To see the full tour description visit: http://www.geeknationtours.com/index.php?pageid=31&tourid=12

Book soon though… space is very limited and we are filling up fast!

Teras
Geek Nation Tours
Lets all hope The Goat doesn't get into too much trouble over in the UK. For all you locals, he doesn't bite…much – and we're making him take a videocamera. Imagine the hijinx!