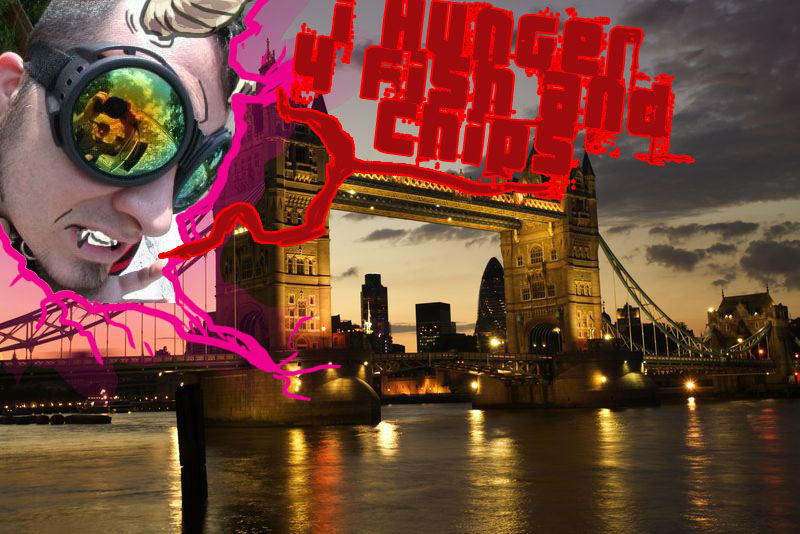 Just as the title states Goatboy is going to invade Britain this coming December. I was lucky enough to be asked to be a special guest on Geek Nation Tours "Holidays for Geeks by Geeks" – trip to the UK – Geeking Out with Miniatures in the UK. That is right – I am heading overseas to bring my own brand of Warhammer 40k insanity.
When Big Red told me I was going to be heading overseas to "geek" out I can't tell you how excited I was. I threw down the tin can I was munching on and started to plan on some kind of army nonsense to take overseas. The notorious Word Bearers list was what came to mine as I started at the pile of plastic crack I had all around me and the Biker/Horsey army of doom is what floated to the top of the cesspool of goat-like nonsense I call my brain. Look for more updates in the coming months as I get the army together as well as a really cool display board to go with it. I plan on bringing it to Adepticon first and if things go right I might be taking it to ETC as well.
I remember reading about this tour last year and was extremely interested in it. I knew I wouldn't be able to make it due to getting remarried that year and thinking correctly that my new wife wouldn't find throwing dice nearly as exciting as I did.
What I am interested about with this tour is that as much as it is about gaming and miniatures there is still a whole lot of history I get to check out. I have never been to Britain before and have only set my hooves in Belgium (Mom is from there so I have lots of family overseas) earlier in my goat life. I am super excited to see the different buildings, the history, and all the other neat bits and pieces that add to an awesome vacation. Also remember this tour is not just for 40k players – it is for miniature wargaming players. Fantasy, 40k, ninja fighting, etc – all miniature gaming aspects are represented in this tour. Yes there is a big push for Games Day but we get to meet a lot of other companies along the way.
I plan on doing some interviews with past attendees of the tour as a way to give a better idea of this adventure. I know a lot of people think of it as a "sausage" fest but really it is just a way hang around with some people that enjoy the same type of history and gaming adventure as yourself. Heck I just hope I have some fans to come along so I can give Romeo at 40k Radio more crap and have some peanut gallery back up.
Besides the tour Geek Nation is also giving away something to the people going on the tour. What could they be giving away besides an awesome adventure? Well let's just say it is titanic, mean, and comes from the UK. Geek Nation have decided to throw in a new twist on the draw. Those booking by February 17th will have 3 tickets entered for the draw. Those booking by April 1st will have 2 draws and those that book by July 15th will have one. That's right! Let Geek Nation Tours do your resin crack shopping for you… Book early to secure your "Titan Tickets" and increase your odds on bringing something home on us.
So click on the links and check it out. I plan on bringing some Goatboy stuff to give out to those that crush me in the game of dice and plastic crack. Join the Herd and help me take over Britain in the name of the Great Goat.