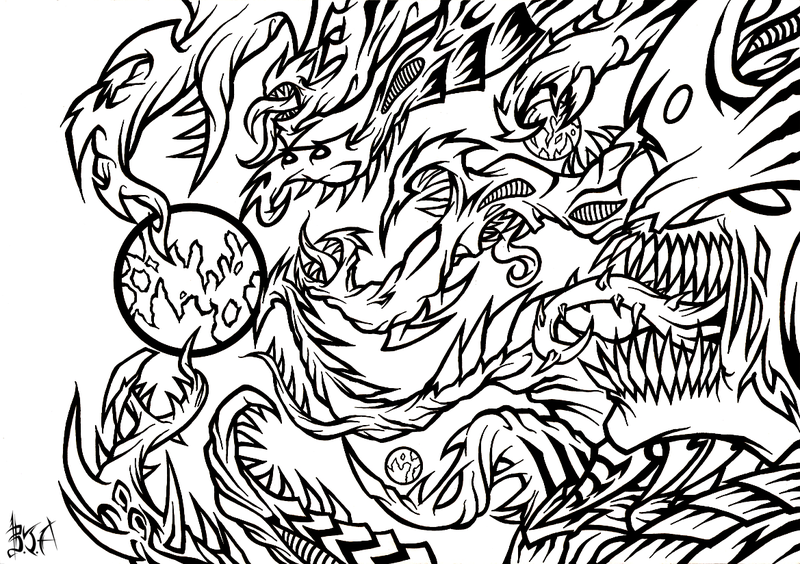 This week let's discuss Tyranids and Planetstrike, how best to ensure a bloody victory during your next planetary invasion. You do play Planetstrike don't you?

These last few weeks I have had the luxury of playing Planetstrike. Before we get into the matter at hand I would like to ask the question, why do I seldom see or hear about Planetstrike? Cities of Death, Planetstrike, and Battle Mission games seem to seldom make appearances in the Warhammer world. Why is that? Regardless, for those that do play, here is some tactics that you can take with you the next time you bring your hive fleets to war.
Since the army you will bring is dependent on the role you will play let's look at things first from a defender stand point and then from an attacker. For Tyranids, the role of defender is strange. Tyranids are made of close combat stuff so holding ground is a bit out of their niche. But that surely doesn't mean they can't do a good job of it. Properly tuned Tyranids can unload torrents of gunfire and way down your opponent with unrelenting numbers. So, first thing as a defender that we need to look at is, how are we going to hold our objectives?
Defending
It's a dangerous gamble to leave the role of objective holding to gaunts. Synapse could be your own undoing. With lurking units, you don't have as much to worry about as they will instinctively stay in their hiding holes. But you gamble losing the ability to choose what targets you wish to fire at. I find that a unit of Warriors is the best option for bunkering down in fortress or bastions. In the last game I played I used four Warriors with lashwhips, boneswords, and deathspitters. These guys did an impressive job of holding ground and shooting at wannabe attackers. In many games that I have played or seen played the bastion cracker is usually a unit of Terminators, not always but most of the time. A unit of Warriors with whips and boneswords can hold their own against a relatively small sized unit of Terminators. Watch out for stormshields though, it's not likely that you can best that kind of save unless you have the numbers. In cases like these you may have to hope for just being able to buy time for reinforcements to arrive.
So the defending army gets to bring more heavy choices then the attacker. But if only Tyranids had good heavy support choices…oh wait…we do! In one of my recent Planetstrike games I took the liberty of running two Trygons, a Trygon Prime, and a Mawloc. I cannot stress the fun of taking this many big guys. Every walker or tank, maybe not a Landraider though, can get smacked around by these guys. When deciding to field this many monsters keep in mind that most attacking armies bring bunker busting weapons. That means high AP weapons, so consider this when placing terrain that might be tall enough to claim some cover or when placing your objectives. If you place them centrally and reserve your monsters you have a chances of getting assaults turn one if you roll well on the scramble chart.
As defender you also have some good choices with Hive Guard and Venomthropes. Being able to place terrain means that you can really optimize the field of coverage that your Hive Guard will have, get them close to the enemies deployment zone and you can pop their tanks as the arrive. And don't overlook Venomthropes, if you are running lots of monsters, a 5+ portable cover save could be useful and don't forget they also force dangerous terrain tests and initiative one mods onto enemies. Since there is little you can do to prevent being in assault right away, you can at least make it more punishing for opponent when he does.
Attacking
Now for the role of attacker; where Tyranids really shine. The key thing that will make Tyranids excel at planetary invasion is the ability to assault the turn they come in. Any unit with the ability to Deepstrike can assault the turn it comes in. That means our Trygons, which don't have to fear mishap, except for table edges, can be in combat turn one. This is amazing and vital to any good Tyranid attack. This is as an opportunity to crush heavy gun lines before a single shot is ever fired. You might be tempted to hit that bastion right away, but I say let the more suited units do it, armor 14 can still be difficult with only strength six, even if you're a monstrous creature.
So as attacker we got more elites and fast attackers. Not much really going on in the fast unit section. Sure Gargoyles are always good and having a flying swarm can be very advantageous for sweeping away units or for last minute dashing for objectives. Remember, as attacker we generally only need one model left on the objective to have it, there are a few games of Planetstrike were this is not the case. The Harpy is pretty cool but I still don't see any things about it that makes it any better at Planetstrike then regular games. And Raveners, don't even get me started on them. They are theoretically one of the best units for us in PS. They can Deepstrike and assault the turn they come in which is great since they are beasts in CC. But the sad reality is that they are beasts and subject to the PS rule of being deployed in the deployment zone. Which means their DS ability doesn't account for much. That leaves our elite slots open. Here though, we got some good choices.
Zoanthropes, hands down, you want them. Put them in a pod and turn one you get to crack a bastion and have your Trygons eat what comes out. You cannot go wrong with them. Ymgarl Genestealers are also a good choice. With all the terrain that you usually see it should be easy to get them into an advantageous position. But their CC supremacy is not the only reason you should field them. There is a level of psychology here. Your opponent may want to deny you terrain placements for them. So he will space them out, maybe even put little terrain down in the hopes of denying you cover for the rest of your army. But do not despair, this is good. Not only has he given you a window to DS your army but he also denied himself safe places to leave his troops to avoid being assaulted. There is finally one other unit that surprisingly is good, the lowly Pyrovores. I know most people don't dig on them, but consider that if you drop them in a Mycetic Spore they are one of the only units that can hurt enemies units hiding in bastions without having to blow them up first.
Old One Eye, if ever there was a game to use him in this is it. The ability to Deepstrike, the enhance likely hood of turn one assaults; he can actually live long enough to do something. Old One Eye is a bastion cracking, fortress smashing, castle crashing machine. It's hard for your enemy to completely cover his bases. And you are likely to get a board edge near him, even with the stratagem that forces you to re-choose your DZ. This gives One Eye a new level of viability. If you're like me, and see him die before he makes it combat most of the time, then rejoice in the game of Planetstrike, where he may live long enough to regenerate some wounds. That about covers the specifics, but now there are a few units that are always good to have regardless of roles.
The Deathleaper is one of the most strategic units you can have. The ability to be redeployed anywhere if tactically brilliant. He alone won me my last game. Use his leadership modifier to hurt some enemy psycher and leave him hiding away. Your opponent will probably forget about him and on that last turn you can pop out and claim any objective you want.
The Doom of Malantai in a spore can crush a gun line like nobody else. One great thing about PS is that you don't see a lot of tanks. Even as defender people usually go for Deepstriking over tank trudging. That means the Doom can achieve great things from exposed units. If you see a unit of Long Fangs sitting in a ruin waiting to shoot your monsters, then drop the Doom on them and enjoy the ensuing madness.
That is it for today people. Tell me why you love Planetstrike, or don't love it.