Gencon 2011 Report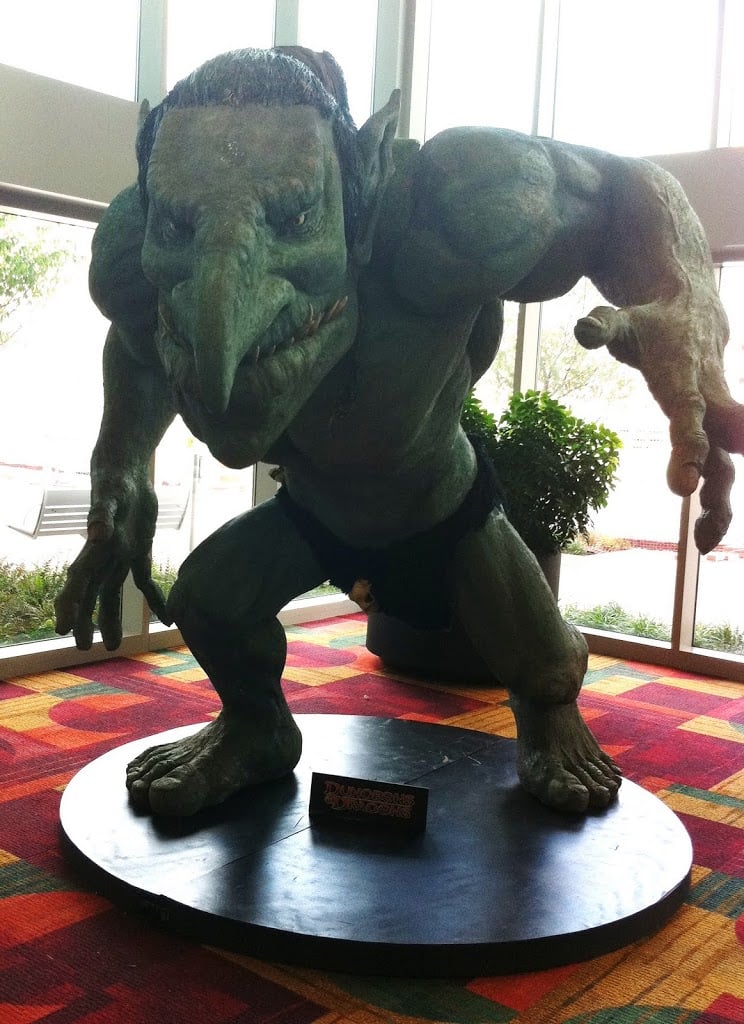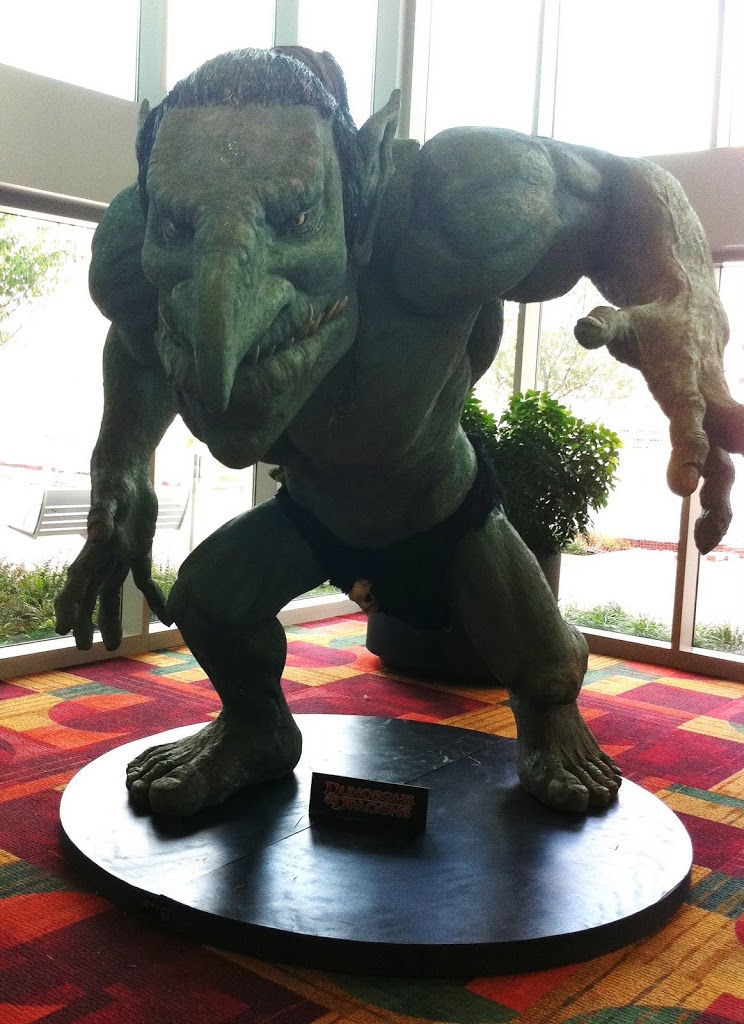 I managed to find myself at Gencon once again this year. I didn't have nearly enough time on the floor as I would have liked so I rushed around trying to grab an eyeful of everything that looked cool. Here's what I saw.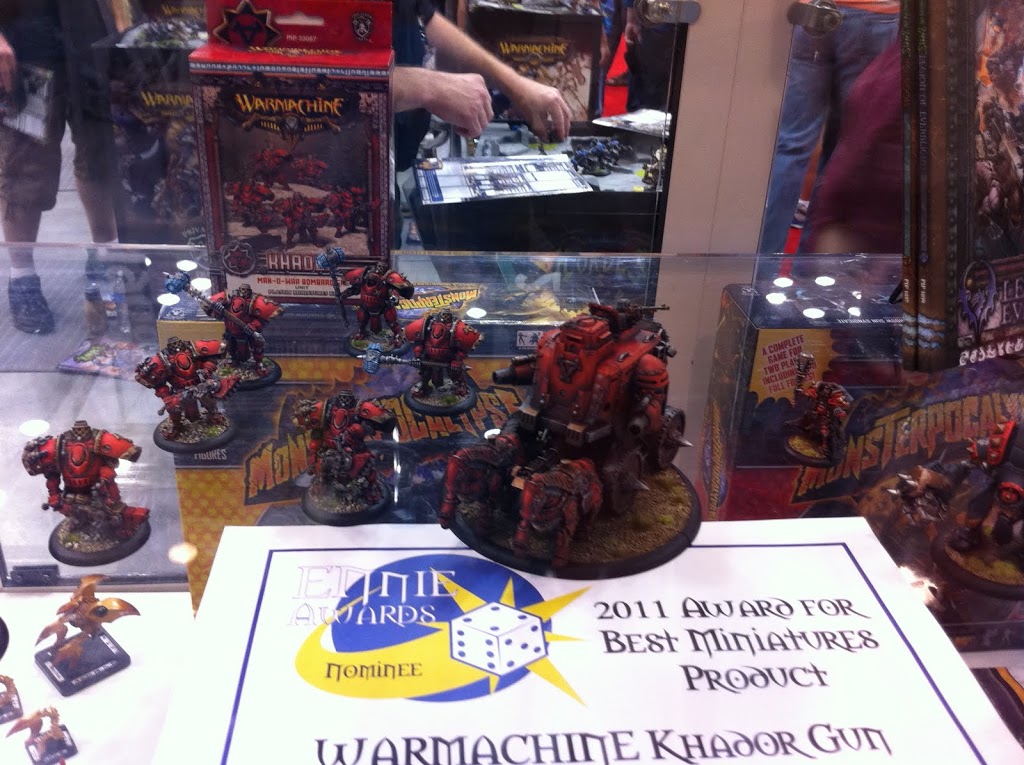 The Privateer Press booth was my first stop. They had all the September products up for pre-release (including the new two-player battle box). The surprise sneak preview for this year was in the hands of Matt diPietro, the Privateer studio painter. He was in the booth painting up the new Farrow Warlock: Sturm und Drang.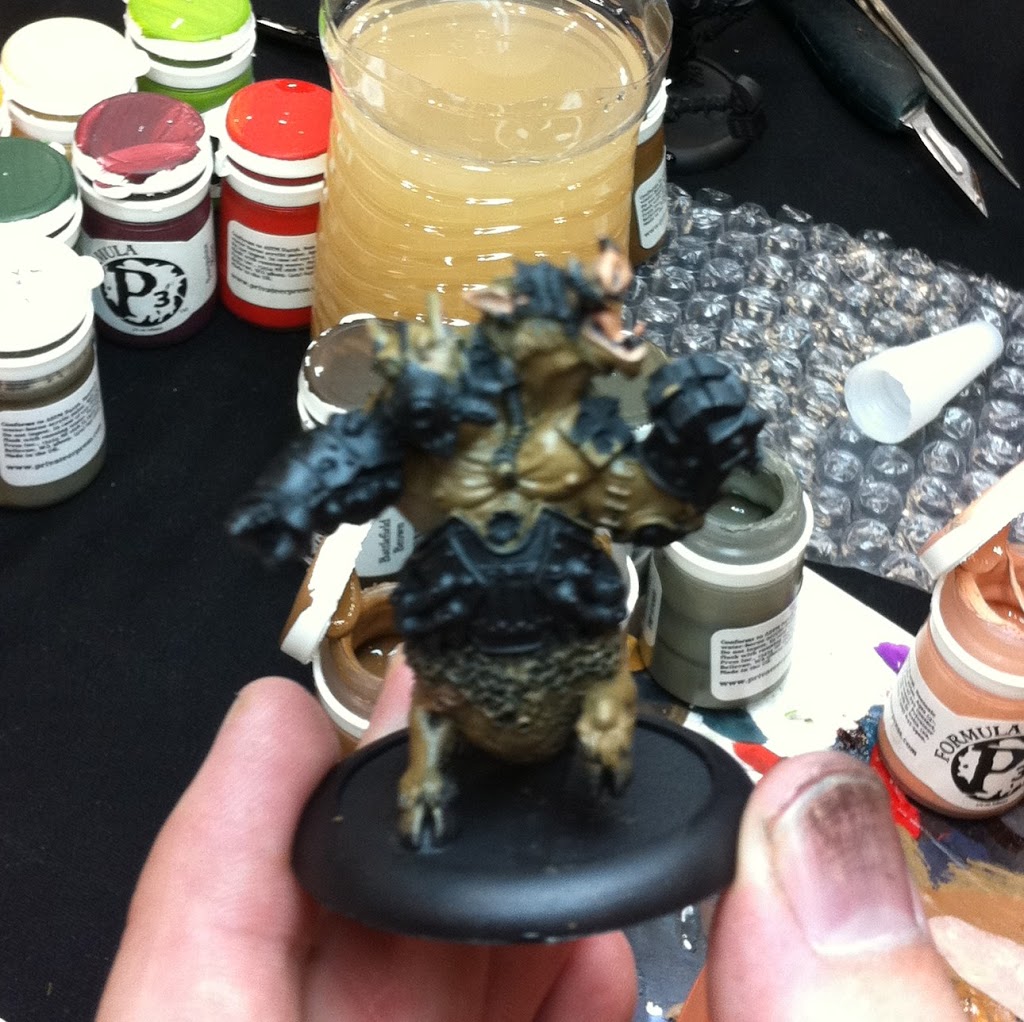 This two headed monster has inspired all sorts of crazy speculating including the theory that it will somehow be 2 Warlocks in one. After I'd had a chance to check everything out, I filled up my bag up with pre-release goodies for me and some of my friends. On my way out I spotted this cool banner announcing the new version of the IK RPG will be released next year.

Next, I headed by the Wyrd minis booth to see what was going on there. Just like last year, these guys had simply a ton of pre-releases including, Puppet Wars, Twisting Fates, and 7 Avatar forms of their masters.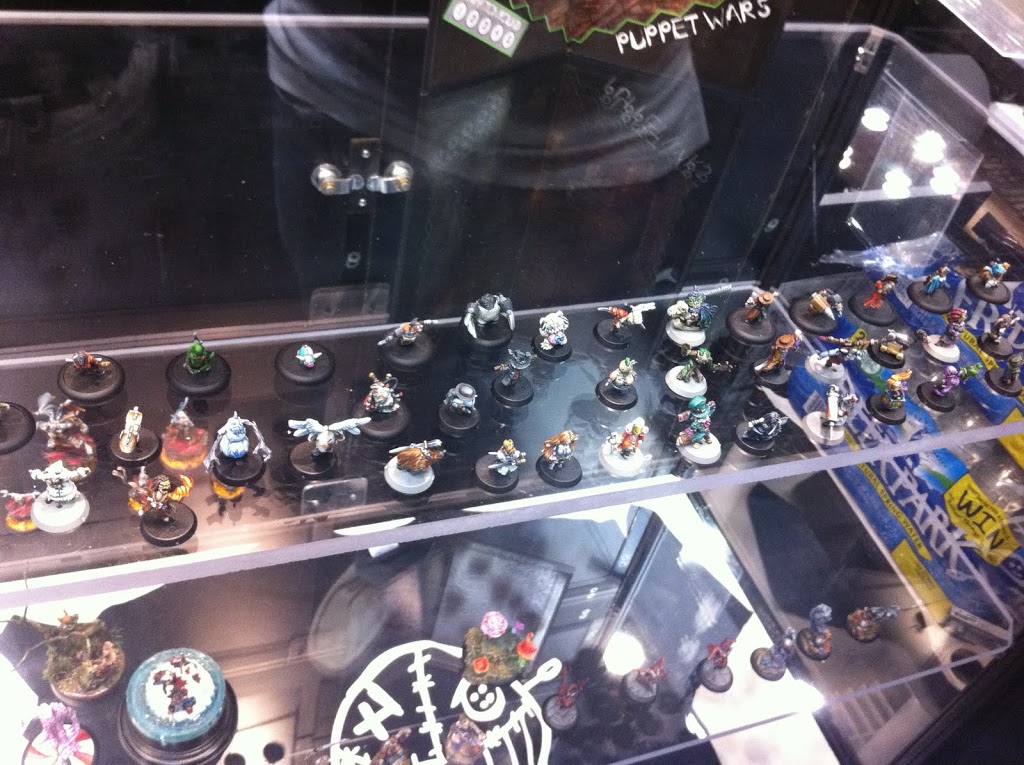 There were also a bunch of con exclusives like the Nightmare Teddy and Dead Justice box set. And even with all the pictures they posted in the weeks leading up to the con, there were still a few easter eggs in the case like these little guys hanging out with Molly Squidpidge.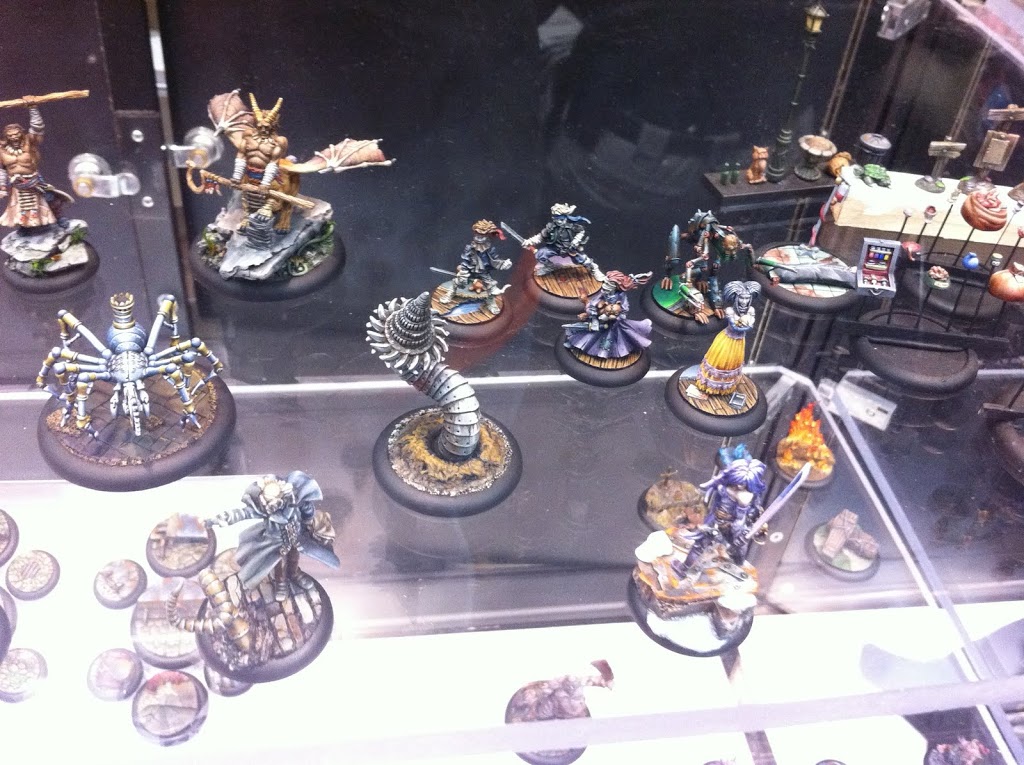 I managed to grab this screen shot of someone playing Space Marine.
When it was all said and done I think I most enjoyed visiting the Cool Mini or Not booth. They're always interesting because they retail a lot of cool obscure stuff from a bunch of different manufacturers. What had initially led me there was a search for Smog minis, which unfortunately they didn't bring along this year. As some of you may know, Cool Mini or Not was also the place to find the first new Confrontation minis in years: the Hydra and Flesh Golem produced by Legacy Miniatures.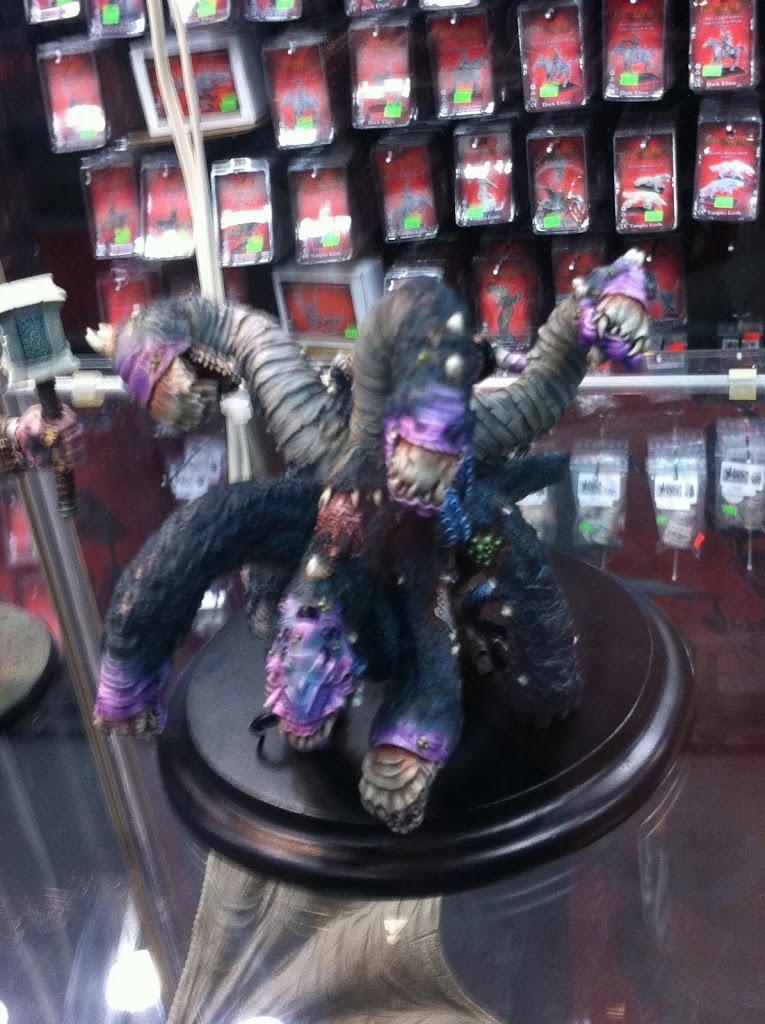 Unfortunately both of these guys were out of my price range at $120 and $80 respectively. Still they were gorgeous and came boxed in a nice little vacuum formed plastic tray which made them look extra nice. I may end up trying to grab them some day. In the same case was a mini for a future game venture by Cool Mini or Not: Five Houses. Its still in the secret early stages so expect to hear more about it from them down the line.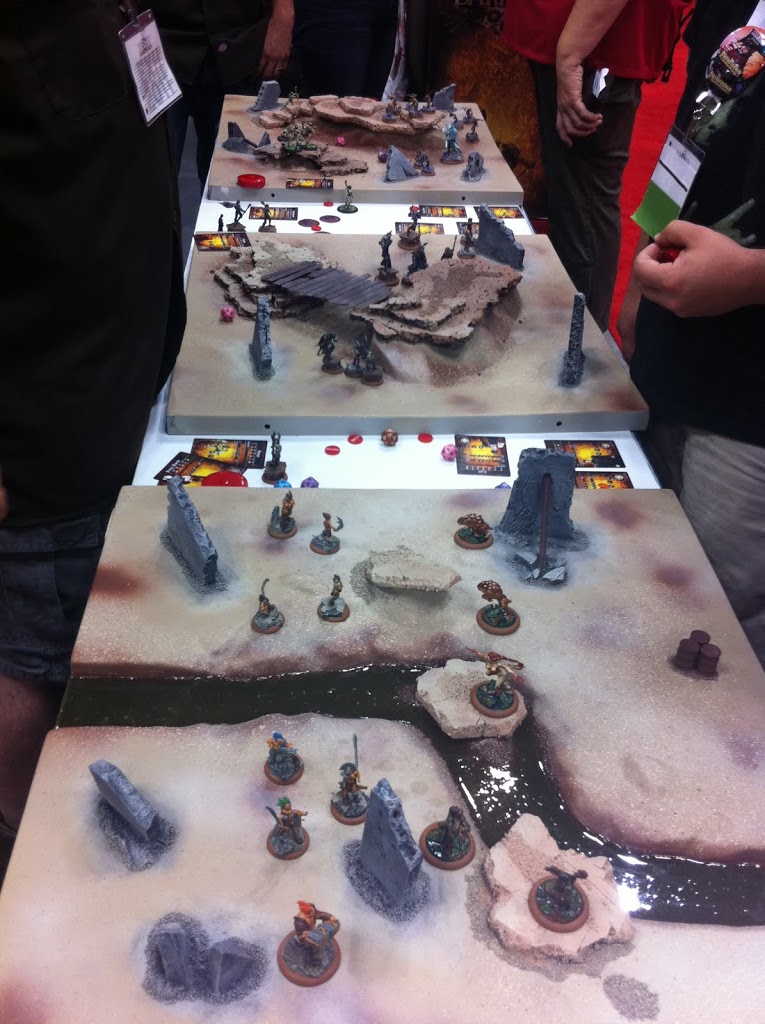 Subscribe to our newsletter!
Get Tabletop, RPG & Pop Culture news delivered directly to your inbox.
Nearby they were demoing the relaunch of Dark Age. They had a case full of great looking minis and a really cool little set up for their demos.
But the biggest thrill for me at the CMoN booth was that I got to meet Mike McVey.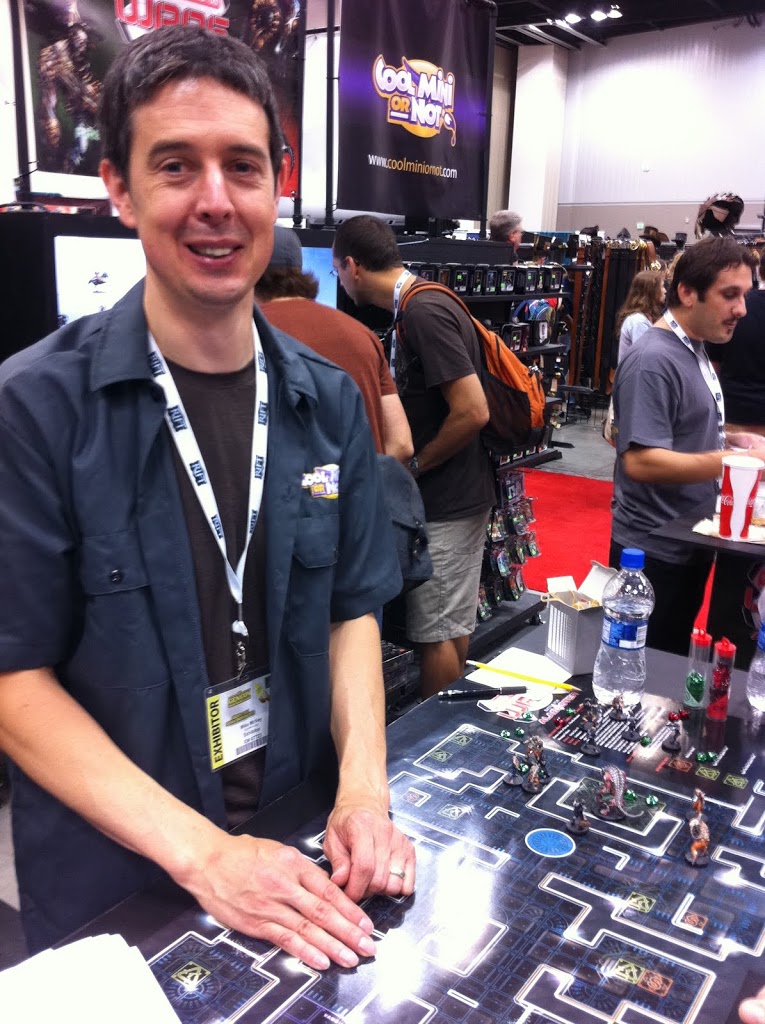 He was there pushing his Studio McVey line, and his new game Sedition Wars. Sedition Wars is a miniatures/board game hybrid and the rules for it will be available on the site soon.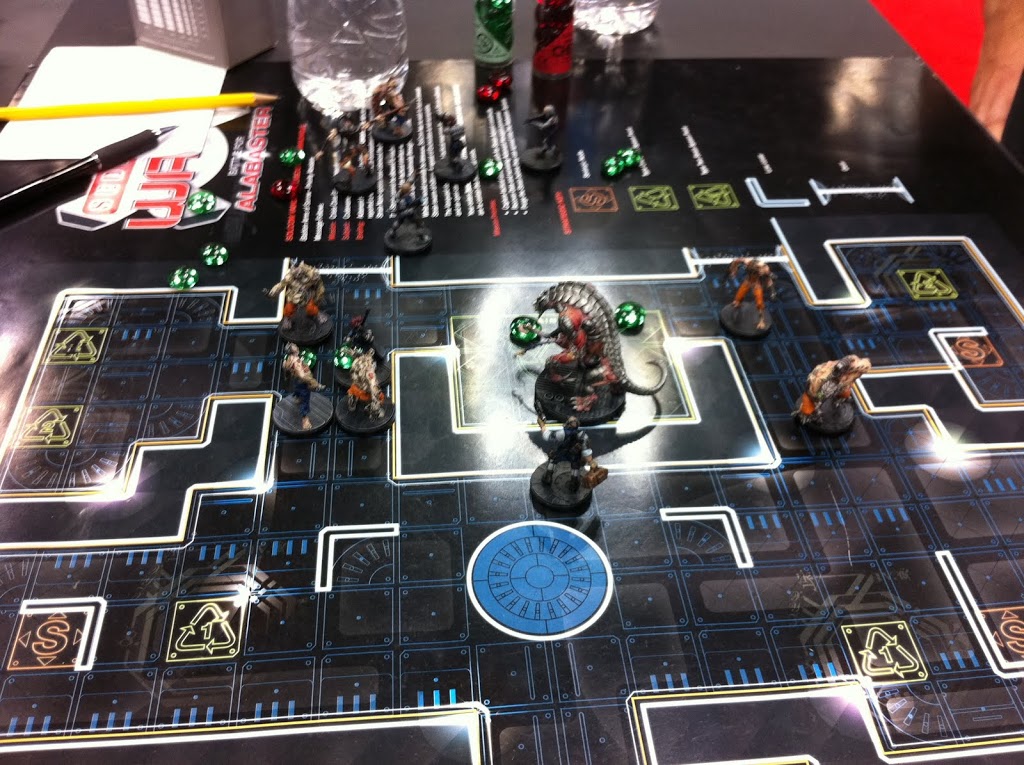 I've been watching for news about this game intensely since I think it has some of the coolest sci-fi minis anywhere. The recent addition of the "Strain" faction has made it that much more intriguing, since as Mike himself put it, no other minis company is really doing anything in the sci-fi bio-horror vein. I'm also very pleased with how low the model count for it looks to be. This means it should be a relatively easy buy in without the impetus to keep making huge purchases down the road. And I like the fact that the rules are supposed to be on the light side. I could use an easier beer and pretzels style game. So if it looks like something you might be into keep checking the Sedition Wars site for the rules. There will apparently be an open playtest soon to help Mike "make the game not suck."
~So that's just a sampling of the stuff from Gencon this year. I regret not having the time to stop by Mercs minis, or find Spartan Games. I only had 8 hours on the floor this year and I spent about 3 of those entering painting contests. So by all means, I won't get offended if you post links to your Gencon photo album in the comments below. Especially if its that sweet Five Houses mini I apparently forgot to take a picture of. Lets see what cool stuff you guys found.