Brent Asks: Game Room or Junk Room?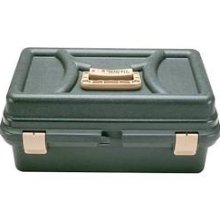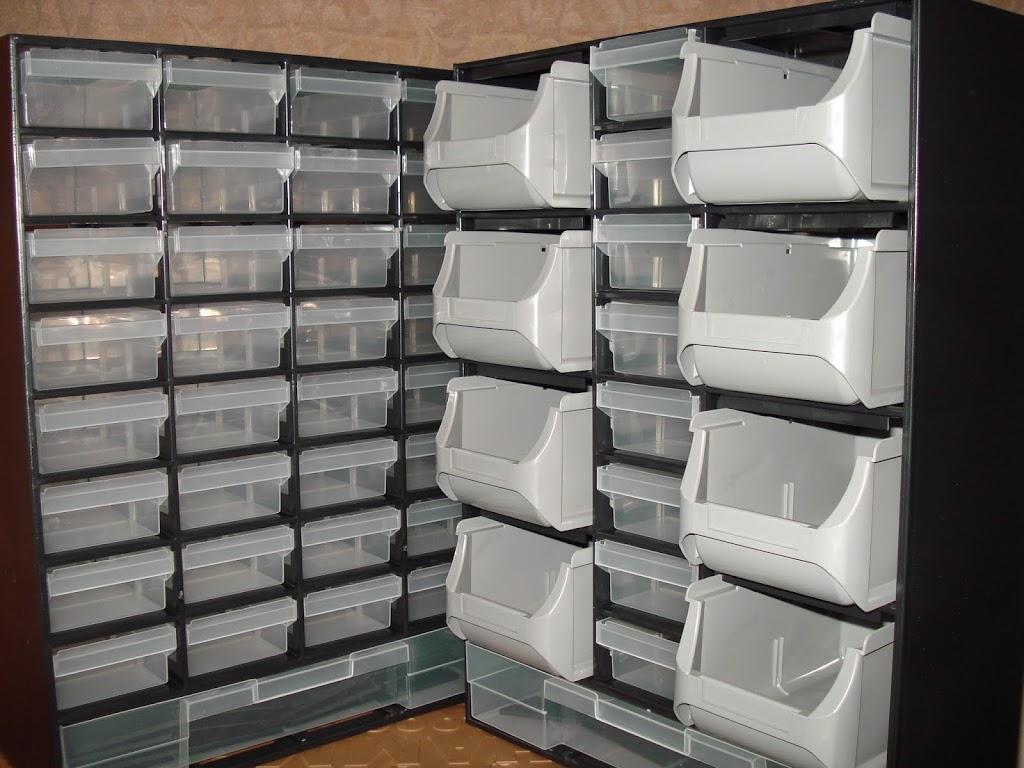 It isn't enough just to own the miniatures, is it? No, you need paints, washes, brushes, files, clips, primers, sprays, sand, flock, super glue, white glue, plastic glue, epoxy glue, green stuff, brown stuff, shapers, hand drills and rotary drills and drill drills…
…and that's just the start, isn't it?
Hello again from Strictly Average! Well, it seems likely Big Red booted this, my weekly Terrible Tuesday love offering, off its normal midnight perch due to the News and Rumors new-mini announcement, so really the pressure to perform just isn't in me today.
(Turns out he didn't – Editor)
Nothing new, really. But you're distracting me again – let's get started!
As the opening alluded to, miniatures and dice are just the narrow tip of the hobby iceberg – it might be all you see on the table but there's more lurking under the hobby sea.
Ugh. Sorry for that – the iceberg metaphor was pretty awful. It's simple, really; I have a thing for 'hobby junk' – up to and including game rooms! It's some strange, voyeuristic quirk, admittedly.
So let's look at some hobby-related junk, shall we? The junk in question is all junking up my room…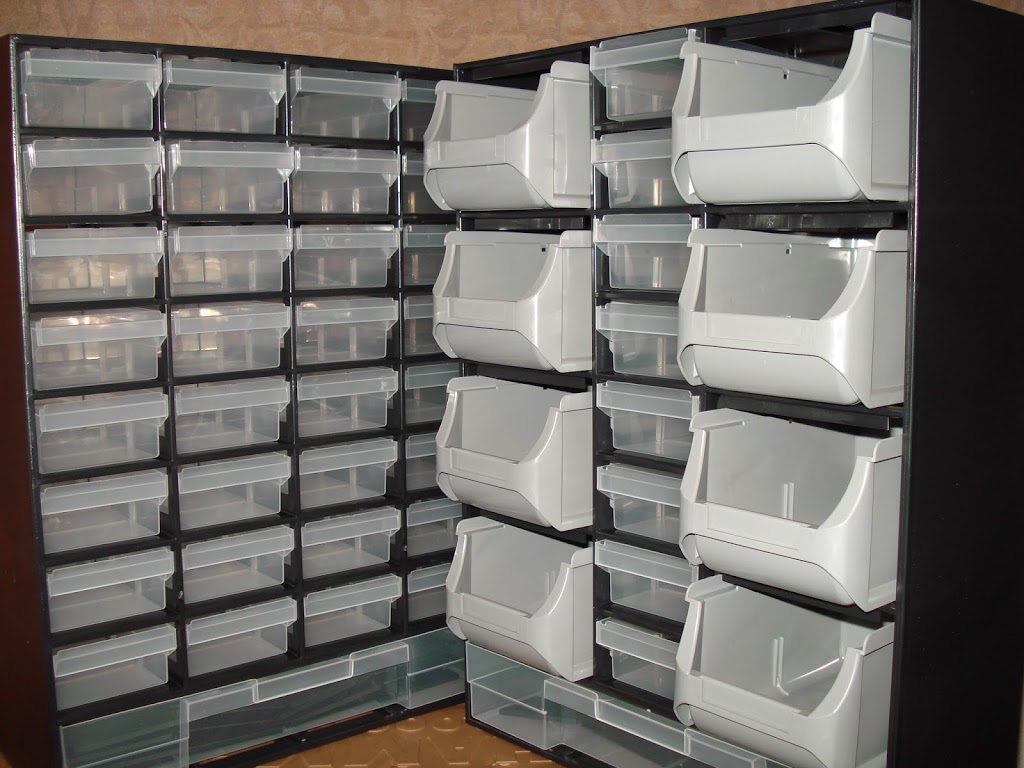 My wife came home with these yesterday, having found them at a discounted price. They're easy to find, but shop patiently. Don't pay full price and don't buy one that appear to lack space for oddly shaped miniatures. Here, the one on the right is especially useful.
My painting desk – notice my storage bins in the back? They've served me well for longer than I care to admit. Moving on though, this pic is about the lighting. There are two primary, here, and both are of the pure-white variety. Again, these can be very pricey if you're not careful, so wait for a discount or a sale. I've seen the larger lamp for over a hundred and the smaller for 69 and change; I got both for less than twenty on mark down.

Price or no price, though, don't wait long! Lighting is terrifically important for painting, if for no other reason than eye strain.
Subscribe to our newsletter!
Get Tabletop, RPG & Pop Culture news delivered directly to your inbox.
Okay, it's not very practical, but I have way too much fun with this thing.
Keep the dirty jokes to yourselves, please! (Or email me privately… but don't alert Big Brother!)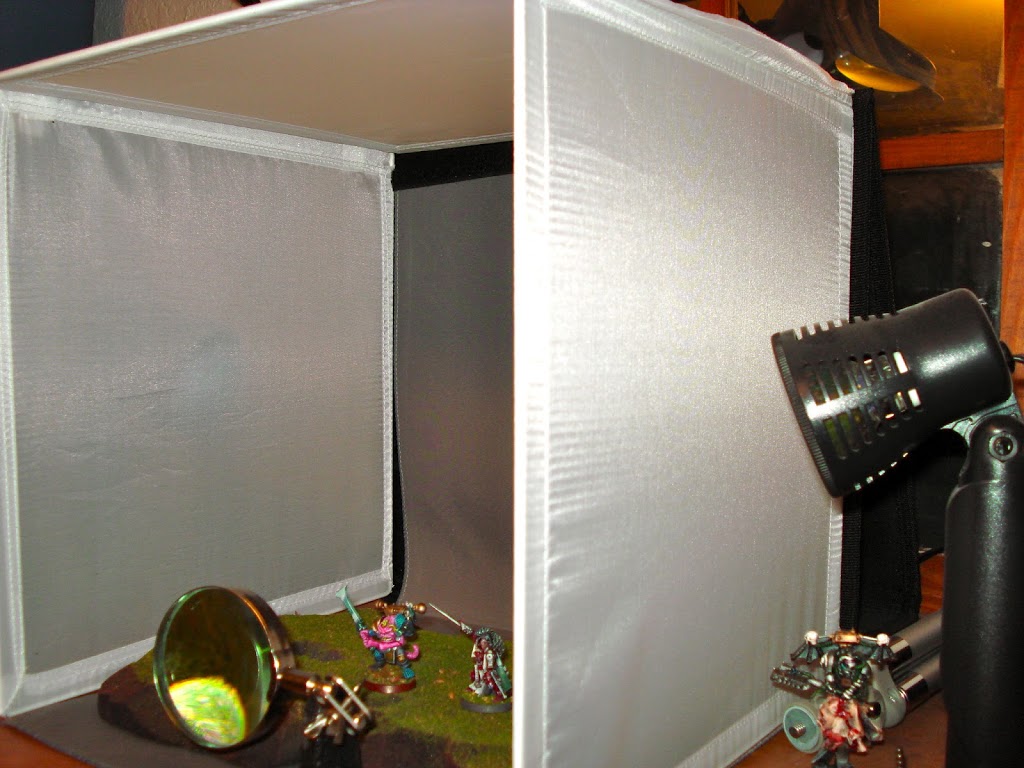 Are you a Blogger? A Forum Hound? Do you post or want to post? Pictures are the key to getting anyone to read your stuff – believe it. This isn't a pricey investment – just do a Google search or hit Amazon.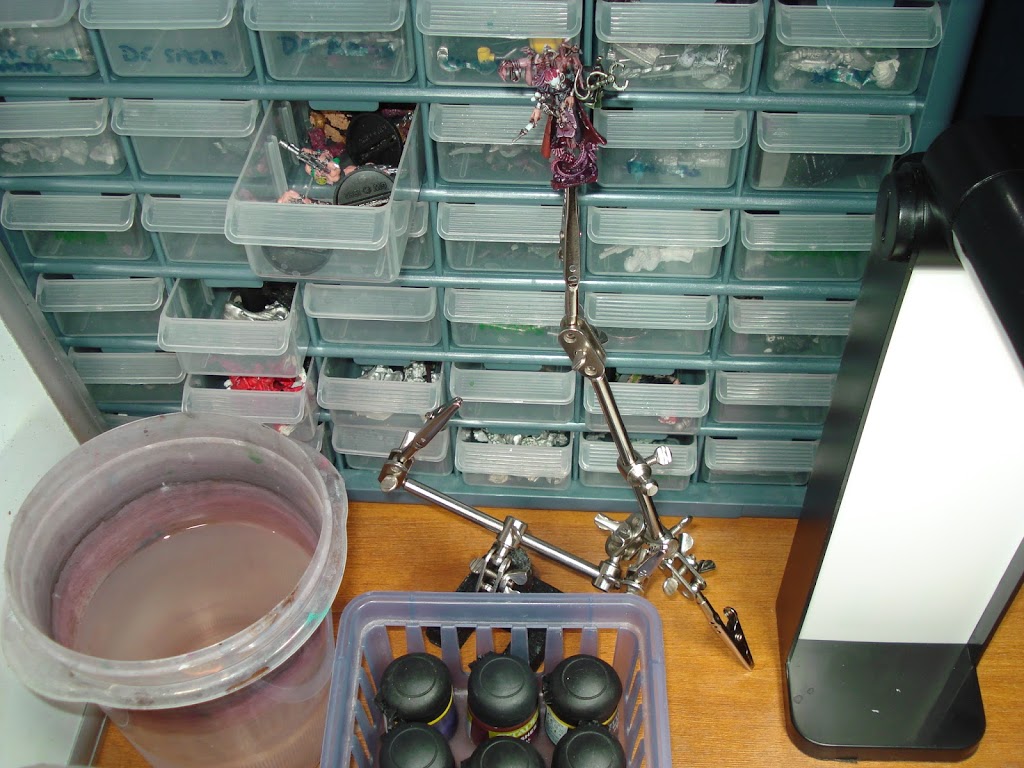 And… we're back to the bizarre and not-so-practical! I bought this odd-looking thing from Harbor Freight, intending to use the clips on a new paint stick, but it actually turned out pretty handy just like this – like an extra set of hands, or something.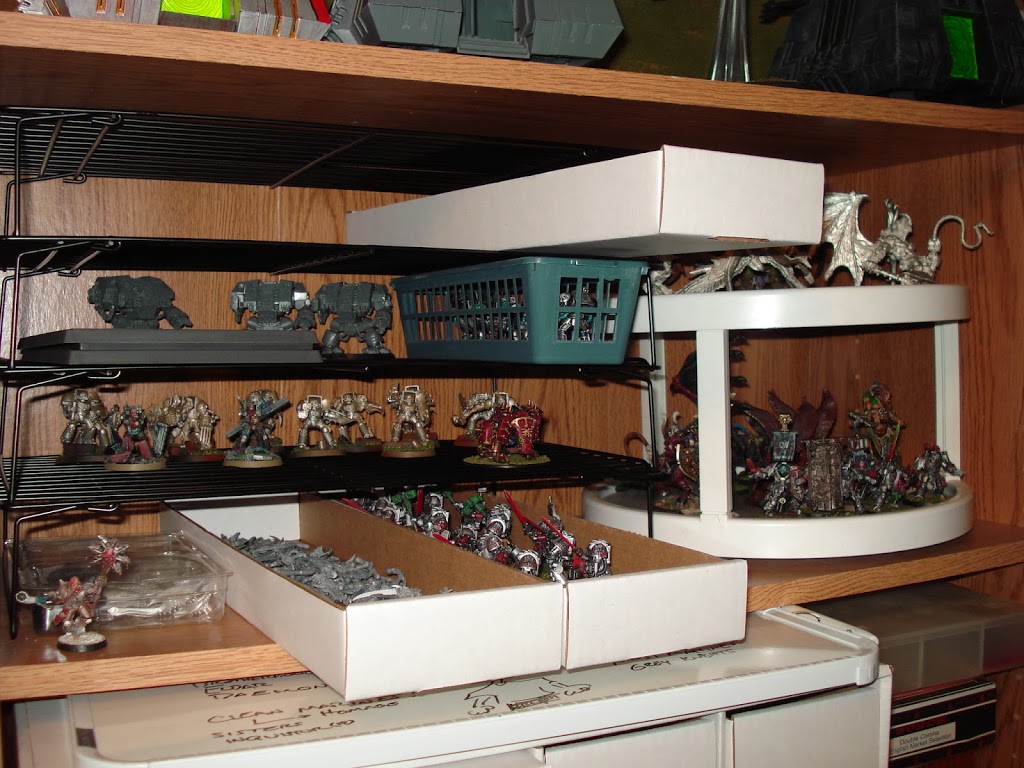 It's hard not to get back to storage. Here, I found I was wasting shelf-space, so I made off with stuff from my wife's kitchen. The cookie racks on the left have been the most useful. I tend to put WIP stuff there, otherwise out of sight out of mind.
I won a tournament at the Comics Asylum in Dallas not too long ago, then disappointed my buddy by spending some of the prize money on two of these bad boys. They're designed for cards, but they make for great storage boxes.
Speaking of storage boxes. When you've been around awhile, it's inevitable the meta will change your Codex right out of usefulness! You can hit Barter Town and give up your hard earned toys or, like me, store them for eight years until they're playable again! Go 'Crons!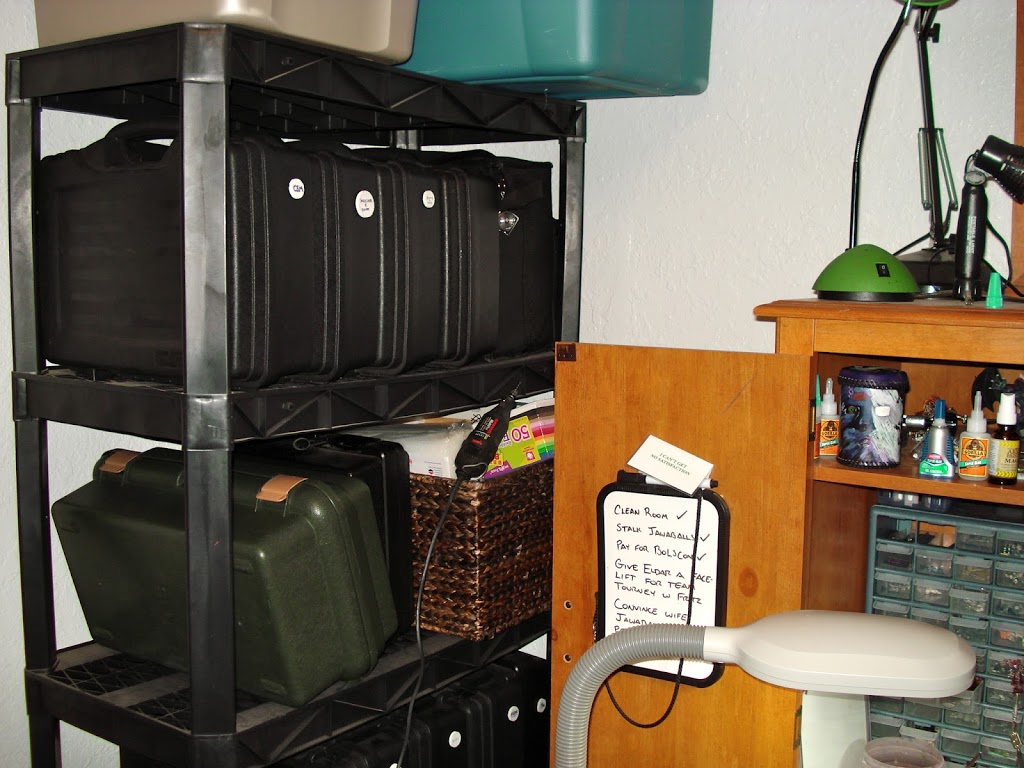 Big shelves. Wal-Mart. Not expensive. Eye-sore. Move on..!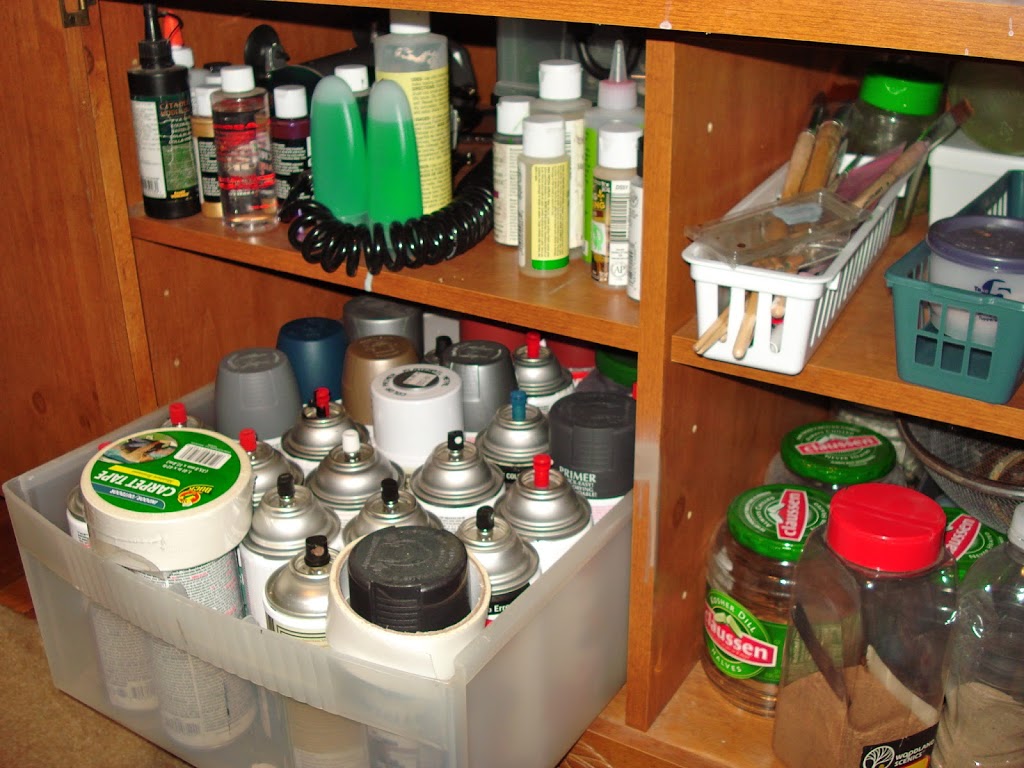 Remember the stupid iceberg? I go through a ton of spray paint.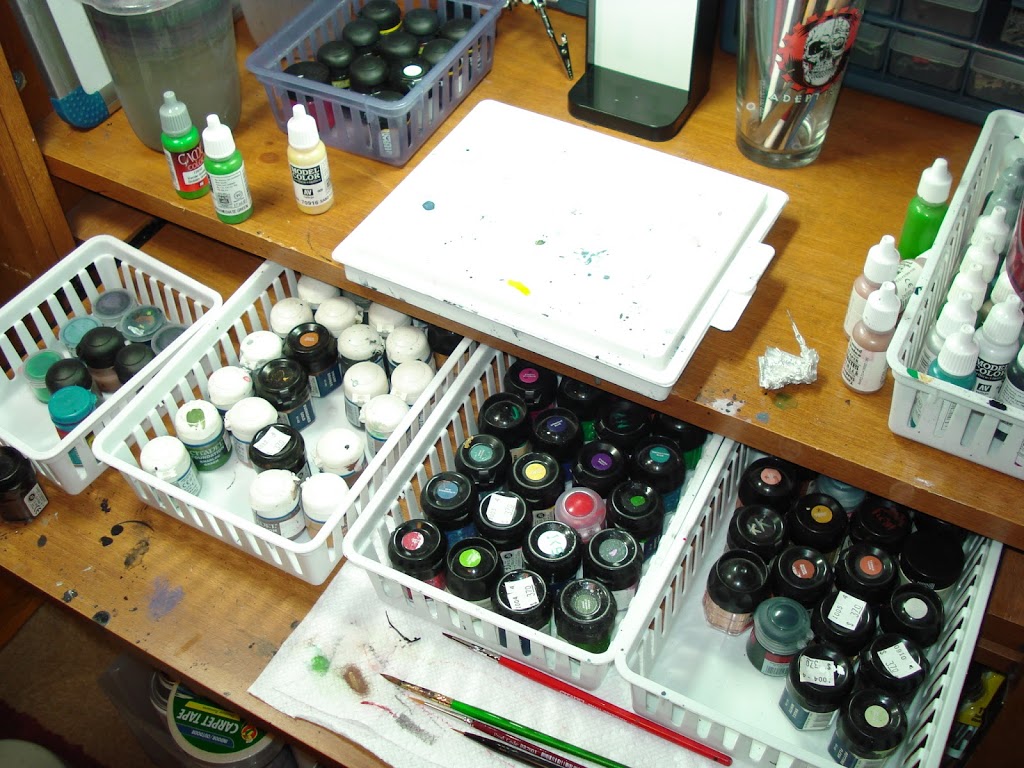 Everybody has their own approach to painting stations, I guess. I've converted an old computer chest. The keyboard shelf pulls out with the paint, which is handy, but best of all I can close the door on the mess.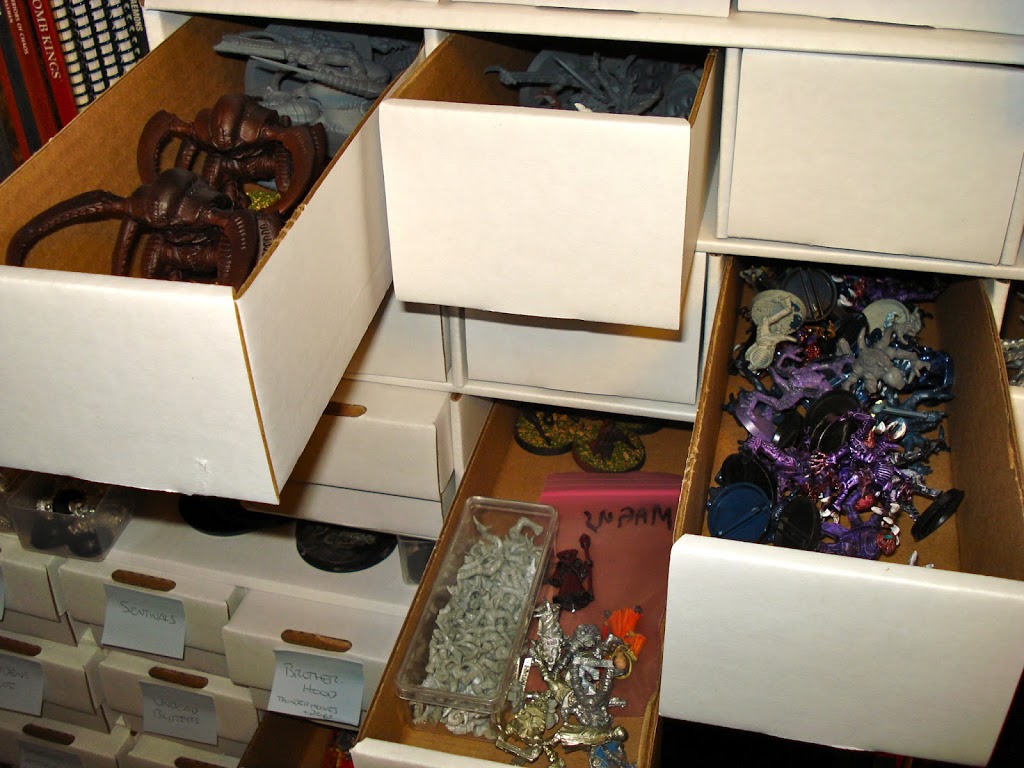 Bugs!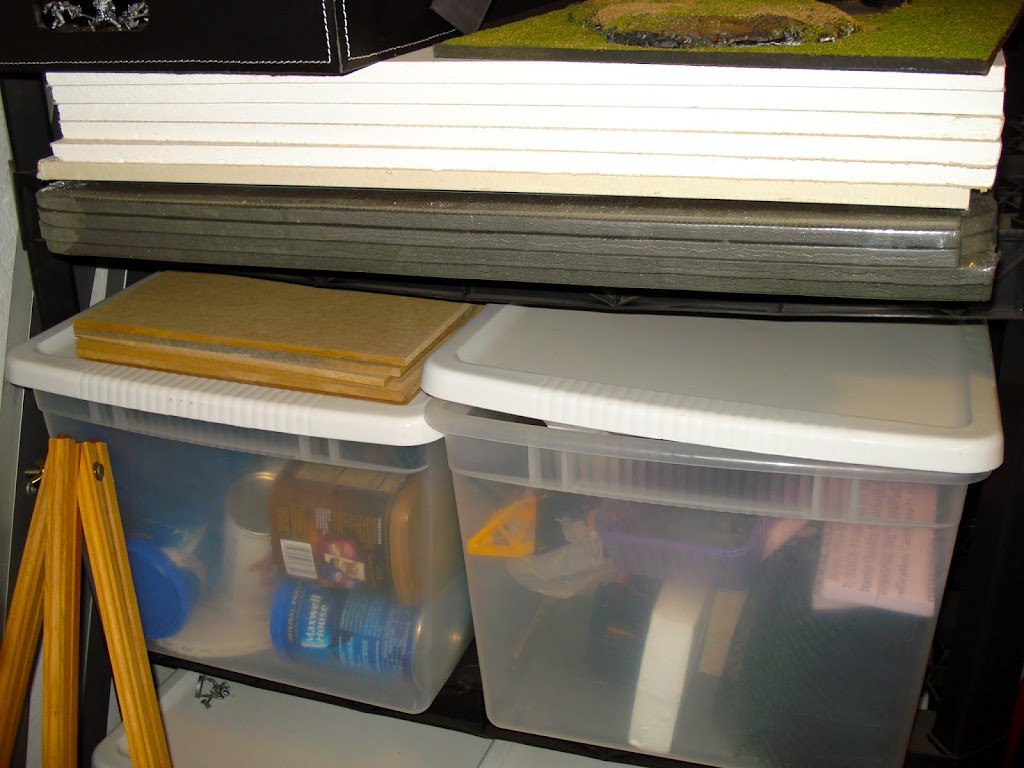 I have two bins where I throw junk that may or may not be useful for the table I may or may not get around to making.
Lest you think it all junk! Safely tucked away in the corner, behind the normally open door of the cabinet, is my pride and joy – the TableWar Display Case! I love this thing – it's seriously the pride of my collection.
There you have it! Call it junk or a storage solution, but my long-sufferring wife is cool with it all as long as it stays in its designated room.
Except those occasions when she gets home from work to find the bar has been converted to a game table, but what's she going to say in front of company, right?
Right?
* * *
Lest you think it all but air, my friends! Below I'm dropping a link for the best storage solution you'll find anywhere – the plain green case!
Got any storage solutions to share? What about just junk – I'll take that too! Drop your links and your pics, your comments and your thoughts, below.
Oh yeah. Standard outro!