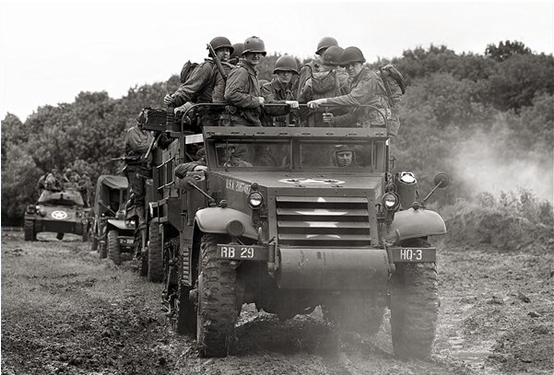 Wraith here with another FoW topic for your reading and intellectual pleasure. This time, we will look at how the changes in 3rd Edition may see a return of mechanized and motorized armies to FoW.



Most nations have access to mechanized and motorized armies in FoW. Mech/motor armies are a hybrid army, giving you the staying power of infantry with the mobility of tanks. A mechanized army is one which uses armored vehicles (half-tracks, Bren carriers, etc.) as transports for infantry and gun teams, while a motorized army uses trucks or another kind of soft-skinned vehicle (motorcycles, jeeps, etc.) as transports. These army types are designed to bring mobility to infantry-based forces, along with the added benefit that their infantry tend to be better equipped than the average foot-slogging army, (being MG teams rather than Rifle or Rifle/MG teams) giving you a better rate of fire and access to better units for support. On the flip side, because of this better equipment, most mechanized or motorized armies are more expensive point wise, but this was balanced by their mobility and upgrades.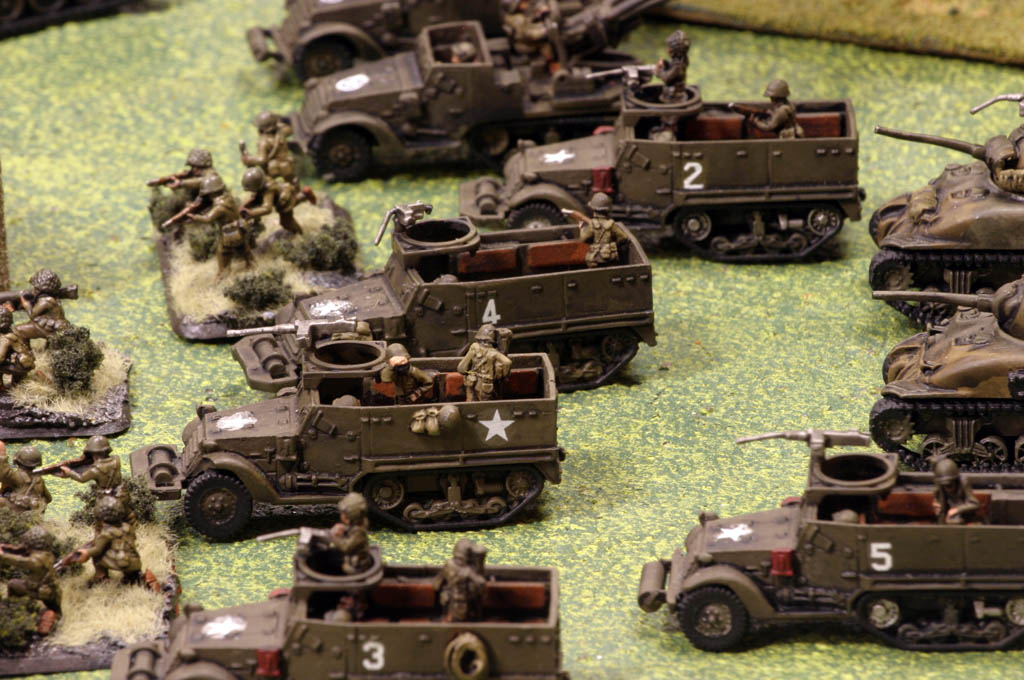 Now, back in 2nd Ed, transport teams occupied a unique place in many armies. According to the rules, transport teams did not count for a unit's motivation, but counted against it. A little clarification on FoW motivation rules is needed before we continue. In FoW, unit's must take a motivation test to remain on the table when they are reduced below 50% strength of their starting number of teams. For example, a unit of German infantry starts the game with 10 infantry teams. As long as the unit has 5 or more teams on the table, it will not have to take a motivation test. But the minute it drops below 5 teams, than it will have to take a motivation test to see if the unit remains resolute or runs of the table. Now, as I stated before, in 2nd Ed, transport teams counted against you, not for you when it came to unit motivation. This meant that transport teams that are active/alive did not count towards you number of starting/active teams for a unit, but dead transport teams counted toward the number of losses suffered by the unit. Here's another example to help clarify. You have a German mechanized infantry platoon with 7 infantry teams and 4 half-track transport teams. According to the 2nd Ed rules, the unit starts the games with 7 teams for purposes of judging when a motivation test must be taken (i.e. when 4 stands are killed/removed, t hen the unit must make a motivation test). Now say in a particular bad round of shooting, you lose 2 infantry teams and 2 half-track transport teams. You think you should be fine since you've only lost 2 infantry teams out of 7 starting teams, but sadly this is not the case. Since transport teams count against you, you have lost a total of 4 teams out of a starting unit of 7, meaning you must take a motivation test.
Because of this rule, mechanized and motorized armies were rarely seen on the table top. If they did, they showed without their dead-weight trucks or carefully hid their half-tracks. This rule had the most impact on the American Armored Rifle Company and the German Gepanzerte Panzergrenadier Company. Each of these companies had great infantry and gun teams as their core with access to great artillery and tank support. Their weakness was the armored boxes the rode into battle in. Since it is easier to kill a half-track rather than the infantry (and likewise more difficult to hide a half-track), opponents would target the transports first, hoping to kill enough of them in conjunction with other parts of the unit to force a motivation test. Even if a motivation test was not forced, the mech player would now have to advance more
cautiously, or send the expensive transports to the rear (a neat rule that allows a player to send unwanted transport teams of the table and get them out of harm's way). But if he sent his transports away, then his formerly mech/motor infantry just became expensive leg infantry, defeating the purpose of playing a mechanized or motorized list in the first place.
Now with the release of 3

rd

Ed, there have been changes made to the core rules. One of these changes is the way transports count for unit motivation tests. Under 3

rd

Ed, transport teams no longer count for OR against a unit for purposes of unit motivation. This means that you can lose all your half-tracks or trucks, and they only impact they will have on your unit is the loss of mobility. This change will make mech/motor armies like American Armored Rifles much more effective and viable on the table. Combined with the change in how gun teams work (look for another article on that soon) and a general points reduction for most FoW armies, the introduction of 3

rd

Ed may see a resurgence of mech/motor armies for FoW.
Do you think the changes in transport rules will see a rise in the number of mech/motor armies or are they still outclassed by pure tank and infantry forces?