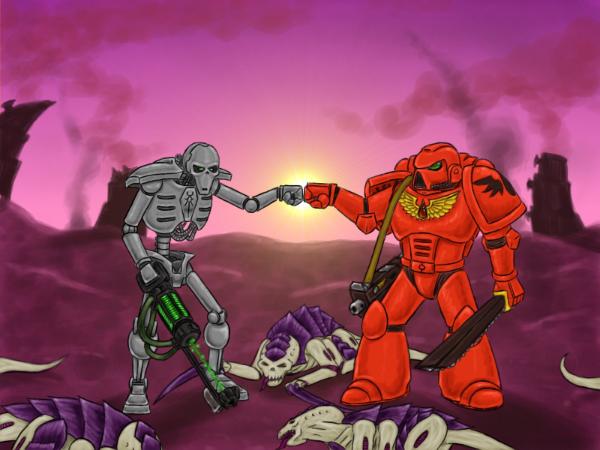 Games Workshop put out an informative article explaining the allies system and the thoughts behind it…
First, lets get the skinny on Allies.
The 4 Categories of Allies
Battle Brothers – these allies are truly friends and benefit from each other's universal special rules, psychic powers, and everything, they act as one force.
Allies of Convenience – these allies will fight together if they have a common foe, they do not get to benefit from each others USR or powers, and in effect act as independent armies on the table.
Desperate Allies – these allies only fight in dire straights and gain no benefit from each other. you must roll a d6 if the roll is failed your allies do nothing for the turn as they are watching you for betrayal.

Not Before the Apocolypse – these armies listed here can never be allies.
So, if you can ally, you get an allied detachment of:
MANDATORY
– 1 HQ (not a Named IC)
– 1 Troop
OPTIONAL
– 1 Troop
– 1 Elite
– 1 Fast Attack
– 1 Heavy Support
So there's the rules and the Games Workshop article with their take on allies. So what's your take on allies – longterm good or bad for the game? Makes the game stronger, or weaker?