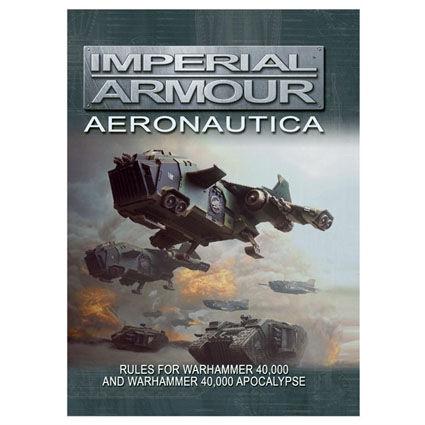 Forgeworld has been very busy this last week. Take a look at their newest flyer book, and all the new 6th Edition updates!
Imperial Armour Aeronautica £26.00
Described as:
Imperial Armour Aeronautica, written by Neil Wylie, contains fully updated 6th Edition rules for 34 flyers and 13 anti-aircraft units fielded by the Imperial Navy, Space Marines, Orks, Eldar, Tyranids, Tau Empire, Necrons, Dark Eldar and Chaos. These include complete rules for two brand new aircraft: the Space Marine Storm Eagle Assault Gunship and the Imperial Navy Avenger Strike Fighter.
Next up are the new 6th Edition FAQs that being all their stuff to up 6th Edition standards.
~So what's you favorite vehicle now? I've got a soft spot for the Eldar Firestorm. Come here little Dakkajet…:)