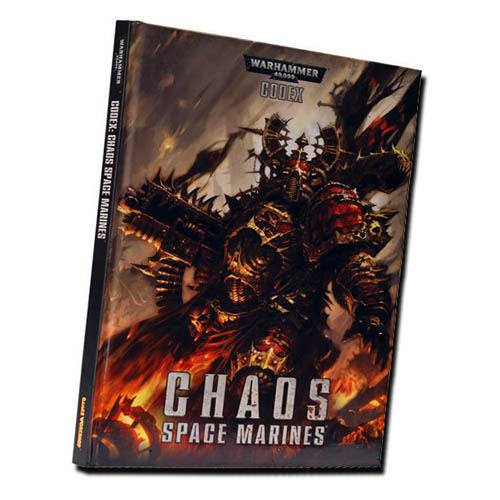 Copies of the Chaos Space Marine Codex were out and about at Gamesday UK. Here's what's doing the rounds on the tubes.
Then lets talk about a bunch of this stuff. Just some of the highlights:
Big Units: Chaos Marines units up to 20 and Cultist up to 35. The codex will be able to fill the table with boots if it wants.
Possessed are All Good: A simpler D3 chart with only good results.
Maulerfiend/Forgefiend: The combination of Daemon, Daemonically possessed, It Will Not Die, and Fleet is *disturbing* I think we just found the codex's firemagnet.
Chainaxes make the Xenos Cry: AP:4 makes Aspect Warriors, Fire Warriors, Necron Warriors, and others weep. Marines – not so much.
CSM Land Raiders still hold 10 models. I'm thinking the Ultramarines better enjoy their two extra seats while they can…

The Hades Autocannon is everyone's new best friend: S:8 Heavy 4 – how can you say no?
Noisemarines are back: All sonic weapons ignore cover. Cling to your Aegis defense lines all you want foolish mortals!
PlagueMarines love monstrous creatures – Plagueknives are poison 4+ nuff said.
Ahriman is DA BOSS: Master Level 4 and 3 witchfires a turn. Move over Eldrad.
~What's your favorite part of the new book so far. Its only days away from your greedy hands! More breaking on the Lounge here.