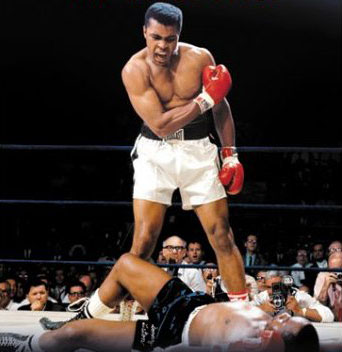 Let's Get Ready to RUMBLE!!! Its time to walk through the ins and outs of duking it out in Warhammer 40000.
With the advent of 6th ed and numerous tactically challenging rules such as Pile In, Challenges, and Random Charge Length, I've noticed that a lot of people have trouble with some of the more subtle aspects of assault. Playing with less experienced players, I've seen lots of little mistakes that cost them assaults and sometimes games.
I've been playing my Grey Knights since the old Daemonhunters codex, which for those who don't know essentially required you to take multiple Land Raiders to be even close to competitive. Land Raiders were your only anti-tank and only transports, aside from Inquisitorial Storm Troopers in Rhinos (who were useful, but very overpriced). Additionally, old Grey Knights completely lacked Frag Grenades. Between the Land Raiders and lack of grenades, I spent most of 5th ed carefully coordinating assaults on nasty units while trying to avoid terrain. I like to think I got pretty good at it, so I figured I'd write a little tactica on the assault phase. Meet the kind gentlemen who will be modeling for us (excuse the photography, I'm working with a camera phone, with no lighting equipment and no terrain):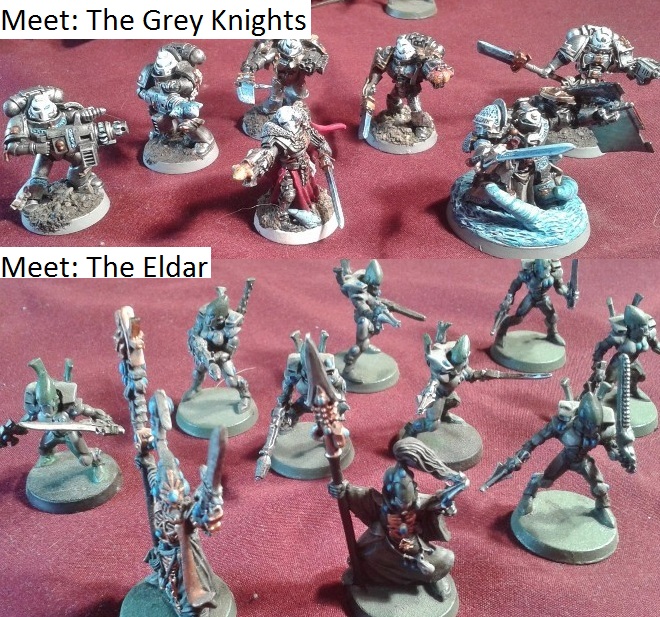 There are a couple of items to consider when planning an assault, and the first is really straightforward:
When do you assault?
It seems like a dumb question, but assault is not always an automatic yes. If you have a tough assault unit in range of a weaker unit, the choice to assault is pretty obvious. But there are plenty of other situations in which you might want to assault at all. Here are some of the big ones: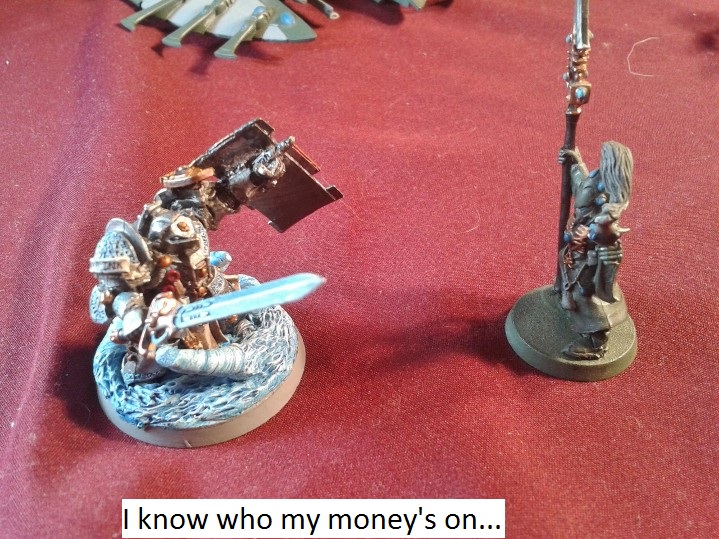 Target Priority: Some enemy units are more valuable than others. You can only assault what you shoot, and sometimes shooting is more important than getting into assault. Sometimes, you need to have your unit free to sit on an objective instead. Keep the mission in mind. Does the assault further your goals? Sometimes, in order to accomplish the mission, you need to decide that assaulting isn't worth it.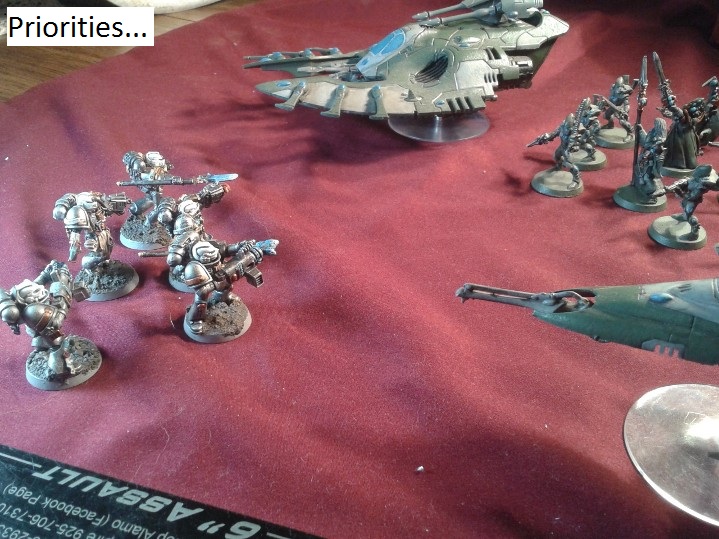 Shooting Protection: While you are in assault, you cannot be shot. You also can't move during your opponent's turn, or do anything else useful. Put two and two together, and it doesn't take a genius to figure out that it's often beneficial to get stuck in combat during your opponent's turn.
As a result, you usually want your assaults to last two player turns. Assault on your turn, kill some dudes, laugh while your opponent doesn't get to shoot you during their turn, then kill some more dudes, win combat, and be free to act in your next turn.
This is one reason to pull your punches sometimes. It can be tricky to pull off. A good example I have is a recent game in which I assaulted a unit of Chaos Space Marines with my Dreadknight. My Dreadknight was already wounded, and the nearby plasma would likely make short work of him. I Challenged (which we will cover later), and he had to accept because of the Champion of Chaos rule. I pasted his Champion, but the unit still passed their morale since I only won combat by 1. I then killed three or four Marines in his assault phase, broke the squad, and Sweeping Advanced them (or maybe they fell back off the table edge, I forget). I not only killed one of his units, but I just saved my Dreadknight for a turn by protecting him from all those nasty guns. A bunch of mere T4 Marines in assault is nothing compared to a whole array of plasma, melta, vindicators, and the other heavy firepower my opponent could bring to bear.
Funnily enough, I went for the same trick a second time, and the second Champion actually rolled a bunch of 6's and I failed all my armor saves. I killed the Champ, but the Champ killed my Dreadknight. These things happen, sometimes.
Slingshotting: Charge moves are a good way of getting some free movement. If you really need to get somewhere fast, pulling yourself forward with a convenient charge can net you a full turn's movement. You're moving 2D6 on the charge, 3" with some of your guys from Pile In, and another D6 from consolidation if you win. That could theoretically be almost 21", though you would have to be in the absolutely perfect situation to get that. Either way, free movement is not insignificant. Just make sure that you're not going to get bogged down in the assault. The slingshot doesn't do you any good if you're stuck in the assault for two or three game turns and lose your regular movement and shooting.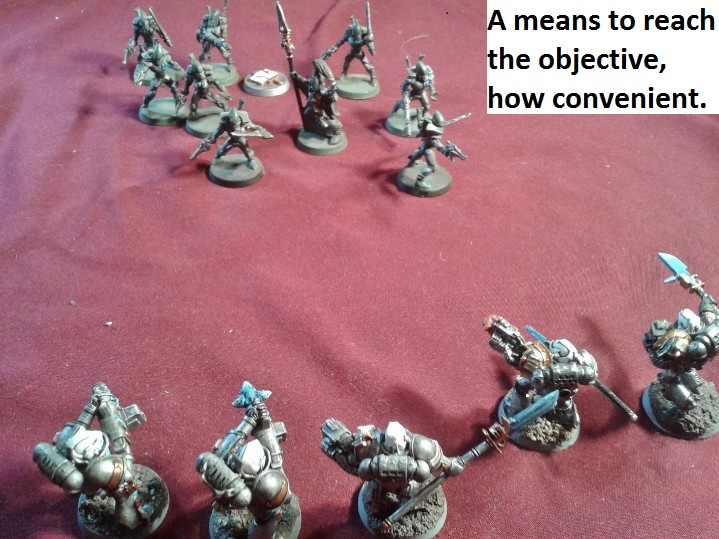 ~Next time, dealing with Bubblewraps, Deathstars, Overwatch, and making the charge. Have at it everybody.