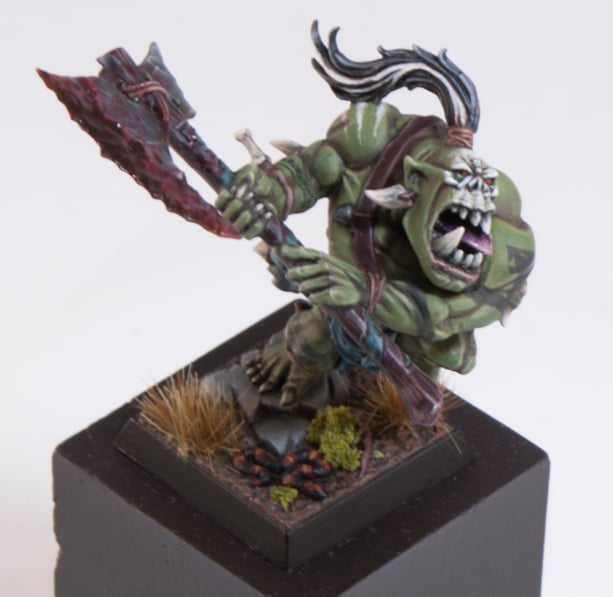 Ever wondered what goes in to making a Golden Demon winning miniature?
So did I until I recently won my first Golden Demon award this past summer in Chicago for the Savage Orc Boss above. This isn't the first time I have entered but it is the first time in around 7 years. Why the hiatus? Well it takes a lot to paint a model that will snag you an award, high level painting skills aside I would have to say the top 2 things you need are motivation and dedication.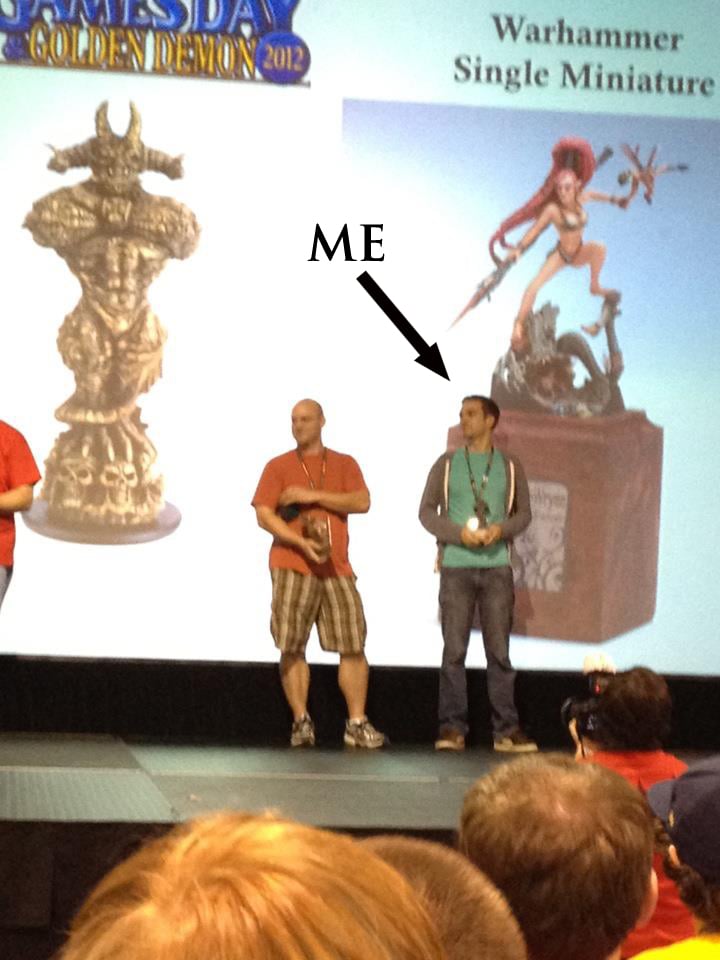 During those 7 or so years I didn't enter I had numerous things eating at my free time, including college, but the main determent for me was actually my other hobby projects. The Orc took me about 3 weeks worth of painting to complete, this meant every ounce of free time I had was spent on this guy. When you have several army projects going on at the same time it may be hard for you to justify spending roughly a month's worth of your hobby time on one model. That's a month you could have spent painting up several units of that army you have already invested half your yearly income to.
This year I was determined though and after wasting a month's worth of time switching between what model to use (was almost Manfred Von Carstien) I picked the brand new Savage Orc Boss. Picking the right model is half of the battle. You need something that will showcase your abilities, and lets face it, no matter how well you paint the old Nagash model it will never win an award.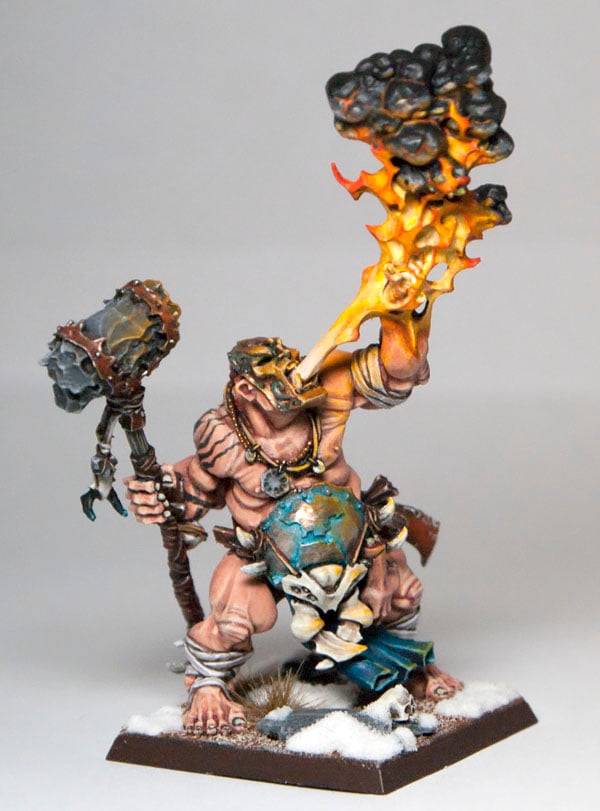 I chose this model for 4 reasons.
The first is that it had a lot of open skin areas, which I discovered earlier this year I am pretty good at painting.
Secondly that open skin gave me free reign to use the model as a canvas for tattoos and warpaint. Judges love freehand work. Both of these skills I honed earlier with the Ogre Firebelly to the right. he was actually painted as part of a 'Eavy Metal application and ended up making final cut at the Demons for Large Monster.
Thirdly there are a limited number of colors, which will save me time. When you are spending a large chunk of time on just one color, the fewer the better.
Last but not least, the model was dynamic. It has a lot of movement and I thought would catch the judge's eye.
After choosing the model the next step was my color pallete. I am a big fan of more naturalistic tones and luckily so are most of the judges. I went through a folder of old 'Eavy Metal painting guides from White Dwarf that I keep for future reference (highly recommend this) and found a paint recipe that I liked and used it as a starting point for my Orc. This then informed the rest of my color choices. I went with a blue lizard skin loin cloth as I figured its most likely from a Lizardman, and, well they're blue.
The rest of the process was the actual painting which included a lot of thinking I was done with a certain part of him only to realize I would have to go back and tinker with it 3 or 4 times before I was happy with the result. A lot of Golden Demon winners like to keep their projects secret until the competition but I regularly posted my progress on my own blog as well as several forums. The feedback and criticism I got back from those is part of what forced me to go back and raise my standards even higher and without them I probably would have finished only with a finalist pin. Many painters spend multiple months or even years to finish their winning model. The model that beat mine out for first place and went on to win the Slayer Sword took an entire year to build and paint according to its creator Todd Swanson. This makes me very grateful that I walked away with a trophy and very honored to come in second to the 5 time Slayer Sword winner.
Here are some pictures of the model in progress.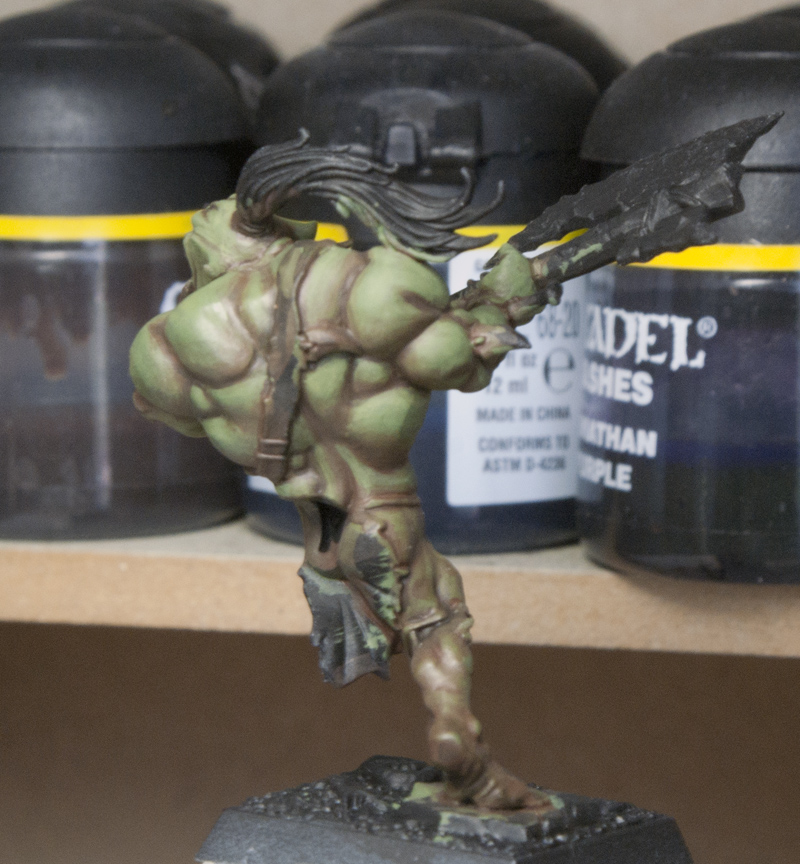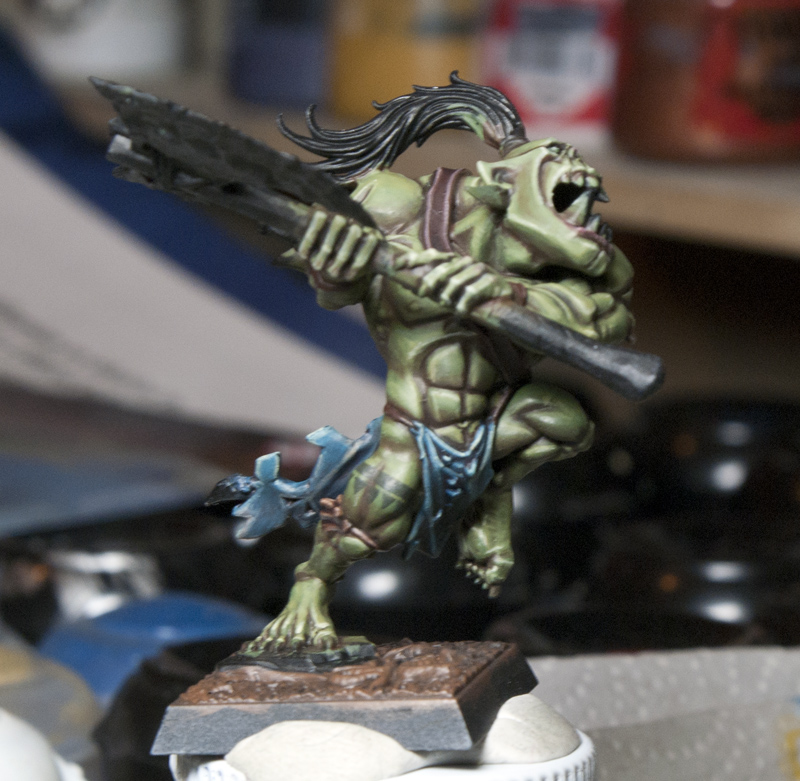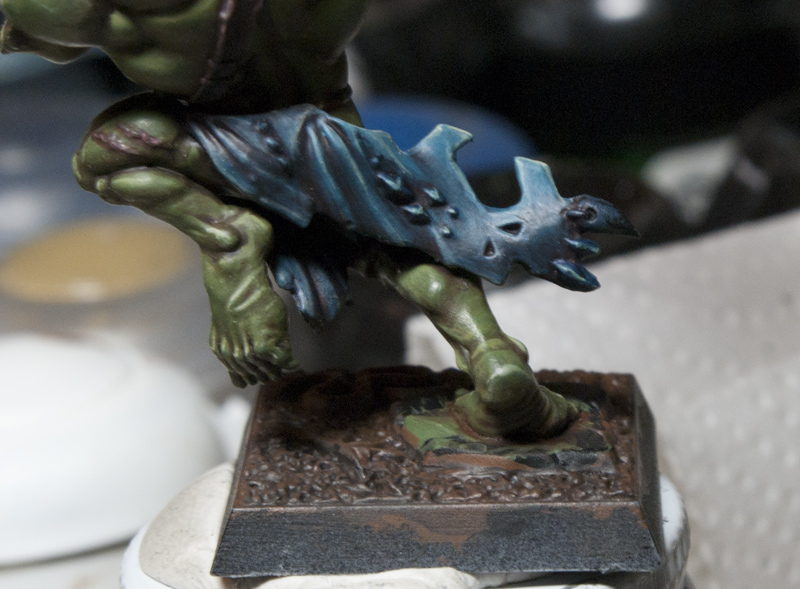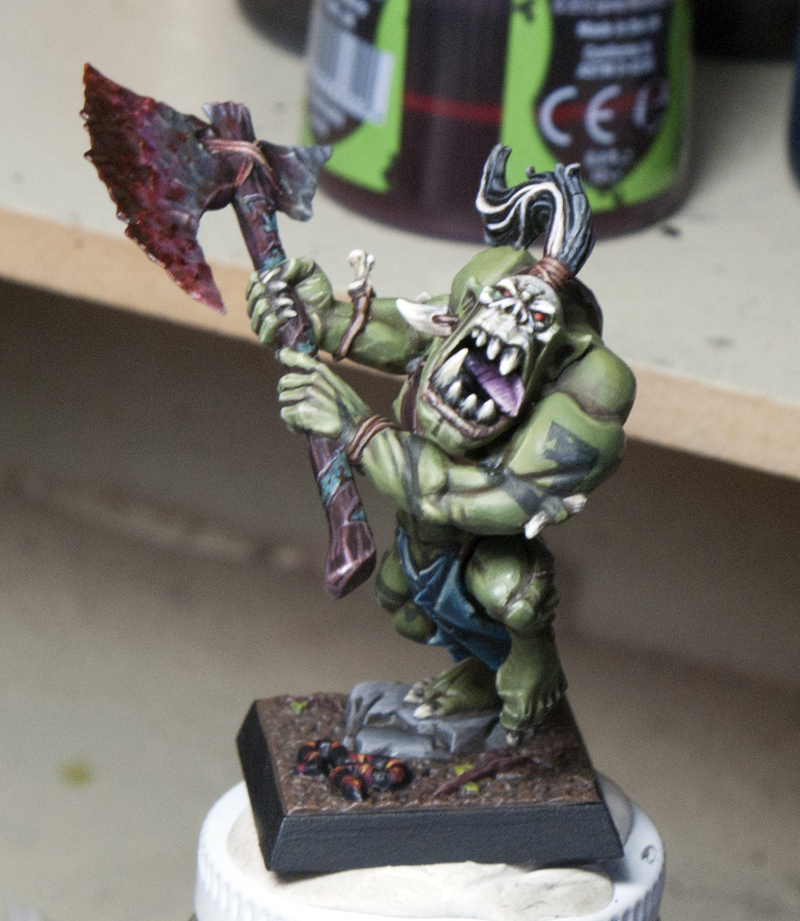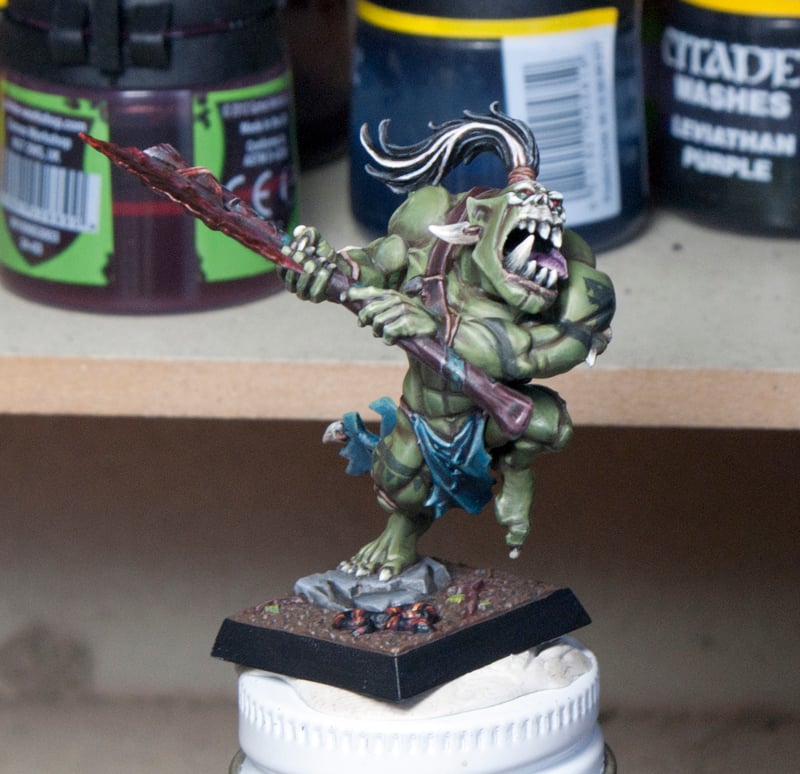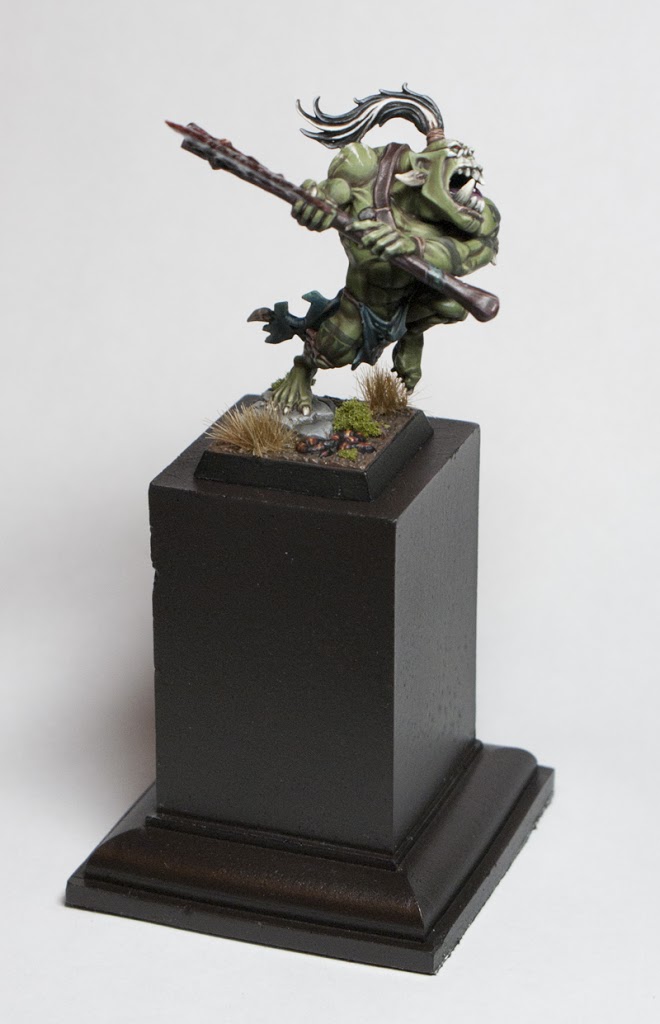 There are a lot of factors that go into a winning model, which do you think is most important. Skill, dedication or planning?
Tyler is a life long painter and hobbyist and took home his first Golden Demon award at the 2012 Chicago Games Day. More of his work and commission information can be found at his blog, Mengel Miniatures. Look for more hobby goodness from Tyler in the days ahead.