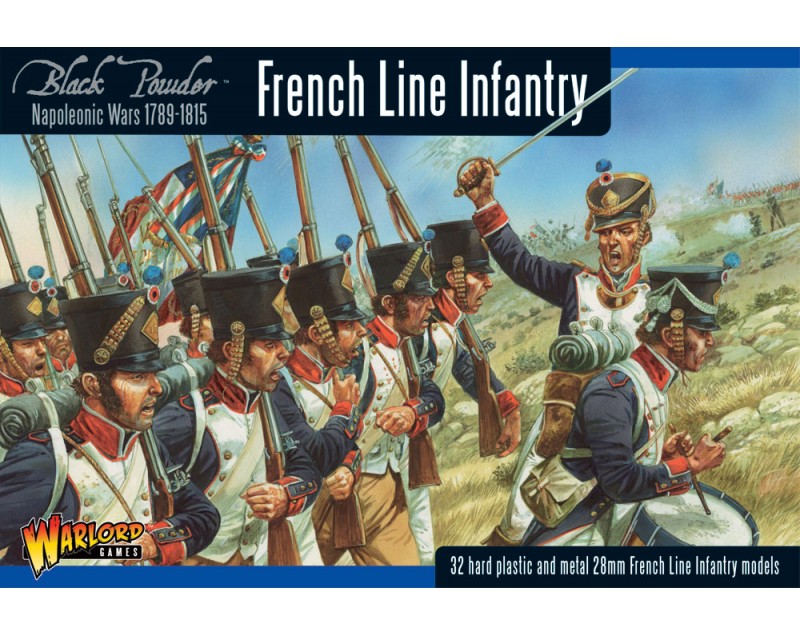 Today I'll enter new territory with my first "Unboxing" article! So come and join me to have look at the plastic Napoleonic French Line Infantry from Warlord Games.
The box contains 28 plastic French infantry (including optional heads for Grenadiers and Voltigeurs), a metal command group, and a full colour background leaflet containing several flags. The set costs 18 british pound, so just under 30 US-$.
The leaflet provides historical background information and acts a rough painting guide, too. In light of the sheer diversity of napoleonic uniforms it seems to be in vain to include more details and players will find proper descriptions with ease. It also shows six different flags which can be cut out.
The miniatures come in seven identical sprues and a little bag with the parts for the command group.
The sprues are very smartly designed with injection points positioned in way that they minimize the work you'll need to put into the miniature during assembly. Mold lines are present, but very small and in places where they are easily removed without destroying details.
There are eight heads in every sprue, four for Line Infantry (to the left) and four for Voltigeurs or Grenadiers (to the right).
The command group consists of two officers, a drummer and a standard bearer, again with different head options. The inclusion of a small metal rod for the standard is a nice extra.
Every miniature is build out of three pieces: body, head and backpack. Assembly is as easy as it could be, I am sure you can put together the whole unit in less than 10 minutes.
The French Line Infantry is clearly true scale (as it is standard in historical gaming) and the Warlord Games miniatures appears almost wispy in comparison to those of GW.
This picture from Warlord Games shows what can be build from the box. One might assume that having seven times the same sprue might result in a lack of variety, but they are just rank & file and even two identical "twins" would most likely go unnoticed.
One negative point is the lack of bases in the box. Although I guess that there are many different ways to base a unit of Napoleonic infantry in different game systems this box is advertised as part of the Black Powder range and bases fitting for this system would be a welcome addition.
In conclusion, this box is an easy and cheap (less than 1$ / miniature!) way to start a Napoleonic army in 28mm and a nice mix of simple yet detailed rank&file troops and atmospheric characters.