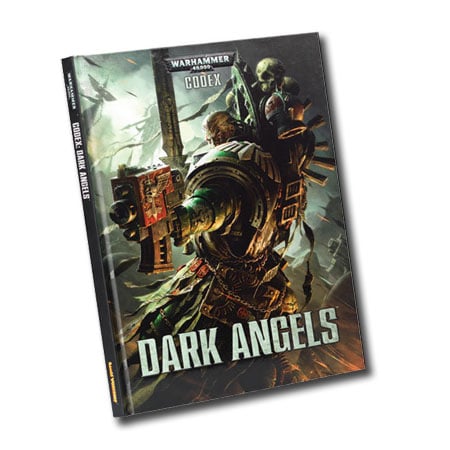 Hey guys, Learn2Eel here, and I'm back here to give my initial thoughts on the awesome new Dark Angels.

I hope this first impressions and review is both helpful and enjoyable for any and all aspiring Dark Angels players, or even those who are looking at what to expect from the first legion! Lets dive right in.

FAST ATTACK

Ravenwing Attack Squadron – Very cost-effective bikers that have many special rules and potential configurations to consider, though they are most notable for their synergy with Deathwing armies (more on that later). Each Ravenwing Biker holds a Teleport Homer, essentially giving the Dark Angels player an easy means of ensuring reliable deep-strike scatter. With Stubborn, Hit and Run and Scouts, Ravenwing Bikers are ideal harassment units – rapid-firing their twin-linked bolters and special weapons, charging in and cleaning up, and if they are charged in return, they can Hit and Run out of the combat and repeat the process! Two can take either flamers, meltaguns or plasma guns, with a squad limit of six – I would recommend taking a full squadron and giving them the plasma guns or the meltaguns (the former usually), giving you a decently balanced squad that can engage many threats. Some interesting options lie in the Attack Bike and the Land Speeder – either make cheap additions to the squad, and can really mix up the targets to worry about in the unit. Ultimately, it can be a good way to free up a force organisation slot – taking two Attack Squadrons means you can take two Land Speeders as part of the squadrons, as opposed to taking two in a Support Squadron. In closing, Ravenwing Attack Squadrons are a fantastic unit that has many applications with many other elements of the Dark Angels force. As a note, do yourself a favour and combine these guys with the Standard of Devastation on a Ravenwing Command Squad – plunder shall be had!

Ravenwing Support Squadron – Land Speeders are great units, being cheap, fragile and ultimately cost-effective fire platforms that are incredibly mobile. A pair with multi-meltas gives you a very cheap anti-tank unit with a horrendous threat range. With many weapon options, they can be kitted out for versatility or be made to fit a specific role – I find that their best use is as fast tank-hunters that force your opponent to focus fire on them to avoid losing their precious vehicles. However, they can be scary with heavy flamers against horde armies. You can take Tornado and Typhoon pattern weapons, giving you an additional weapon, though the costs can mount up quickly – Land Speeders are better when there are more of them with a lighter armament, as opposed to a few with a better armament. Their fragility means you have to expect to lose them – as such, investing too many points into them can prove costly. Overall, you can't go wrong with Land Speeders – they are a very good unit, and one that will regularly surprise you as much as your opponent.

Ravenwing Black Knights – Considerably more expensive than standard Ravenwing Bikers, you gain twin-linked plasma guns with 6" less range, Strength +1 Rending melee attacks, three attacks base due to having two close combat weapons, and Leadership 9 all around, Black Knights are a very nasty unit to use and threatening to almost any target. In addition to their incredibly impressive basic wargear, Black Knights can take one Ravenwing Grenade Launcher for every three models in the unit, for a maximum of three – with access to Rad and Stasis Shells, Black Knights can cause serious havoc whilst considerably weakening enemy units. Imagine the implications of moving 12", firing a 12" range small blast, and any enemy unit hit suffers a -1 penalty to Toughness for the rest of the turn. Use it on a nasty Tyranid Trygon, and then hit it with a Demolisher Cannon. Profit. Putting their cheesy grenade launchers aside, Black Knights are a justifiably costly unit that will cause a lot of damage before going down.

Ravenwing Darkshroud – I will say this right off the bat – I consider this a "must-use" unit for any Ravenwing-heavy army, and even then, this is still a fantastic unit to use in general. For a very cheap price, this over-sized Land Speeder grants Stealth to all friendly Dark Angels within 6", and adds +1 to combat resolution for each friendly Dark Angels unit within 12". Stealth combined with Ravenwing Bikers and Land Speeders for a 4+ Jink save? What about Black Knights who, with Skilled Rider, benefit from a 3+ Jink save? Yes please! It's firepower is minimal, though it can be upgraded to carry an assault cannon. Though it has an unimpressive stat-line, it has the Shrouded special rule, meaning that just by moving it will benefit from a meaty 3+ cover save, making it a tough cookie to crack. For its points cost, it is an amazingly valuable addition to almost any Dark Angels army with any kind of Ravenwing elements.

Assault Squad – What Tactical Marines are to shooting, Assault Marines are to combat – with added mobility, an extra attack and a bolt pistol as opposed to a bolter, Assault Squads are designed to get into the thick of it quickly. In this role, they are quite cheap and hardly a bad choice – they also have access to two flamers or plasma pistols, regardless of size. Whilst this means they are relatively less versatile and will struggle to deal with vehicles, they are still a good option that can benefit from a jump-pack equipped Chaplain or Interrogator immensely. They have the option of dropping their jump packs and taking a Rhino or Drop Pod as a dedicated transport for free, though you will have to weigh up the benefits of keeping the jump packs or taking the transport. Personally, I think jumping them from cover to cover or using mobile cover (such as the Darkshroud or tanks) is a good way to minimize firepower to them without sacrificing their jump packs. Either way, I feel they are a good unit – not bad, but not particularly great either.

Nephilim Jetfighter – Designed to destroy light vehicles and other fliers of its size, the Nephilim is sadly an over-costed unit that seems to have unusually self-conflicting weaponry. It has a Heavy Bolter, a TL Lascannon, and six Strength 6 one-use-only missiles – the heavy bolter is most useful for infantry suppression, though its Lascannon is used to bust through heavy armour, and yet its Blacksword Missiles are designed to do decent damage to light vehicles. The Nephilim can exchange its lascannon for an avenger mega bolter – a Strength 6 AP4 Heavy 5 gun that makes it far less likely to seriously worry AV12 or higher vehicles, such as the recently released Heldrake – one of only two other 6th edition based flyers the Nephilim can compete against. It has Strafing Run and Unrelenting Hunter, the latter allowing it to switch Weapon Destroyed results to Immobilzed results on vehicles it damaged that turn – this makes it more useful in conjunction with other units rather than taken on its own merits. However, as much as I would like to give it a good rating, the Nephilim simply pales considerably in comparison to the Heldrake and 5th edition based flyers – it is mostly due to being harshly over-costed rather than its abilities. These still have a use, but for anti-air weaponry, you are better served elsewhere – whether through flakk missiles or allies (preferably the latter). Target light ground vehicles though, and you will not be disappointed.

Ravenwing Dark Talon – With two hurricane bolters, a rift cannon that fires a Strength 5 AP- Blind small blast and a once per game bomb that causes units hit under a large blast marker to suffer a temporary -3 penalty to quite a few of their characteristics, the Dark Talon appears to be an interesting unit based around the concept of synergy with other elements in the Dark Angels arsenal. Unfortunately, much like the Nephilim, the Dark Talon simply doesn't have the capabilities to validate its high points cost. You can find more effective and efficient firepower elsewhere for cheaper, and as cool as the Rift Cannon and Stasis Bomb are, they are largely situational and limited. Unlike the Nephilim, I feel the Dark Talon isn't a bad choice though – the Stasis Bomb can make a massive difference, especially if you are about to hit your opponent with a lot of other units. As such, looking at the unit from the perspective of synergy, the Dark Talon is a useful though situational unit that is over-costed for what it does.

In Summary – Whilst I would generally avoid the Nephilim and Dark Talon, Ravenwing Attack Squadrons, Ravenwing Support Squadrons, Ravenwing Black Knights and Ravenwing Darkshrouds are all fantastic and can make phenomenal additions to an army. In saying that, both of the new fliers work much better if you have a specific plan in mind that uses them as part of a larger whole – they work very well with other units!

You can read even more Dark Angels thoughts in the Lounge here. Have at it folks – how are the Dark Angels doing in your neck of the woods?