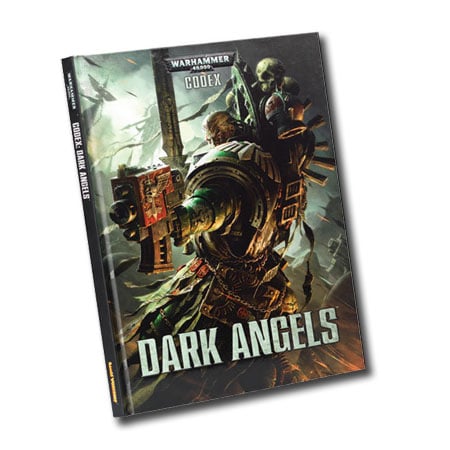 Hey guys, Learn2Eel here, and I'm back here to give my initial thoughts on the awesome new Dark Angels.

I hope this first impressions and review is both helpful and enjoyable for any and all aspiring Dark Angels players, or even those who are looking at what to expect from the first legion! Lets dive right in.

HEAVY SUPPORT

Devastators – Costed like Tactical Marines, Devastators are the most efficient means of adding firepower into your army – and the range of options means it can be difficult to figure out the best use of the unit. The most obvious and popular application of Devastators is as smaller units holed up in terrain in your back-field, providing cheap and necessary long-range firepower. The decision them comes as to which weapon in particular to give them – missile launchers are the most versatile, and flakk missiles are an ok but ultimately pricey addition, whilst lascannons are ok for the cost. The option to take plasma cannons is interesting, though you have to weigh up the risks of over-heating – their reliability isn't assured, though they definitely hit very hard. One thing to note is that with Stubborn, Devastators usually won't run off the board – particularly if you upgrade them to have a Veteran Sergeant. Overall, they are a fantastic unit and probably the most cost effective option for long-range firepower in the codex.

Predator – Cheap, reliable, durable firepower – where have I heard that before? In any case, Predators are your highly efficient tanks that can fulfill one of two specific roles – anti-infantry or anti-tank. Though you can equip them to deal with both with moderate success, I find it reduces their viability and effectiveness. If you want anti-infantry, take heavy bolter sponsons and keep the autocannon – this makes you a decent threat against both monstrous creatures and light vehicles, and most infantry will hate you. The anti-tank version comes with lascannon sponsons and either retains the autocannon or takes a twin-linked lascannon – the choice is yours, though I feel the autocannon may be the more efficient choice; either way, it will blow tanks apart from across the board with impunity. The Predator is hardy, but is quite susceptible to flanking – remember that it is cheap, and make sure not to make it the focal point of your attack. Predators are best as supporting members to a wider whole – like the undercurrent for your Devastators, Deathwing and Ravenwing. They are a great unit to use.

Whirlwind – Sporting an artillery-range missile launcher that fires either a Strength 4 AP5 Ignores Cover large blast, or a Strength 5 AP4 large blast, the Whirlwind is a very decent addition to any balanced Dark Angels army – whilst you have to weigh up against competing units such as Devastators and Predators, the Whirlwind is the cheapest of the three by some margin and easily hidden, given it can fire without needing line of sight. It is strictly an anti-infantry unit, and is best used against hordes – as such, it has a place, though I feel the best choices will usually be those that can give you long range anti-tank firepower as Dark Angels tend not to lack for anti-infantry shooting. With how cheap it is though, you simply can't go wrong.

Vindicator – For some reason I cannot fathom, it is a mere five points more than the otherwise identical Chaos Space Marines version. In any case, the Vindicator is a great way to make your opponent feel the heat – it fires a 24" range Strength 10 AP2 Ordinance large blast! It just rolls off your tongue – obviously, it is incredibly threatening to non-flying vehicles and any kind of infantry, particularly Terminators. Whilst monstrous creatures tend not to worry too heavily about these, Vindicators are still always a big threat and will usually be target number one. In that sense, you should be prepared to lose them in most games – for reliability, I find a pair is the best way to go if you want to field them; one will be destroyed with ease, three will just waste your time. Of course, this means that you are filling up slots that could be better spent elsewhere. In that sense, if you use Vindicators, prepare for their use by getting more anti-tank shooting elsewhere – like the Predator, be very wary of flanking and deep-striking units. Remember that it can be easily neutralized and that taking a siege shield is almost mandatory and you should get a fair idea of how I feel about them – they are fantastic when they fire, they are a waste if they don't. A good unit, but not the best.

Land Raider – A mobile fortress that packs a lot of firepower, the Land Raider is a divisive vehicle; I feel that whilst it is certainly very difficult to destroy in some ways, it is incredibly expensive for what it does. Melta, lance and rending weapons tend not to care about how well armoured your Land Raider is – weapons that tend to be very common in the game right now. In that sense, you always have to weigh up risk versus reward with the Land Raider – whilst it is incredibly durable as far as vehicles go, it is a priority target for your opponent. Remember not to use it for the weapons it brings, as you can get far more efficient firepower elsewhere, but to fulfil its primary purpose – as a transport. Being the only in-codex type of vehicle that can carry Terminators whilst also being an assault vehicle, it has its obvious applications – namely delivering your nasty combat units. However, the standard Land Raider generally isn't the best type of Land Raider in this role – in that sense, I would shy away from it unless you have something specific in mind. An interesting option to discuss for each Land Raider (which I will solely cover here) is the Deathwing Vehicle upgrade; whilst it is expensive on an already expensive vehicle, it would make a Land Raider near impossible to "one-shot-kill" and also grants it Preferred Enemy: Chaos Space Marines. It is a neat upgrade, but again, do you need more points invested in these units?

Land Raider Crusader – As with the Land Raider, it is a mobile fortress that is designed to ferry your hard hitting units across the board, keeping them safe in a near impregnable AV14 all-round vehicle. Where the Crusader differs from the standard Land Raider is in its weaponry, its transport capacity and its assault launchers. With hurricane bolters that can benefit from the nasty Standard of Devastation, the Crusader is great at maintaining fire efficiency on the move – though unlike with the standard Land Raider, you won't really mind losing out on those shots. A note; its guns are great for grounding flying monstrous creatures. Being able to carry sixteen models (or eight models in Terminator armour) means you can create the nasty combat Deathwing unit of your dreams, with Belial and an Interrogator Chaplain attached. Paired with assault grenades from the assault launchers, and you have a recipe for destruction. Still, it is very expensive – with Land Raiders of any kind, you must always weigh up alternative options for transport, given the excessive cost of each. Not purchasing a Land Raider gives you a decently upgraded Deathwing Terminator squad, look at it that way and it can create some interesting issues.

Land Raider Redeemer – As with the other two Land Raider variants, the Redeemer is an assault transport in a durable chassis – like the Crusader, it has assault launchers. Unlike the Crusader, it has Strength 6 AP3 flamer templates on either side and only holds twelve models. Obviously, this means it scares the heck out of most Space Marine players. In any case, it still doubles well as an assault vehicle, though I feel the Crusader is the better overall option in this case.

Land Speeder Vengeance – This is a unit designed as the ultimate glass cannon – firing either a three shot plasma gun or a single large plasma blast, the Vengeance packs some serious and adaptable firepower. However, it is extremely fragile for the cost – despite being twice the size of a normal Land Speeder, it is still exactly as paper-thin. In this sense, though the Vengeance adds good firepower, you should consider what two or three regular Land Speeders could do for a similar cost. However, the Vengeance shines when paired up with its 'kit-brother'; the Darkshroud. 4+ Jink gives it quite a bit of breathing room, though it still won't save it from the inevitable torrent of fire that will come its way soon after firing. Though it is by no means bad, I feel it is probably too easily destroyed for the investment.

In Summary – Devastators and Predators are fantastic, though most of the other units are good or decent.

You can read even more Dark Angels thoughts in the Lounge here. Have at it folks – how are the Dark Angels doing in your neck of the woods?