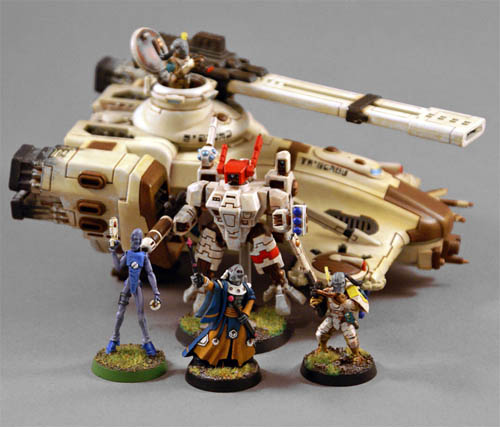 Word is the blue fishmen are inching closer to completion. Here's the latest set of whispered rules.
via Stickmonkey
Caveat: Many of these are said to be "in process". Don't look for *exact match* rules to survive to the printed codex.
Units
Crisis Suits:
Look for more posable new models. Unit keeps its high level of customization, with several upgrades to stat lines possible. New flakk missile pods. New combi-kit includes Broadside parts.
Stealth Suits: Models unchanged. Have stealth, (obviously), plus optional drone granting shrouding.
Sky Ray: Last edition's trainwreck gets a new lease on life. Flakk missiles, plus has orbital bombardment (much like SM version, but with a lingering effect).
Fire Warriors: Same nasty gun. Still BS:3, but with a Shas'O can upgrade unit to BS:4.
Equipment
Drones: Any drone can be used for Look Out Sir rolls for any model in the unit they are attached to.
Markerlights:
A single hit increases BS of all other units targeting the victim by +1. Multiple markerlights have no additional effects. OUCH – look out for possible BS:5, Fire Warrior volleys now! Markerlights improve snapfire against marked flyers to 5+ instead of 6, but must first hit the flyer with a 6 themselves.
Networked Markerlights: A longer range twin linked version. Vehicles only.
There's even more…
~I think its time to pull out the Tau Army and get painting. Have at it folks.