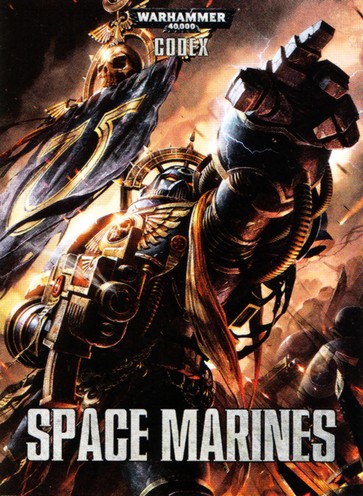 It's been a long time coming, but the mighty Adeptus Astartes should be here this week. Here's the new cover and the latest on Chapter Doctrines.
via, 40KRadio

Chapter Tactics
Successor Chapters – You use the Chapter Tactics of your parent chapter. The ONLY Exception is the Black Templars.
Homebrew Chapters – You can pick any Chapter Tactic you want and use the Special Characters of that chapter. Those characters have to use the same Chapter Tactics as the same Chapter their from.
Allies – "A Space Marine Detachment that has one set of Chapter Tactics MAY ally with another Space Marine Detachment with a different set of Chapter Tactics, Ultramarines and Raven Guard for example. For purposes of the Allies rules these allies are treated as being from two different codexes and are treated as Battle Brothers. Note that you may field models from two different chapters that have the same Chapter Tactics, such as Ultramarines and Praetors of Orpheus in the same detachment. These chapters are so closely affiliated that they count as a single army on the battlefield."
Counts-as
: If you want to use Vulkan in a Ultramarines army you have to use the Salamander Chapter Tactics. So you CAN do "counts-as" of any specific chapter but you lock yourself into their Chapter Tactics. In short, Special Characters are locked to their specific Chapter Tactics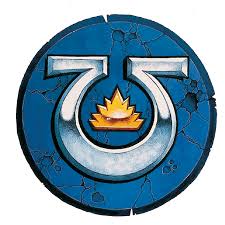 Ultramarines – Combat Doctrine: This detachment can utilize each of the following combat doctrines once per game. To do so at the start of your turn you state which combat doctrine you wish to use, if any, until the start of your next turn. You can only use one combat doctrine per turn.
Tactical: Units in this detachment re-roll ones while shooting, unless they're tactical marines and they re-roll all failed to hit rolls in the shooting phase.
Assault: Units in this detachment can re-roll their charge range. Assault squads, bikes, or attack bikes instead have the fleet rule.
Devastator: Units in this detachment may re-rolls to-hit on snap shots, including overwatch shots, in addition models in this detachment's Devastator squads have the relentless unless they disembarked from a transport in their movement phase.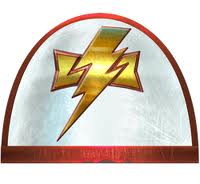 White Scars

– Both of the following:Born in the Saddle:

Models in this detachment with the Bike Unit Type automatically pass Dangerous Terrain tests, and recieve a +1 to their Jink Cover Saves. In addition add 1 to their Strength when resolving their Hammer of Wrath hits.

Fight on the Move:

Models in this Detachment have the Hit and Run Special Rule. Note that this does not include models in Terminator Armor, Devastator Centurions or Assault Centurions.
Imperial Fists

– Both of the following:Bolter Drill:

Models in this detachment may re-roll all to-hit rolls of 1 made with a bolt pistol, boltgun, stormbolter, heavy bolters, or combi-weapons that are firing as boltguns. This rule does not apply to Hellfire, Kraken, Vengence or Dragonfire rounds.

Siegemasters:

Models in this detachment in Devastator squads and Centurion Devastator squads have the Tank Hunter special rule and add +1 when rolling on the building damage table.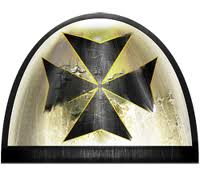 Black Templars – Both of the following:
Accept Any Challenges, No Matter the Odds: When engaged in a challenge, Black Templar Characters reroll all failed to-hit rolls, and have the Rending Special Rule.
Crusaders: Black Templars have the Crusader and Adamantium Will Special Rules. In addition Black Templars have access to a special unit called a Crusader Squad.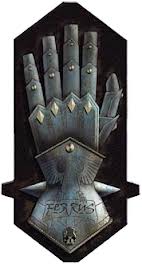 Iron Hands – Both of the following:
The Flesh is Weak: Models in this detachment have the Feel no Pain on a 6+ Special Rule. Note that if they benefit from more than one instance of Feel no Pain they use the best version available.
Machine Empathy: All vehicles and characters in this detachment have the It Will Not Die special rule even though vehicles do not have Chapter Tactic special rules. Furthermore, Techmarines and Masters of the Forge in this detachment add +1 to their Blessing of the Omnissiah rolls.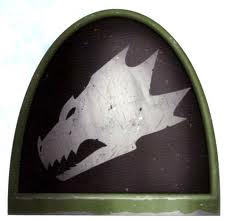 Salamanders

– Both of the following:Flamecraft:

Models in this detachment can re-roll their saving throws against wounds caused by flamer weapons as defined by the Warhammer 40,000 rulebook. Furthermore, flame weapons used by models in this detachment re-roll failed to-wound rolls and armor penetration rolls that don't cause a glancing or a penetrating hit.

Master Artisan:

During the army selection each character in this detachment may upgrade one of his weapons, even one they have purchased as an upgrade, to have the Mastercrafted Special Rule at no additional cost.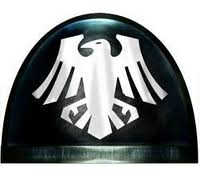 Raven Guard

– Both of the following:Strike from the Shadows:

Models in this detachment have the Scout Special Rule. In addition, on the first game turn, models in this detachment have the Stealth Special Rule. Note that units that include models with the Bulky or Very Bulky Special Rules do not benefit from either rule.

Wings of Deliverance:

Jump Infantry Models in this detachment may use their Jump Packs in both the movement and assault phases of the same turn. Futhermore, they must re-roll all failed to-wound rolls caused by their Hammer of Wrath hits.
Rules and Supplemental Codex Covers – GO!!!
~Oh, I can hardly wait. So which chapter do you think comes out on top?