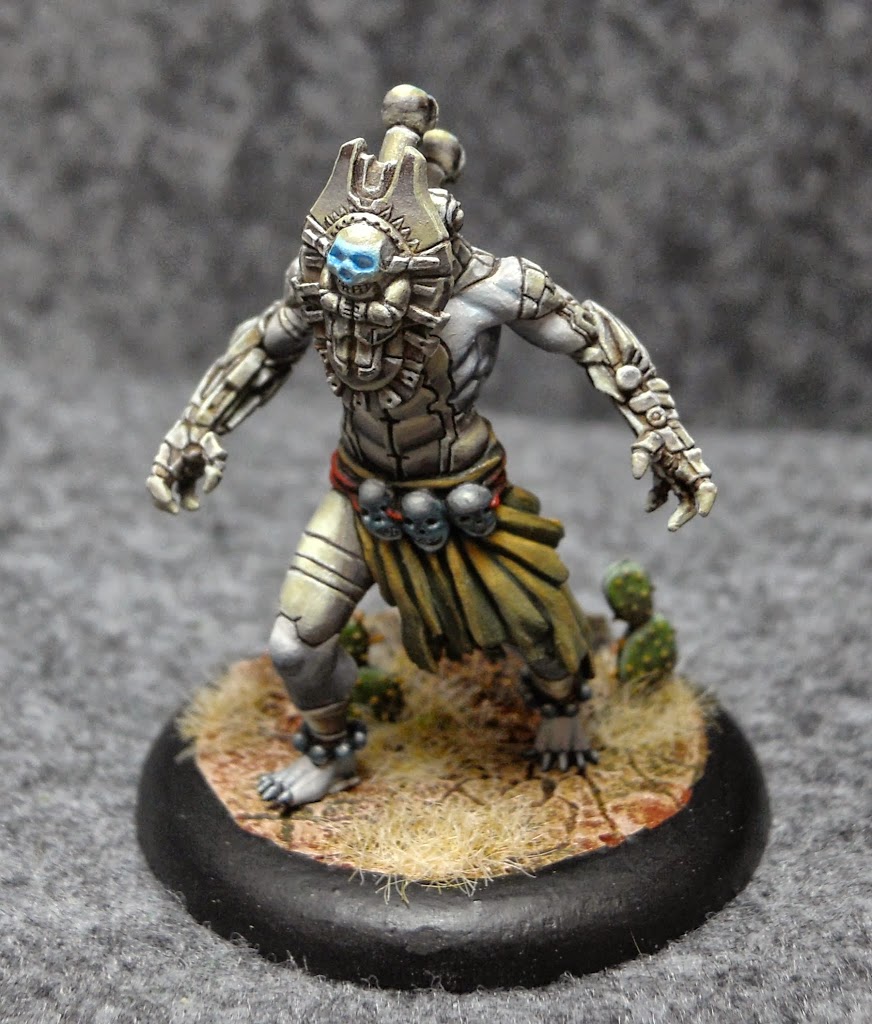 I've finally finished painting my first Dark Age warband. I'm going to walk you through painting a Living Ancestor.

Have you ever had one of those painting projects that feels like it takes forever? You're working on it and it's going great… then something else comes along it gets sidelined. And then it happens again. And then it happens again. Well that's the story of this guy here. I actually started him and the rest of his band of Kukulkani raiders back in June after picking them up at Origins. Painting began almost immediately after I got home. When he was about 75% complete some of the Arena Rex figures got back from the caster so I stopped to paint them. Then I had to get the Hunters Grim finished in time for Gencon. Then I just got so damn excited about Wrath of Kings I had to paint that Iron Ward. Then it was back to this guy and I managed to finish up everything but the basing when some more Arena Rex arrived. Well, as you can see, I've finally finished up that very last part. I think I've delayed long enough so lets get to it.
I wanted to kind of convey a space undead kinda vibe here so I went with lots of weird saturated gray tones rather than the bright golds and other rich colors associated with the Mayan ancestry of the Kukulkani.
I started off trying to pick out where the darkest areas of my pseudo nmm would go. I guess I'm calling it that for lack of a better word. Basically I'm, kind of using nmm techniques but with a weird mix of colors in an attempt to get an unearthly appearance. My starting color was a roughly 2-1-1 mix of Thamar Black, Bloodstone, and Skorne Red. These are P3 colors, as are the rest of the ones I'll be using unless otherwise specified. I didn't realize it back then, but this would become a color I'm really fond of. I've used it in all my painting articles since and I've even started calling it Red Mix.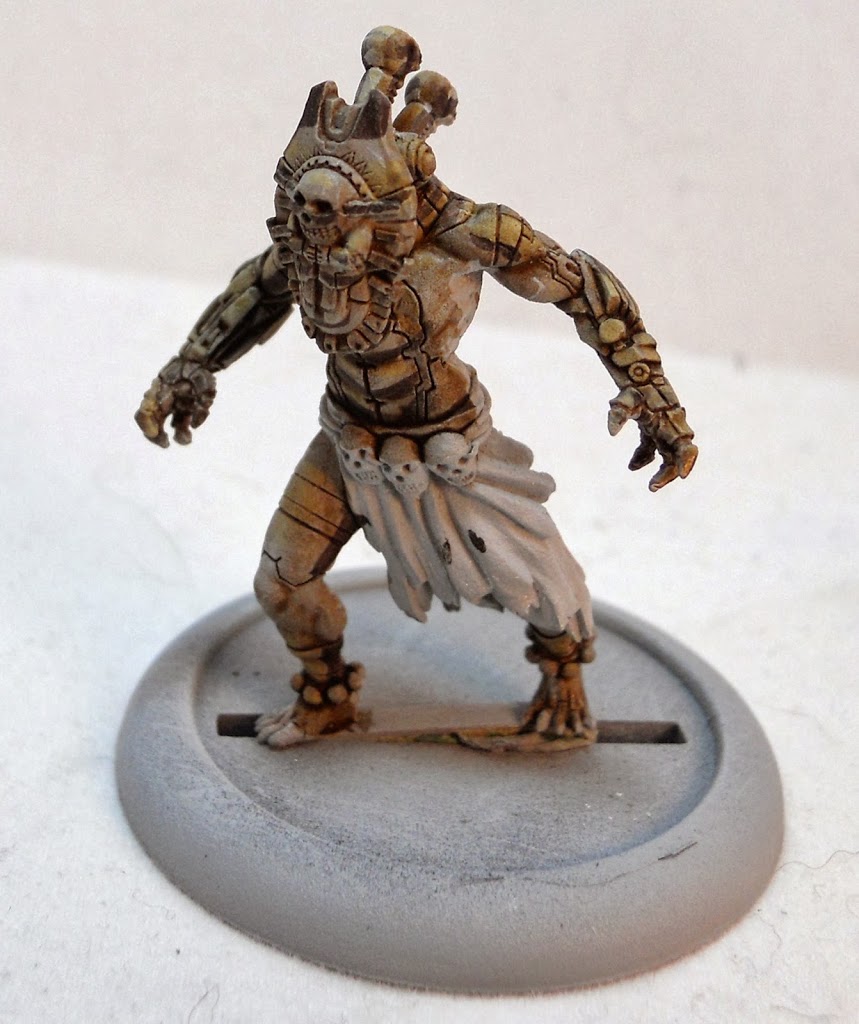 Next it occurred to me that with all the weird lines etched all over this guy's body, a nice wash might help me make sense of all the detail. So I gave him a wash of GW's Agrax Earth.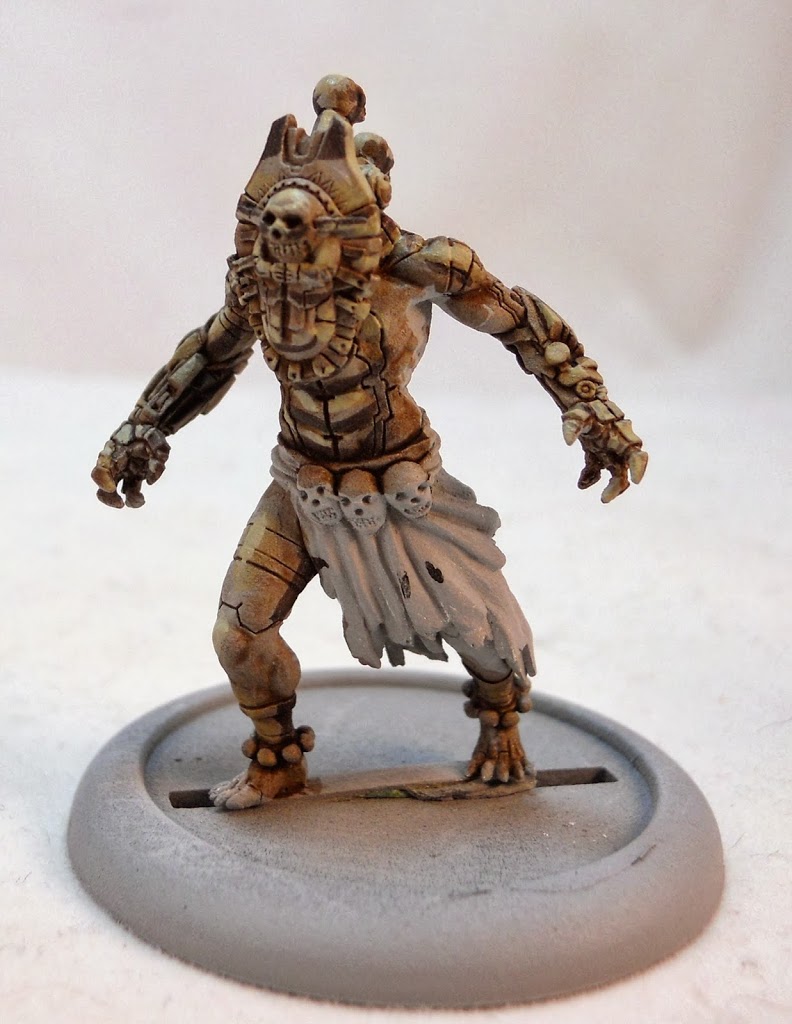 The next step was to start adding some highlights with Thrall Flesh.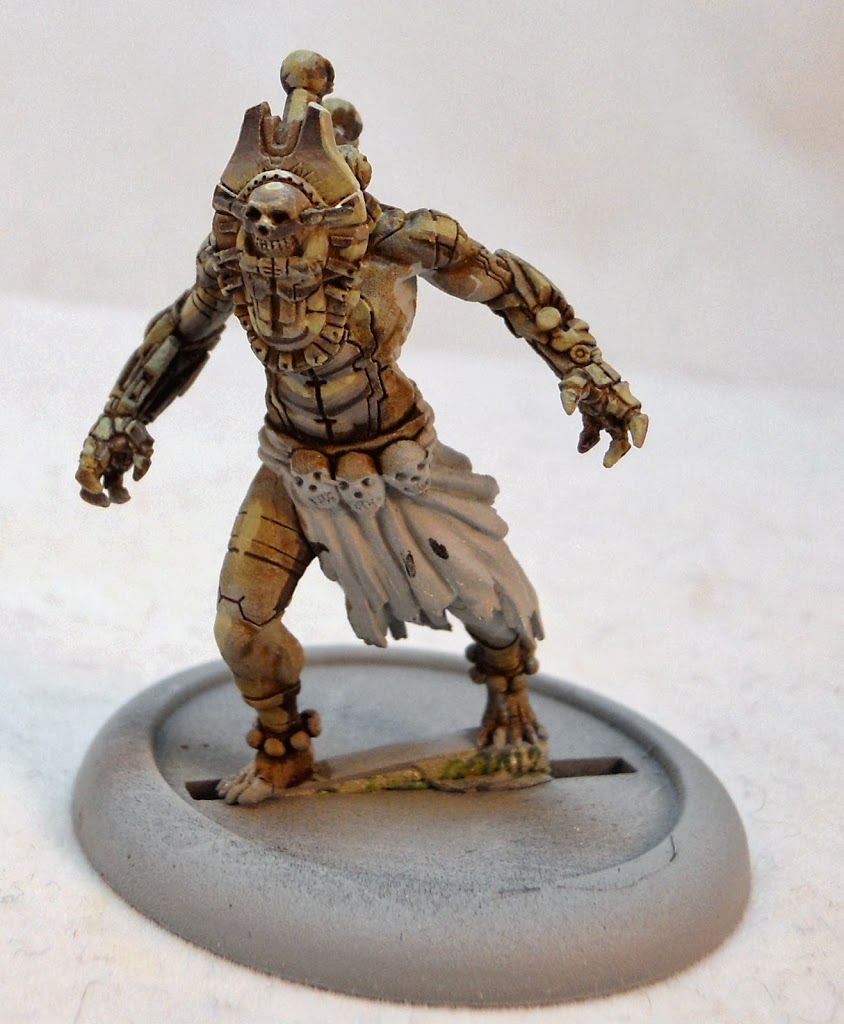 Then I went in with Trollblood Highlight for a midtone.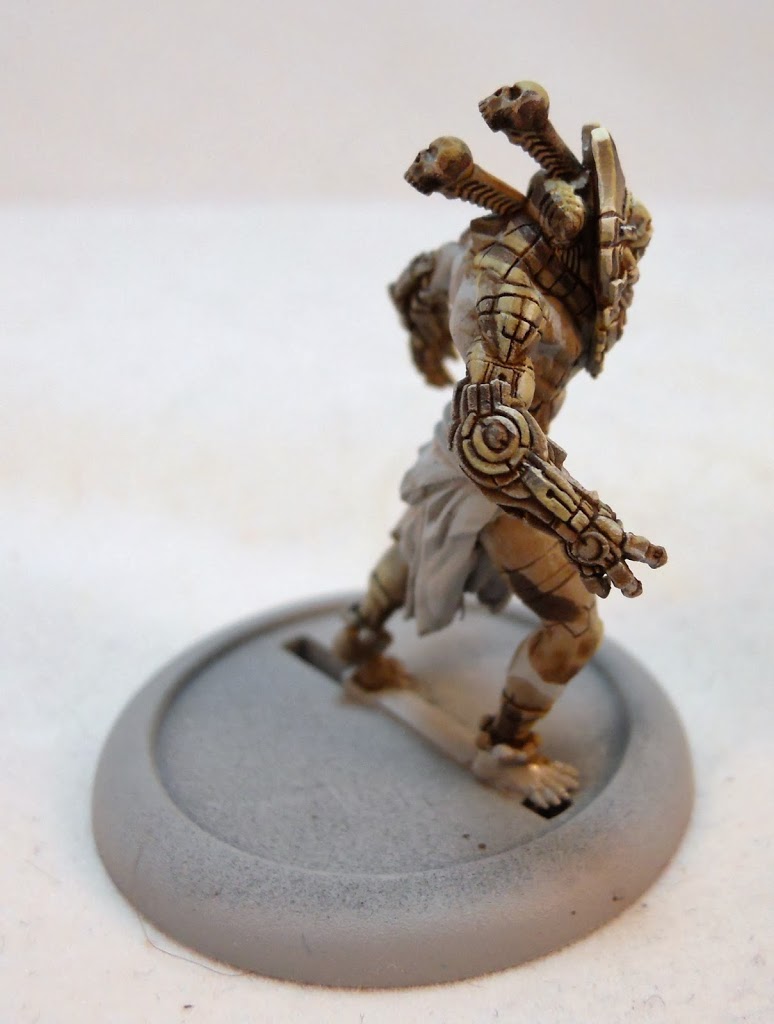 Here's the same step from a different angle.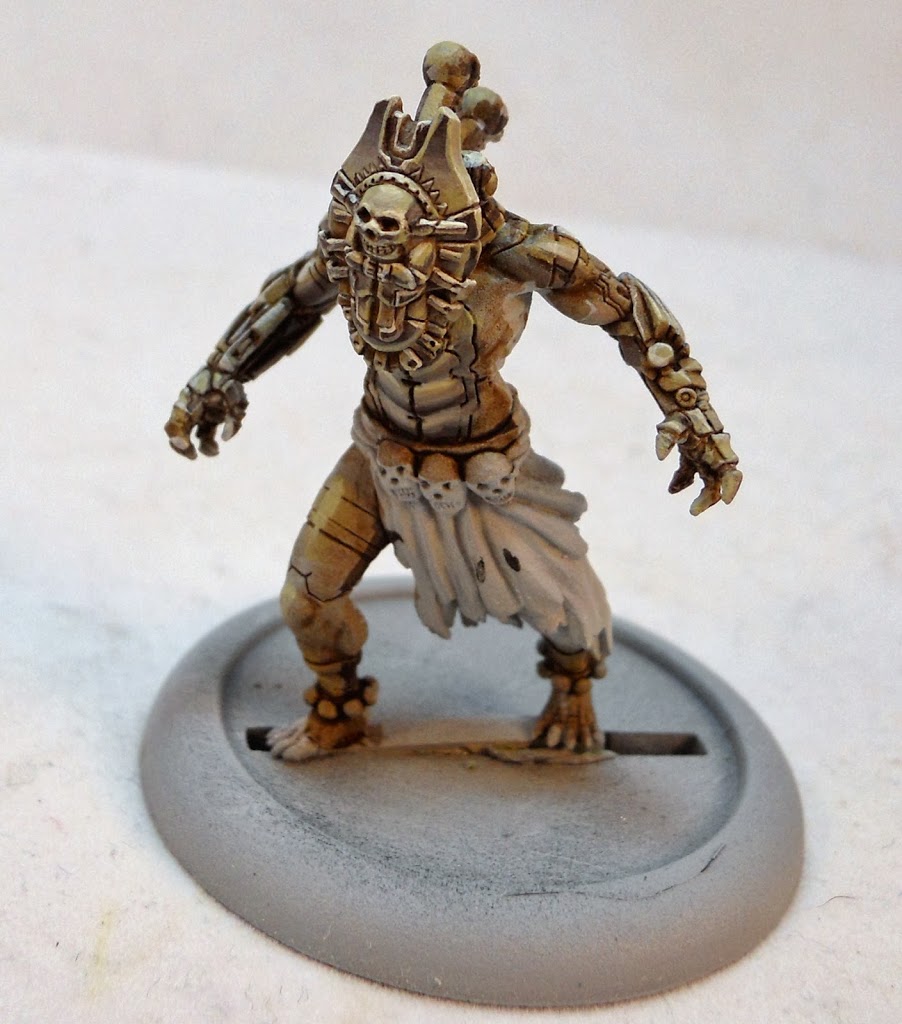 I began to start blending everything together more, then began adding some stark "reflections" across the ridges of certain objects with thin lines of Menoth White Highlight. This should help further that nmm look.
And again: the same step from a different angle.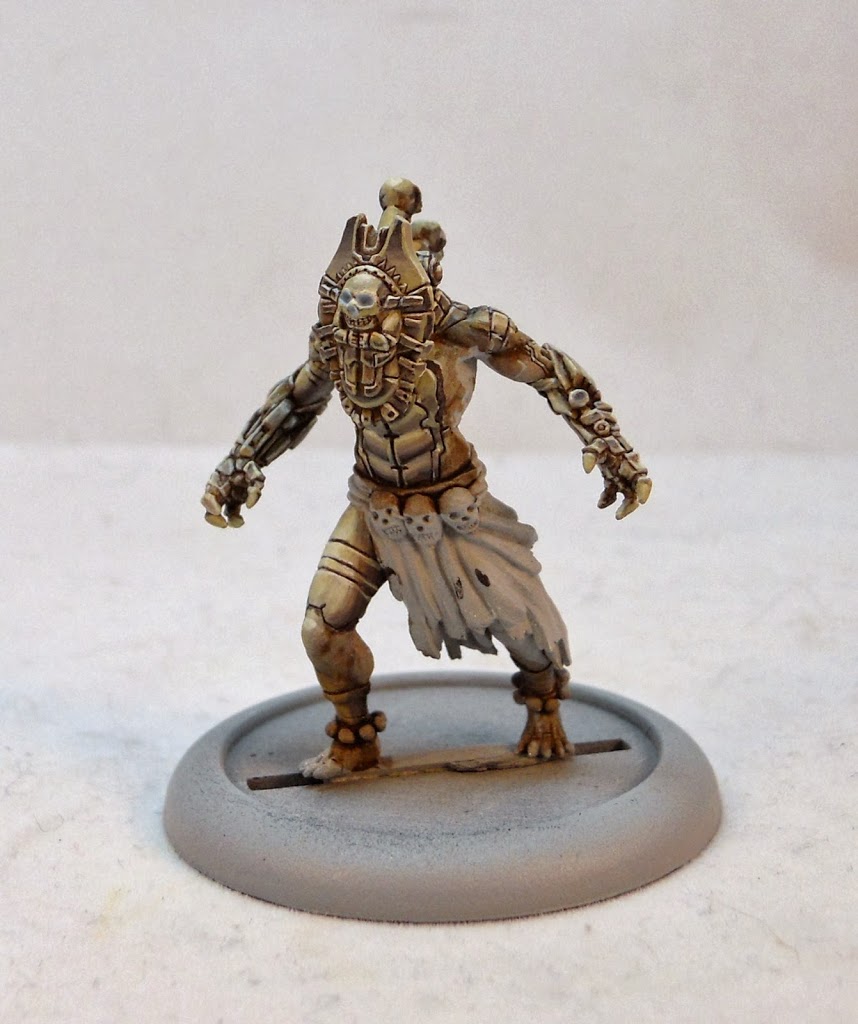 Next I moved onto the eye glow. I started by filling those eye sockets with a nice amount of Frostbite.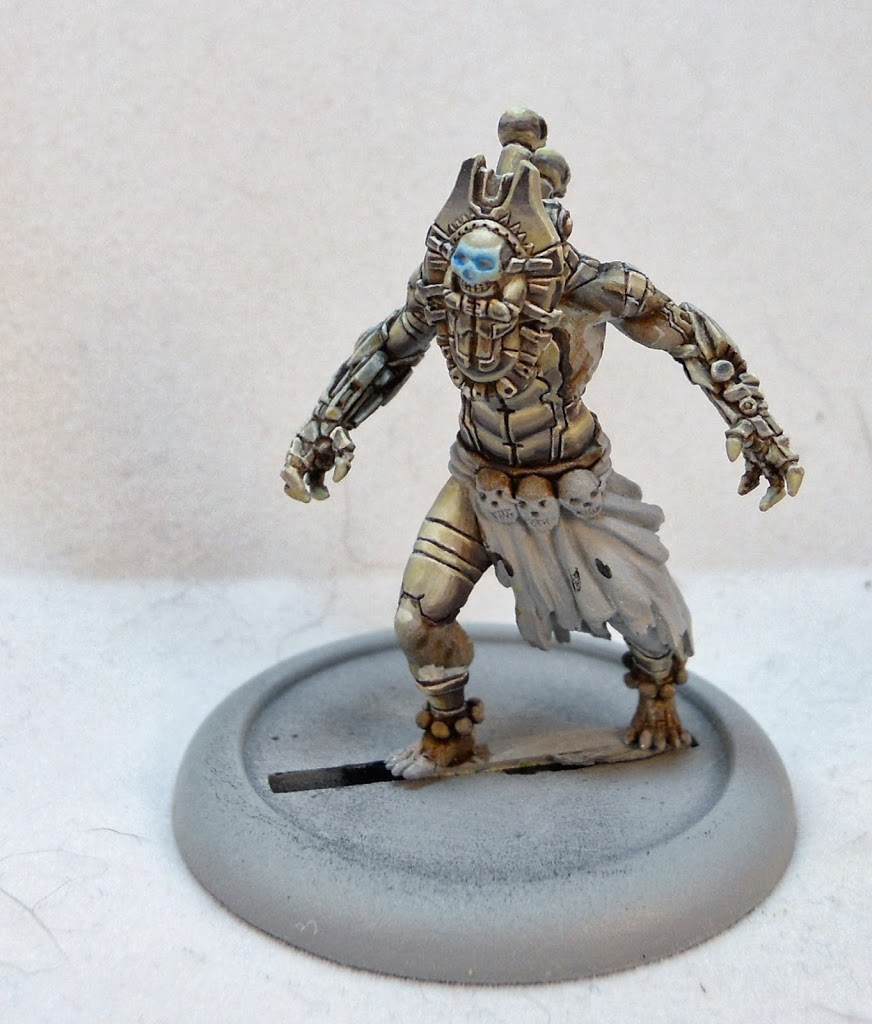 To finish the glows, I blend a little bit of Cygnar blue highlight into the frostbite, then blend that into the surrounding color.
~That's it for now. Check back soon for Part 2.