TUTORIAL: Painting a Kukulkani Living Ancestor Part 2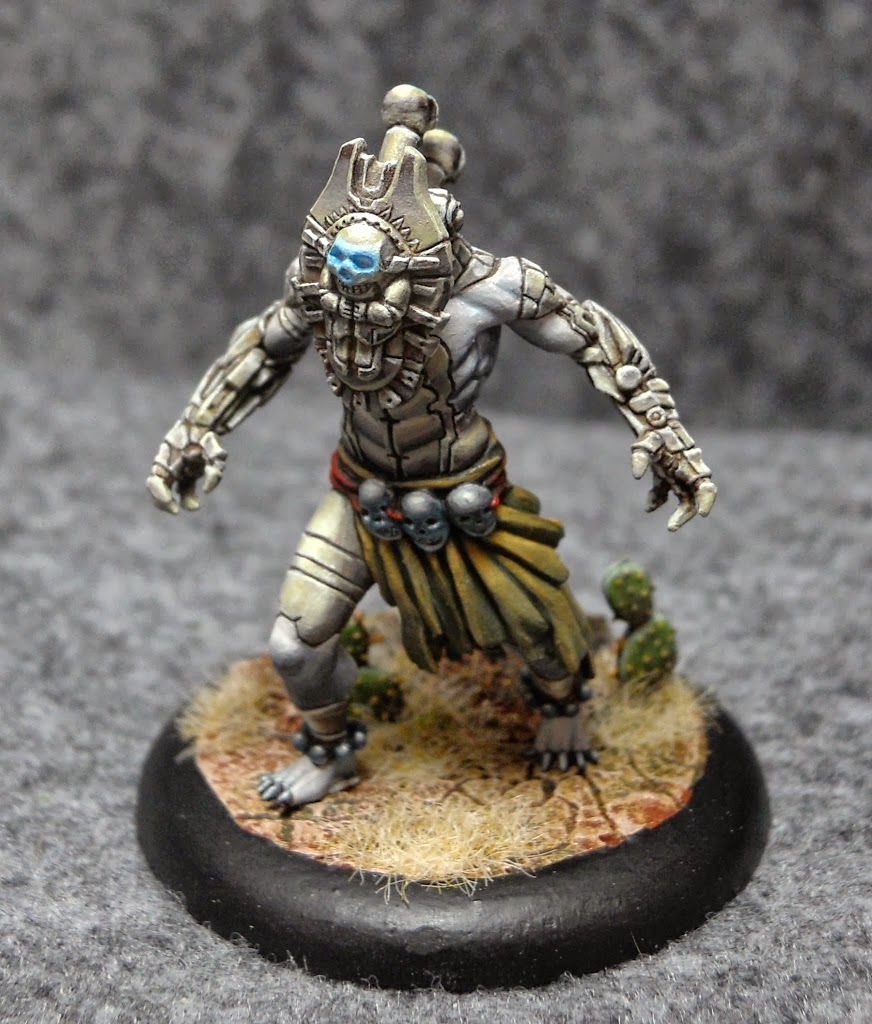 Gentleben here and today we get back and finish up a painting tutorial on a Kukulkani Living Ancestor.
Last time I left off with the eye glow. We start up this time with the skin. It's a 1-1 mix of Frostbite and Ryn Flesh.
I shade the skin with another mixed color: a 1-1 of Exile Blue and Umbral Umber. I apply it in rather stark patches until I have a feel for where I want it all to go. Then I begin to blend it in to the surrounding skin. You can kind of see the start of this process on the right knee and lower leg.
After getting the skin how I wanted it, I began on the tabard. The basecoat was a green mixed from about a 1-1 of Thamar Black and Ordic Olive. I began blending a highlight of Rucksack tan into the base color before it had a chance to dry.
I spend awhile cleaning up the blends and evening out the color.
Then it's on to the crystal skulls. I start them off with a base coat of Coal Black. I add some Thamar Black at the top of each skull.
I lighten up the colors at the base of the skulls with Trollblood Base, then Frostbite. This is to represent light diffusing through the crystal.
Then to represent the light reflecting off that smooth crystal surface, I add some highlights to the top of the skulls, blending Menoth White Highlight into Coal Black.
The last thing to paint are the cords that this guy uses as a belt. each of these gets picked out with Skorne Red.
After struggling for a long time on what bases to use, I settled with something simple: Forgecraft's Lake of Sorrows. These seemed like they'd be good for the cracked arid landscape of Samaria. I added some cactus from a Pegasus Hobbies cactus set.
And here he is from some other angles.
~And I'll leave you with a shot of the group. Keep on painting everybody!
Latest News From BoLS: