It's Official: White Dwarf is Transformed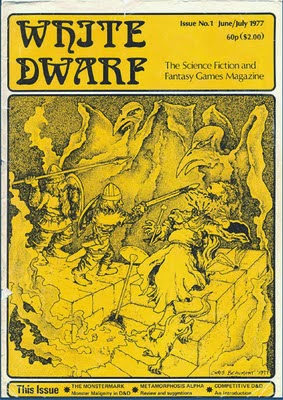 We all know the monthly White Dwarf is history. Here is the official notice from Games Workshop:
via Games Workshop
White Dwarf magazine goes weekly!

Saturday 1 February sees the birth of the new, weekly, White Dwarf magazine.

Saturday 1 February sees the birth of the new, monthly, Warhammer: Visions magazine.

Yes, that's right. We'll be launching two new magazines on the same day, Saturday 1 February.

White Dwarf, now weekly.

From Saturday 1 February, White Dwarf will be available each and every Saturday exclusively in your local Games Workshop store, Independent Stockist and at games-workshop.com

White Dwarf will contain everything that's new and exciting in the hobby that week, from news and information on all the week's other new releases, to new columnists, interviews, painting, modelling, game rules and much more. And the price? The same as a pot of your favourite Citadel paint.

Warhammer: Visions, now monthly.

Warhammer: Visions will be available on the first Saturday every month in your local Games Workshop store, Independent Stockist, games-workshop.com and local newsstands in the UK, Europe and Australia.

Warhammer: Visions is a completely new monthly magazine, also from the White Dwarf team. It's unlike anything we've ever done before and this super high-quality visual feast weighs in at a whopping 236 pages, each and every month.

Subscribe to our newsletter!

Get Tabletop, RPG & Pop Culture news delivered directly to your inbox.

Just 17 days to go and counting.

After months of planning and hard work, we're really excited to be able to share this news with you. We were overwhelmed by all the support and feedback you gave us last time we relaunched White Dwarf back in September 2012 (and by your emails and photos that you send us every day – please keep them coming), and we're even more excited by what we've got coming up for you in 2014.

If you can't wait for Saturday 1 February and want to know more, then your local Games Workshop store manager has more info…
Some notes from the company press release. That new weekly magazine will be showing up each Saturday and new game rules are specifically mentioned, so we will have to wait and see if that is a regular thing, or something that drops in every now and then. Folks who played in 2nd Edition will remember how "diluted" the ruleset got after a few years, with rules spread across literally dozens of books and White Dwarfs. New rules also brings into question potential competetion with GW Digital's dataslates and we know what pricepoint those are arriving at.
Another big question is will the magazine merely cover the new products that accompany it each Saturday (meaning it is largely useless – ie
'look at these pictures of the box 2 feet to your left'
) – or will it be used to tease and tantalize about what is coming the NEXT Saturday. I'd put my money on the former. They also give no details on format and pagecount of the weekly.
Next, no mention of prices, other than "The same as a pot of your favourite Citadel paint."
Finally, you can scrape off the corporate happy talk – having a total relaunch/reformat of a magazine two years after the last big shakeup (September 2012) is not a sign of success in the publishing world.
Right now, we're just going to have to wait 2 weeks and see exactly what the repurposed WD staff is going to whip up.