NEWS: The BoLS Gamewire Launches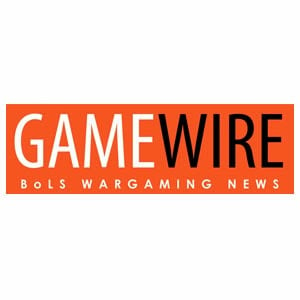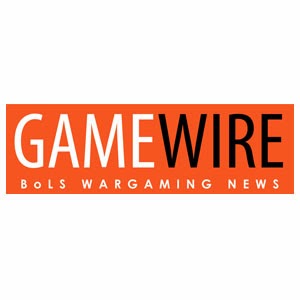 Today we bring the wargames community a whole new way to both spread and get your gaming news – The BoLS Gamewire is here!
Aren't you tired of he-said-she-said news and missing big stories and awesome products from your favorite wargames manufacturers? Why not get your news straight from the horse's mouth!
First of all, where is it?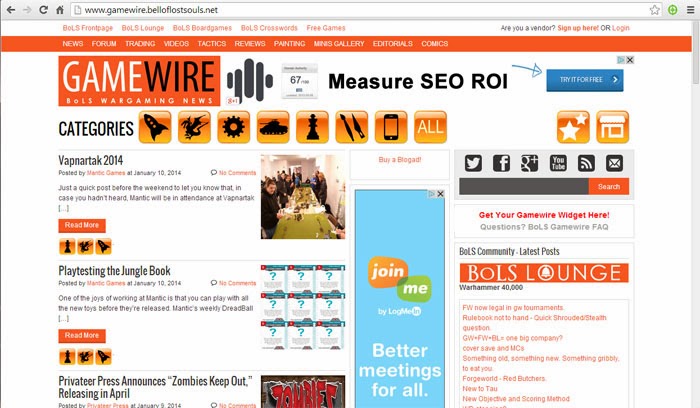 Now, What is it?
The BoLS Gamewire is a wargames and miniatures news syndicator, designed to get breaking manufacturer news directly to the wargaming public. It is a news syndication platform that lets your favorite manufacturers reach hundreds of thousands of real world wargamers like you across a network of wargaming and miniatures websites at the touch of a button – for free.
Who can publish on the BoLS Gamewire?
Any manufacturer who produces products for the wargaming industry is welcome to apply for a free vendor account and joint the syndication network. If your company makes physical wargames and or miniatures of any type, along with any related hobby and or licenced products including boardgames, novels, role-playing games and such the BoLS Gamewire is designed expressly for you.
What is this BoLS Gamewire Wigdet?
The BoLS Gamewire newsfeed can be added to any website via one of our several offered widgets. Simply go to the Widget Page here and copy the HTML for the widget you want. Paste it into your website anywhere you desire and receive BoLS Gamewire news on your website 24/7. Readers who sees the widget on any website, can simply click on the "get this widget" button to be taken to the widget page to access the HTML to add it to their own websites.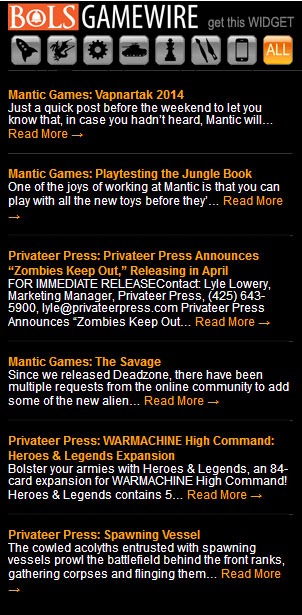 It comes in black and white
What's the catch?
There is none. Wargames manufacturers get additional marketing reach to hundreds of thousands of customers for free. Bloggers and websites can add the widget to their websites to gain access to news for free. Wargamers can easily keep track of all their favorite products and brands on any website that is hosting the news syndicator. It is a win-win-win for all of us!
Subscribe to our newsletter!
Get Tabletop, RPG & Pop Culture news delivered directly to your inbox.
What Do I Do next?
Manufacturers: If you are a wargames manufacturer, apply right away and get your company RSS feeds hooked up to the BoLS Gamewire to syndicate your news to a giant audience automatically. You can also post directly into the new service for breaking news, or offers if you don't have an RSS feed yet.
Bloggers: If you are a wargaming related blogger, grab the BoLS Gamewire widget right away and find a nice place for it on your website. You will now have a direct manufacturer news feed to keep tabs on the wargaming industry 24/7.
Wargamers: Bookmark the Gamewire, and enjoy all the news and breaking products from your favorite wargaming companies and new ones you never knew about 24/7. Keeping tabs on your favorite hobby has never been so easy!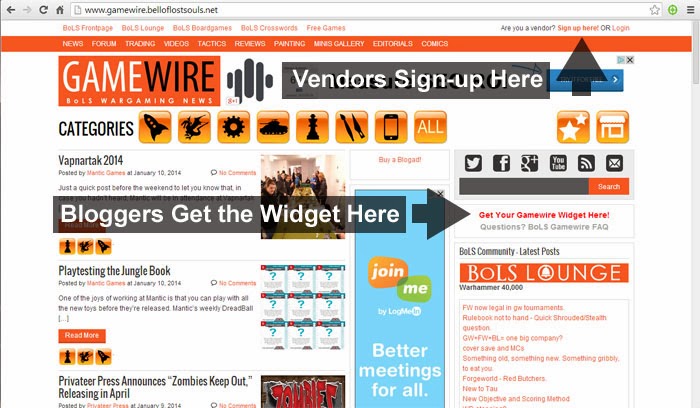 We would like to thank our early adopters, Privateer Press and Mantic Games for helping us beta-test the system and look forward to seeing more and more companies join the Gamewire by the day.
Welcome aboard everybody!