WFB: Wood Elves Inbound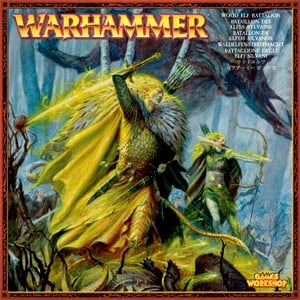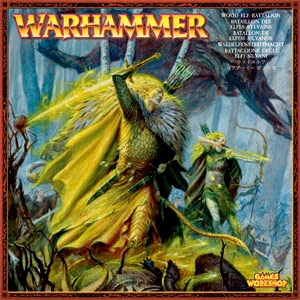 Astra Militarum is here and the denizens of Athel Loren are headed your way. Here's the latest:

This week's White Dwarf ends with:
"If you go out to the woods today… …you'll be in for a big surprise."
Late last week Faeit said:
Wood Elves are out in May. They get only a two week release – armybook, magic cards and three plastic kits. It is not a total overhaul and their finecast kits – even the cavalry plastic-finecast-kits – stay valid. The only exception is the eternal guard. They are dropped completely. The models can be used as war dancers.

One of the new kits is special because it can be used for several different units. You can build either three hawk riders, which are one hawk and two surfers now, or three giant owl-like monsters called stonefeathers and six waywatchers. On top of that you can build a hero on hawk or on foot.

The second kit is a war dancer combokit. The second unit wears varying animal masks and shields made of pelt on wooden frames. They have animal claws as weapons.

The last kit is tree ancient and meadow hag. The former is a giant-sized tree man with a huge beard made of bark. The latter has a crown of leaves and she has a skirt of roots instead of legs. Her hands grow into a web of thorns.

The rest of the range stays as it is, the finecast kits probably mail order only.

The wood elves have very dynamic poses because almost all their units are skirmishers again and the sculptors didn't have to worry about spacing. Skirmishers work seamlessly with other regiments in 9th edition, so there will be no problem with this play style.
Which is broadly similar with the previous set of Wood Elves rumors from November which said:
May Release
The final army book of 8th Edition
New Glade Guard
New Way Watchers
New War Dancers
New Dryads
New Treemen
New War Eagles
New units…

So fairly close to the mark on both sets of units, with only a couple of outliers. The interesting thing to me is word of a triple-unit combo kit. I could certainly see that as one way moving forward of designing kits to get more mileage for WFB with smaller development resources.

~Have at it!
Subscribe to our newsletter!
Get Tabletop, RPG & Pop Culture news delivered directly to your inbox.