40K Regicide Unveiled!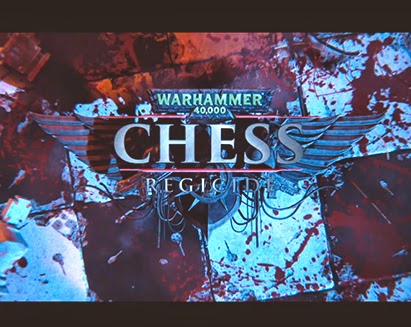 There are so many 40K video games these days it's hard to keep track. Let's take a look:
via Hammerfall Publishing:
Sydney -14th May 2014 – Hammerfall Publishing in association with Games Workshop has announced "Warhammer®40,000®: Chess – Regicide" coming to multiple gaming platforms in 2014. Set in the Warhammer 40,000 universe, the game brings the iconic Games Workshop IP together with one of the most popular board games of all time.
"The game has gone beyond the standard boundaries of chess to revolutionize the way it is seen" said Cathrin Machin, the Project Lead at Hammerfall Publishing. "In creating the ground-breaking new Codex chess engine, the campaign mode represents a world first in strategy gaming".
Players can choose from single and multiplayer classic chess modes, as well as an enthralling Blood Angels story driven campaign based on a totally new concept of chess. The narrative was written by Games Workshop published author Ross Watson.
"When this game was envisaged, it was like two worlds which belonged together had collided." Said Cathrin. "The game honours the sheer brutality of the Warhammer®40,000® universe. It features a multitude of merciless kill and death animations that were created in a state-of-the-art motion capture studio, utilizing military trained fight and stunt choreographers. The game combines these exciting features along with environments, weapons, and upgradeable characters which have been meticulously crafted by some of the industry's leading artists."
On the same day, Hammerfall Publishing have released a cinematic teaser trailer for the Warhammer 40,000 : Chess – Regicide game, created by renowned cinematic studio Plastic Wax. Having created nearly every Warhammer®40,000 game trailer in the past decade, Plastic Wax felt right at home harnessing the game's 3D characters to create a dramatic teaser trailer to announce the title.
"We have a great respect for the Warhammer 40,000 IP, the many loyal fans, and Games Workshop" said Tyrone Maddams, Art Director at Plastic Wax. "We wanted to break new ground, and chose to create the cinematic using a real-time engine . It was important that we created a cinematic which not only represented the quality of the game by using in-game assets, but also does justice to the IP".
About Warhammer®40,000®: Chess – Regicide
Warhammer 40,000: Chess – Regicide combines the intensity and rich heritage of the Warhammer 40,000 universe together with the strategy and tactical play of chess. The game offers seamless cross platform gameplay with stunning visuals and high impact animations. Players can choose several factions from some of the most popular Warhammer 40,000 races; battling in both singleplayer and multiplayer standard chess modes, with an additional Blood Angels campaign mode which takes chess to a new level. Further details on the game can be obtained at www.warhammer40kchess.com
About Hammerfall Publishing
Hammerfall Publishing is a high-tech independent game development and publishing studio based in Sydney, Australia. They specialise in high definition gaming; creating cutting edge experiences for PC, tablet, and mobile platforms. Further details on the company can be obtained at www.hammerfallpublishing.com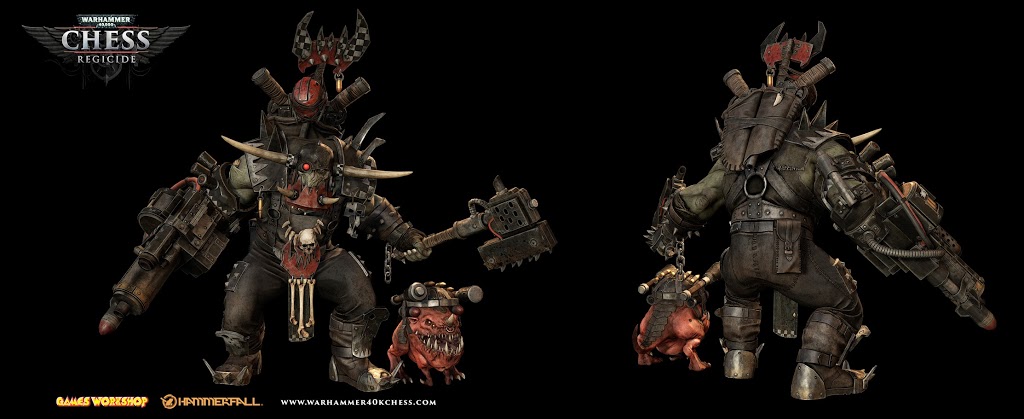 From the Developers:
Our Vision
Posted on May 13, 2014 By w40admin
Subscribe to our newsletter!
Get Tabletop, RPG & Pop Culture news delivered directly to your inbox.
Our vision for Warhammer 40,000: Chess Regicide was clear – to create a game which paid
homage to the vast heritage of Warhammer 40k. Today this vision was revealed.
Beyond the rubble and the destruction lies a tactical game which embodies the brutal reality of the Warhammer 40,000 Universe – both in the visuals and the gameplay.
As a sign of our deepest gratitude, we would like to welcome you with a gift, a free ingame White Scar army skin for every member who signs up in the first 30 days. Signup is free. You can read the full terms and conditions here.
After the sign up please join us on our facebook page. It's really important to us that you have the best possible experience and so we will be there every day to discuss and share the progress of the title with you.
Who's in?