Dark Eldar Codex Rules Tsunami!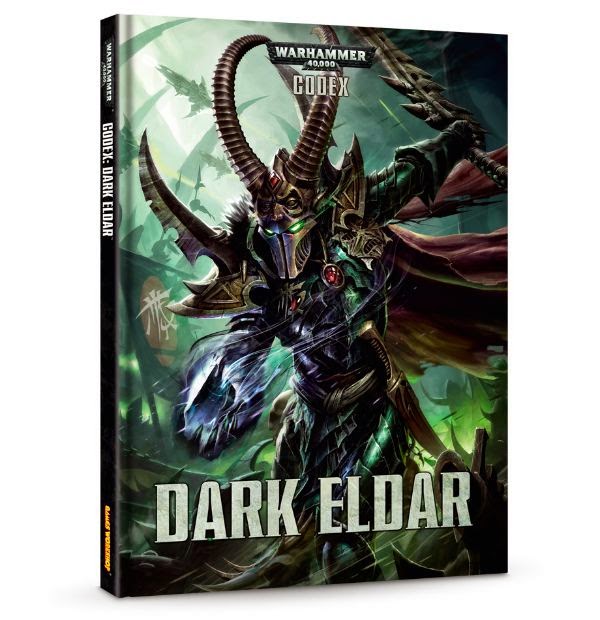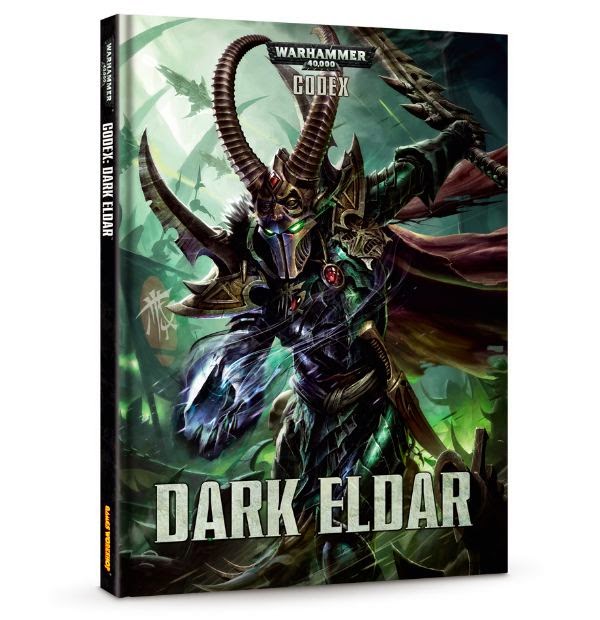 Here's the Dark Eldar Special army rules, artifacts, and much more. The Dark Eldar rules just keep on coming!

Following up on the first tidal wave of rules, reader nonafel put together his own roundup in the comments. Here they are for those who missed em.
Codex Rules:
collated by nonafel (frontpage comments) 9-28-2014

>Wyches invulnerable saves says it works against all wounds in the Fight Sub Phase.
>Combat Drugs work very much the same as before with no FNP option. They are still random and give a +1 to attacks, strength, initiative, toughness, weapon skill, or leadership.

>Warlord Traits

Dark Eldar within 12″ have Fear
Can re-roll the dice for seize the initiative, for night fight, and reserves
Warlord gets Rage
Warlord gets Hatred
Warlord gets +1WS
Dark Eldar within 12″ have Fearless

>Court of the Archon is now 1-12 models chosen in any combination from the four types (So can have 12 Sslyths if you want etc, this same exact method is applied to the Beastmasters where you now dont even need to take Beastmasters if you wanted to), Lhamean 10pts, Ur-ghul 15pts, Medusae 25pts and Sslyth 25pts, can take a Venom or Raider. Stats wise they look the same as before, some equipment changed though. The Lhamean now has a Shaimeshi blade, 2+ Poison with a to wound roll of 6 causing instant death (there's quite a few weapons with this rule). The Medusae's Eyeburst changed to a S4 AP3 Template.

>Hellions are fast attack, no way to change, same for Wracks (Elites) the only two squads that change their role are the Kabalite Warriors when they upgrade (3pts per model) to Trueborn and the Wyches upgrading to Bloodbrides (3pts per model), they both are then considered Elites.

>The Succubus has a new weapon exclusive to her, the Archite Glaive which can be used one or two handed, One handed is S: User AP3 melee while the other is +1S, AP2 and two handed.

>Dark Scythes are 24″ S8 AP2 Heavy 1, Blast, Lance

>Raiders and Venoms are both 55 points base.

>Archons, Succubi, and Haemonculii can all take a Webway Portal for 35pts.

>Raiders, Venoms and Ravagers now have Deep Strike

>Wyches can take three special melee weapons if the unit is at least 10 models.

>Lelith and Drazhar have Rampage.

>No Lord of War, no Vect

>Real Space Raider Detachment: 1 HQ 2 Troops 1 Fast Attack are compulsory, but you can take up to 6 Fast Attack in one detachment.

>Gives a cover save of a 5+ to Troops in the first round and any round with Nightfight. Non-troops get a 6+

>Razorwing Jetfighter is now Fast Attack

>New Voidraven bomb is S9 AP2 Lance Large blast

>Webway Portal is an item that gives the carrier and unit Deep Strike without scatter.

>Talos/Cronos in units of 1-3, T7 3W points near a Wraithlord. Both have FNP. Talos has a new weapon option, 24″ S5 AP2 Small blast.

>Cronos is cheaper, has AP3 and buffs for friendly units

>Beast packs have changed – minimum 12 models (of whatever type); Chimeras have the Daemon special rule. Razorwing Flocks only have 3A. Clawed Fiend is cheaper.

>Splinter Cannon is, 4/6 Salvo. Shredder does not have Mono-filament, but does have Shred.

>As for the Mandrakes, they lost the 5++, but got Shrouded and Stealth. They also start automatically with Baleblast and the only change to it is instead of pinning it has got Soul Blaze.

>Clonefield is a 4++ save. Shadow field the same as before.

>Power from Pain gives a set bonus depending upon what round it is, with no other requirements. The bonuses stack, so by the end of the game, your units really have a lot of bonuses.

>1. None,
>2. FNP 6+
>3. FNP 5+
>4. Furious Charge
>5. Fearless
>6. Rage

>Someone has a Power Lance (I can see it's profile in the summary) in the codex, but I have no specific unit pages so unsure. However, the most logical choice are Scourges, who have a polearm model option for the Solarite

>Cronos weapons stayed the same, they lost their additional support effects though, because Cronos now has a passive aura around itself (described in my prev. post). This is my conjecture but I think Talos and Cronos can be mixed in the same unit for a nice effect of 2 Taloi and a Cronos, with 4+ FnP on all of them

>Baleblast now indeed has Soul Blaze instead of Pinning. Mandrakes also lost their 5++, which means the leak about them having Stealth and Shrouded instead is almost certainly true

>I correct myself – Archon only boosts Power from Pain turn number when fielded in the new Dark Eldar detachment which also grants 5+ cover save for Troops and 6+ cover save for everything else on the first turn

>Shock Prow now gives AV14 when ramming

>Chain Snares now let a vehicle Tank Shock but not Ram

>Splinter Cannons are Salvo 4/6 and got more expensive

>Someone in the codex has a Crucible of Malediction (most likely Haemonculi) – once per game, all Psyker units (Brotherhoods included) within 3D6″ suffer a S6 hit with no saves of any kind allowed

>Artefacts:

Animus Vitae – already described this in my other post

Archangel of Pain – once per game, all units within 9″ test LD with a -2 penalty, then take a wound with no cover/armor saves for each point they failed. Doesn't work against units with ATSKNF

Armor of Misery – a Ghostplate with Fear and -2 LD penalty to all enemy units within 6″

Djin Blade – AP3, +2 Attacks, after all attacks roll D6, on 1 the bearer suffers a wound with no saves

Helm of Spite – Adamantium Will for all friendly units within 12″, Psykers within 12″ suffer Perils on any double.

Parasite's Kiss – Pistol, Poison 2+, Master-crafted, after inflicting an unsaved wound, the bearer restores a single wound.

>I am now almost sure that Venom Blade can be taken on the Acothyst only. There are two different weapons table for Coven and non-Coven units. Coven units get VB, ECW, Scissorhand, Flesh Gauntlet, Mindphase, and Agoniser. Out of these, VB and ECW can only be taken on the Acothyst. Non-Coven units get Power Sword (no option for other types) and Agoniser, that's it. So I Imagine the old VBs of all the kits will now be Power Swords. Also, Haemonculi can no longer take Power Weapons (unless it's specified directly in his profile, I haven't seen it)

>Agoniser is now Poison 4+, still AP3, same cost

>Scissorhand is Poison 4+, Rending

>ECW is Poison 5+ (sic), AP3, Concussive and is also the most expensive of all Coven weapons

>Flesh Gauntlet is Poison 4+, ID on a to hit roll of 6

>PGL does NOT confer grenades anymore – I have not seen the Incubi profile page, so cannot say if they've gained grenades or not

>Both PGL and TGL do not work against ATSKNF

>Monoscythe, Shatterfield and Necrotoxin missiles haven't changed

>There are no new ranged weapons other than Ossefactor and Dark Scythe (24″, S8, AP2, blast, only on Voidraven Bomber), that info about AP2 blast for Talos also seems incorrect, I think someone confused Stinger Pod for it (which hasn't changed)

>Reaver save is still 5+, all HoW attacks are Rending, base is 1 S4 hit, Caltrops D6 S6, Grav is 1 S4 Concussive

>Significant stat changes for Beasts: Khymeras are now S4 and T4 (majority T4 for a Khymera pack!), Rzorwing Flocks are now WS2, A4, W3, Clawed Fiend is now WS3, W3
~Your thoughts on where this codex is going?