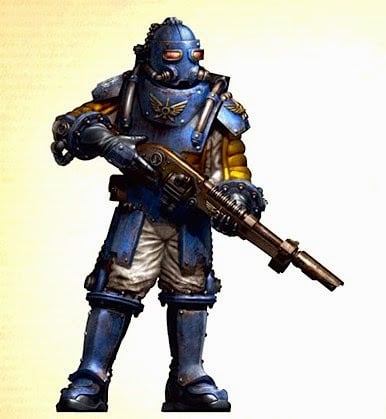 Get ready for details on the newest armylists to hit Warhammer 30K, Solar Auxilia and a Full Knights armylist!


via Still Standing on the BoLS Lounge
I'll give an overview of the Solar Auxilia. The list uses the standard 30k Force Org (so 3 HQ, 4 Elites). Only 1 Lord of War and Fortification, with normal restrictions on army percentages etc.

Most (all?) squads can fire overwatch with Pistol, Assault and Rapid Fire weapons at BS2. When in base to base they are +1 WS, which will be great in Zone Mortalis. The Lasrifle has 3 firing modes 1. 30″ Range, Str 3 Rapid Fire. 2. 36″ Str 3 Heavy 2. 3. 18″ Str 6 AP 6. WIth the last firing mode, you cannot fire next turn, and roll a D6 for the unit, on a 1 you cannot use this firing mode again this game.

HQ

There are a couple of levels of generic commander, a tank commander and a special character name Lord Marshal Ireton MaSade, who messes around with reserves as his Warlord Trait.

Generic commanders have access to lots of weapons, including Paragon Blades and Archaeotech Pistols.

These guys DO NOT have access to Imperial Guard style orders.

The Tank Commander gets one of the following (you pick) Tank Hunter, IWND, Scout + Move Through Cover, PE(Inf), Monster Hunter, Precision Shots. He cannot be your compulsory HQ. He can then ride in any Leman Russ or Malcador, a Valdor or 5 variety of Baneblade chassis.

Elites

3-6 Medics as a single slot. These guys give FNP 5+ and split off to join other basic infantry squads.

1-3 Rapier Batteries. Options are Quad multi-laser, Laser Destroyer, Quad Mortar, Graviton Cannon (40k version, so large Haywire blast).

3-9 Ogryn Charonites. These guys are the standard Ogryn statline, however they can ignore failed Morale checks (at the cost of D3 wounds on the squad due to exploding collars). They are NEVER scoring units and cannot Go to Ground. They have "Charonite Claws" which are Str +1 (so 6), AP3 Melee weapons that any roll of a 6 to hit is AP 2 and has the Instant Death special rule. These guys sound awesome.

1-3 Enginseers with 4-8 Servitors. These guys do what you expect, but also allow you to take Thallax and Castellax as Heavy Support.

Troops

Infantry Tercio is the equivalent of the 40k Platoon. It is comprised of 1-3 Sections. There is no Platoon Commander, you just pick a Sgt to be upgraded to have WS/BS 4 and 2 wounds. No other benefit.

The Tercio consists of 1-3 Sections. There are 3 squad types you can take in here.

Lasrifle Section. 20 strong, no more, no less. In Zone Mortalis they split in two (think Combat Squadding). You can buy, for a modest fee, the ability to fire the Str 6 shot for the entire squad. The only other options are to give a bit of wargear to the Sgt. Squad is roughly 2/3 the price of a naked 30k Tactical squad.

Veletaris Storm Section. 10 strong, no more, no less.Armed with Volkite Chargers, may exchange for Rotor Cannons for free, or Power Axes for 5 points per model. May take Shroud Bombs. Some options for Wargear, but only on the Sgt. Naked price is a Marine more than the Lasrifle section.

Flamer Section. 10 guys, 10 flamers. No options other than Sgt weapons. In order to take one of these, you must take a Lasrifle Section.

For every Section (squad) you can buy an Aegis Defence Line which doesn't take up your Fortification slot. If you do this you must start the whole Tercio on the table on the table and you cannot buy them transports. You can buy the Tercio as a whole Dracosan Armoured Transports.

Dracosan Armoured Transport

13 12 11, 5 HP, capacity 20, cannot carry Bulky or more models (sorry Ogryns). Can take Flare Shields and Armoured Ceramite, plus other more mundane options. Can upgrade to Demolisher Cannon, but htis downgrades capacity to 10 models.

Arvus Lighter. This is a dedicated transport, but I am not sure who for yet, I am still looking.

AV 11 11 10, poor options. Can take a Flare Shield and other mundane options. Can buy a single heavy weapon from the usual basic Guard list. It can Deepstrike though.

Fast Attack

Tarantula Sentry Guns. 1-3 guns, seem to be the same as the 30k Marine ones.

Leman Russ Strike Squadron. LRBT, Exterminators, Annihilators, Vanquishers, in squads of 1-3. May take Multi-Lasers on the front in addition to usual options. May not take sponsons. Has OUTFLANK!!! Has a 6++ against Blast and Template weapons and reroll failed dangerous terrain. Seems most vehicles have this. Once per game the squadron can gain the Fast special rule.

Primaris Lightning – same as 30k Marines.

Thunderbolt Heavy Fighter! Finally have a use for mine. AV 11 11 10, 3 HP. Can buy a Flare Shield. Ignores Glancing Hits on a 6. Has 4 Kinetic Piercer Missiles. 48″ Str 6 AP 2, Heavy 1, Missile, Armourbane, Heat Seeker, One Use. Can swap for Hellstrikes for free, Sunfury Heavy missiles for a small fee. If there are enemy flyers or Skimmers on the table, you must reroll failed Reserve rolls for these guys.

Heavy Support

Leman Russ Assault Squadrons. 1-3 Demolisher, Executioner, Incinerator. The Incinerator has a Volkite Demi-Culverin, which is 45″ Str 7 AP 5, Heavy 5, Deflagrate. No sponsons again. Same rules as the Fast Attack ones, but instead of Fast and Scout, it gains +1 BS if at least 2 vehicles are firing at the target.

Artillery Battery. 1-3 Basilisk, Medusa or Bombard. Must be all the same. Medusa can upgrade to Sunder and Concussive shells.

1 Malcador Super Heavy Tank. Fast vehicle. Very similar to the old IA rules. AV 13 13 12, 6 HP. Main weapon is Twin Battlecannon or Lascannon. Can take a hull Demolisher Cannon or other weaker guns. Can take Flare Shield and Armoured Ceramite plus other mundane options. Can swap the front armour to 14, but lose the Fast rule. Priced like a mid range Land Raider.

Malcador Infernus Specal Weapons Tank. Same as above, but gets a Hellstorm Str 7 AP 3 Torrent (18″) template. Can buy Poison 2+, armour bane, AP2 and Pinning for quite cheap. No option for a Demolisher Cannon on the hull. Priced like an expensive Land Raider.

Valdor Tank Hunter. 13 12 11, 6 HP. Super Heavy. The main gun is the same as the gun from the Scicaran Venator. Priced similar to a kitted out Spartan.

1-5 Cyclops Remove Demolitions Unit. Little tank who trundles across the table and explodes. Base price is around 2 Rhinos in price. Explosion is Str 9, AP 3, Large Blast (5″), Ordnance 1. Can upgrade to Str 5 AP 4, Massive Blast (7″), Ignore Cover, Ordnance 1, or Str D, AP 1, Blast (3″) Blind, Instant Death, Ordnance 1. The last option is VERY explensive, as you'd expect. Despite being a tracked vehicle the model is T6 and 2 wounds, with a 4+ save.

Lords of War

Super Heavies follow the standard 25% of your army, and none until 2000 points.

They can take the Baneblade, Stormlord, Shadowsword, Stormsword, Stormblade, and Stormhammer. There is a nice new pic of the Stormhammer, not sure if it's an upcoming model. Looks nice, but does all the same stuff that a Fellblade does, without the additional rules for the main gun.

Final Notes
I just figured out what the Arvus is for. If you take a Lord Marshal (most expensive generic HQ) you can upgrade Veletaris Storm Sections to WS 4 and they gain PE(Inf) and become Elites. These can take Arvus Lighters or the Dracosan as dedicated transports. Not too bad with Power Axes.

I noticed that none of the Leman Russ varients could take sponson weapons, which is strange.

That's it for now.
Including the Knights!
I love those three firing modes for the Las-rifles – That S:6 option is very cool! Also – ARVUS LIGHTERS!
~ So how do you think these guys compare to the 40K Astra Militarum?