WFB: End Times III: Khaine Arrives (and GOES!)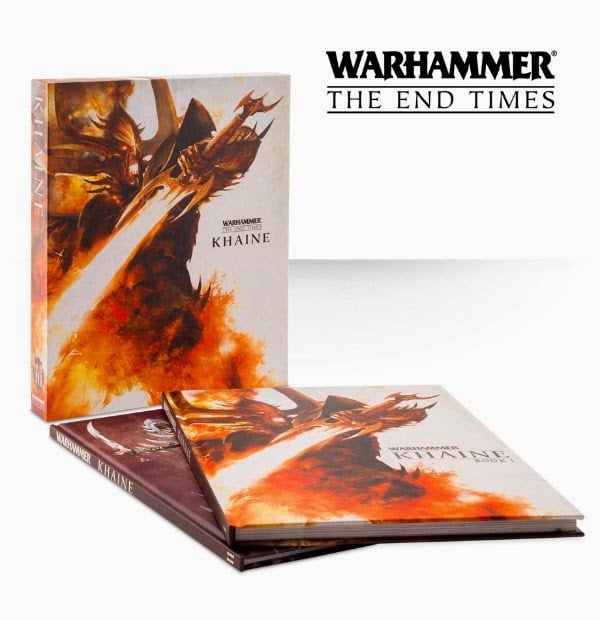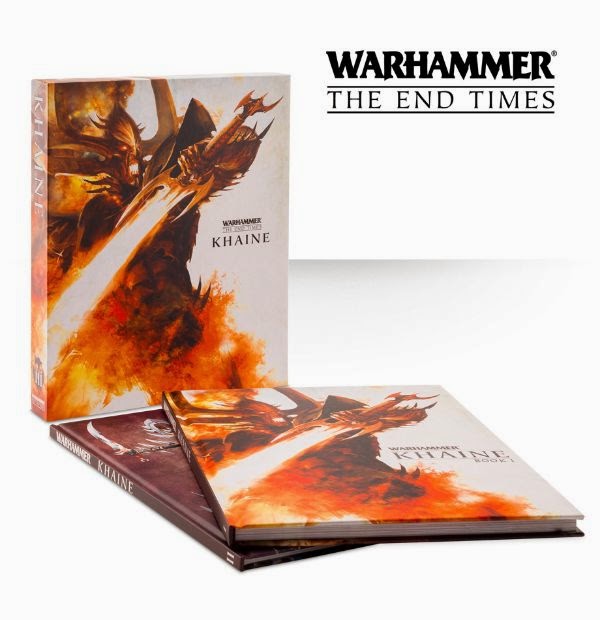 End Times Khaine and goodies arrives – We are now three for three – Khaine is GONE!
Warhammer Khaine $66 (Sold OUT!)
Ulthuan teeters on the brink of ruin as Daemons run rampant across its Ten Kingdoms. Meanwhile, in the grim north of Naggaroth, Malekith the Witch King prepares to face his destiny once and for all. Everything you think you know about the Elves of Warhammer is changing.

Warhammer: Khaine continues the epic saga of The End Times. The fate of Ulthuan is described over two hardback books which are presented together in a sturdy slipcase.

Warhammer: Khaine Book 1 is a 144-page book which details the third chapter of the End Times,the final reckoning between the Elven races.

Warhammer: Khaine Book 2 is a 48-page rules book that contains six new scenarios and orders of battle based on the events in Warhammer: Khaine Book 1. It includes Magic of the End Times, a new spell lore available to all armies, and new army lists, allowing customers to field a unified Elven army drawn from Wood Elves, High Elves and Dark Elves to match different parts of the narrative. It also includes newly updated special character rules for Malekith the Eternity King; Tyrion Avatar of Khaine; Imrik Crown Prince of Caledor; and Alarielle Incarnate of Life.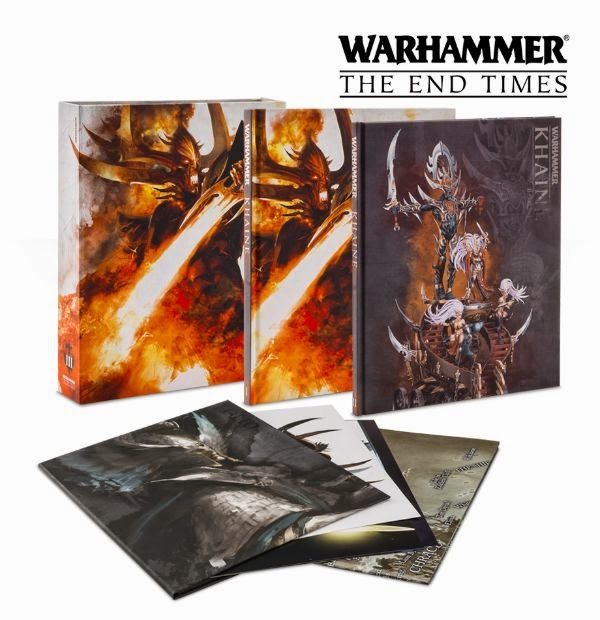 and Limited Edition $165
Limited to 500 individually numbered copies, this beautifully designed edition is a must for any collector. Presented in a magnetically sealed slip case are both the narrative and rules books each finished with varnished text on the covers. Also included is an art wallet containing a double-sided annotated map of Ulthuan, and 4 art prints of Tyrion, Malekith, a titanic fight between Tyrion and Malekith, and Malekith's ascension.
This deck of 22 large-format cards contain the complete set of End Times spells from Warhammer: Khaine. Each card describes a spell and all the information you need to use it in your games of Warhammer.
The End Times are coming. With Naggaroth besieged by the hordes of Chaos, the Witch King Malekith makes the decision to abandon the Land of Chill and make one final attempt to seize the throne of Ulthuan. As the druchii march upon the soil of their ancestral home once again, long-laid plans come to fruition and treachery blooms, bringing Malekith closer than ever to his goal. All that stands in the Witch King's way is the Regent of Ulthuan, Prince Tyrion, and the darkness within Malekith's own soul, the call of the Curse of Khaine.
and the Bundles:
This bundle contains 28 resin Citadel miniatures, including: 1Thranduil, King of the Woodland Realm; 1 Legolas Greenleaf™, Prince of Mirkwood; 1 Tauriel™, Mirkwood Exile; 1 Mirkwood Armoured Elf Captain; 6 Mirkwood Armoured Elf Swordsmen; 6 Mirkwood Armoured Elf Bowmen; 6 MirkwoodArmoured Elf Spearmen and 6 Mirkwood Armoured Elf Cavalry.
So as with Glottkin, if you didn't RUN to the webstore, you need to reserve your copy of End Times Khaine at your retailer of choice. I have no idea how the End Times models are selling but the books are getting bought up instantly these days.
~How are you grabbing your End Times rules?
Subscribe to our newsletter!
Get Tabletop, RPG & Pop Culture news delivered directly to your inbox.