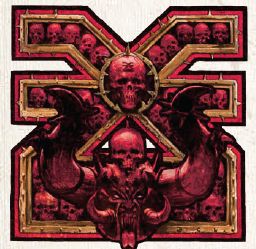 The Blood God looks to be coming to 40k, checkout next week's new releases!
Seems like the rumors were true for 40k Chaos legion rules, as today's news says a new Chaos Space Marines / Daemon codex is on the way.
Couple this with the release list for Sisters of Battle, and 2015 is looking to be a hot year for the 40k scene!
via one of Gary's birds
Codex: Khorne Daemonkin 

£30

120pg hardback Codex. Rules for fielding a combined force of Khornate Chaos Space Marines with Daemons of Khorne.

Warhammer 40,000 Datacards: Khorne Daemonkin

45 reference cards; 36 tactical objective cards; and 9 large-format 'Blood for the Blood God' cards.

Khorne Daemonkin Warband 

£140

10 Chaos Space Marines; 5 Possessed Chaos Space Marines; 5 Chaos Terminators; a Chaos Helbrute; 3 Bloodcrushers of Khorne; 12 Khorne Berserkers; and a Resin Herald of Khorne.
Also New Citadel model cases

Skirmish – 100 infantry size case

Battle – 200 infantry case

Crusader – 400 infantry case
Khorne always seems to get the new toys first!  Who do you think will be next?