Today's feature is on Cool Mini or Not's Dark Age annual tournament series that culminates at Gen Con and offers players a taste of Immortality.
Good day.  I'm Robert Allen.
Each year at Gen Con Cool Mini or Not hosts the Dark Age March to Immortality tournament, challenging players and their hand-picked forces to crush their foes and cling to a little piece of Samaria – or crush it beneath their heels.  The winner of this event gets to create a model of their very own in the Dark Age universe.
Since 2009 this tournament has introduced six models into the game:
2009 – Hoj, Warlord of Samaria
2010 – Jon Woe, Herald of the Heretic
2011 – Phadrus and Maximo
2012 – ANG-1E
2013 – Esh, The Angel of Judgement
2014 – John "Clank" Carter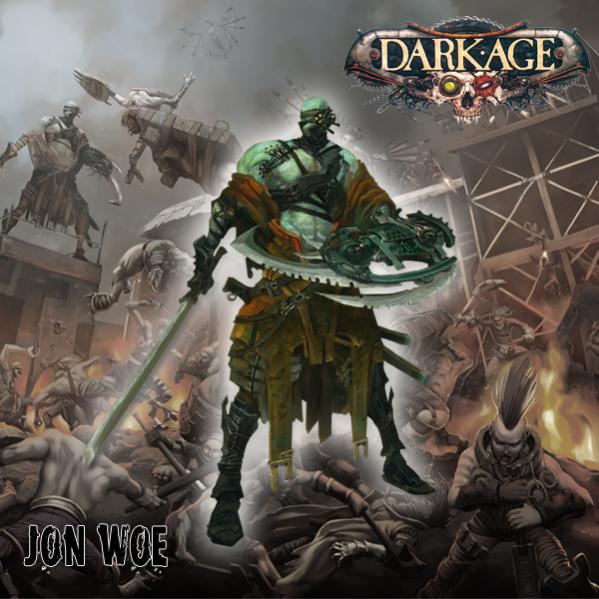 Building up to the big tournament held at Gen Con (this year held on July 30th – August 2nd) are smaller Road to Immortality tournaments.  If these have at least 18 players, the winner is given $200 travel money from Cool Mini or not to come to Gen Con and face the field of opposition with the ultimate prize of Dark Age Immortality on the line.
So far in 2015 there have been two March to Immortality tournaments held, and the winner's forcelists were:
Forsaken – Saint Mary
Saint Mary (130)
Flense x3 (180)
Judah (90)
Cesspool (70)
470/500

This is a very straightforward list, with very little subtlety – the Flense are combat beasts, with four Action Points per turn they can have up to 12 hits on a single model per turn – low strength but that's 12 chances for Criticals and likely to cause anyone to fail armor saves.  Saint Mary and Judah both offer very accurate sprays and the ability to knock enemy models prone (Judah can do this at range!) and finally Cesspool is one of the best Bounty Hunters in the game, with both Rot and Bleed, making him a priority for the enemy to deal with, but Sidestep to make sure they have to pour a lot resources into doing so.
Brood
2x POD [150]
1x Pud Thrower [85]
5x Broodling [100]
1x Alpha Broodling [65]
2x Broodhound [100]
[500]/[500]

This list is much more surprising.  Most Brood players focus on using one of the three Broodspawn variants, which limit the army choices available to the Brood player but do offer some very tantalizing upgrades in exchange for those restrictions.  But this list concentrates very heavily on a swarm-style of Brood with   11 activations PLUS three Puds (from the Pud Thrower), totaling 16 regenerating Wounds – this list is a bear to take down.  Through Regeneration (which, thankfully for the Brood, is not affected by Cauterize any longer) it's going to take very serious attention to kill things, and while you are doing that the rest of the army is likely delivering a heck of a beating to your own force.  Brutal!
If you'd like to read more about the rules for Dark Age March to Immortality, check them out here!
So only two MTIs into 2015 and we have two very different winning lists.  What do you think we'll see next?