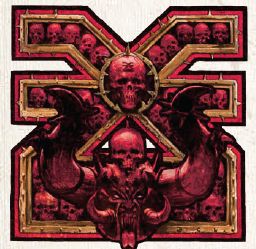 GW shows off the furious rageball that is Skarr Bloodwrath – Don't miss these closeups.

Ohh, look at that cinematography.  The depth of field, the pans, the closeups.  Someone at GW is having a great time with their camera.
OK, in the round, I'm surprisingly impressed with the basic body and movement of the mini.  The face is particularly well done and expressive.  The double axes are somewhat expected, but then you get to the wackiness of the flails attached to the axe handles.
The fluff says that Skarr is immortal and Khorne revives him each time he dies.  I wonder how many of those times he tripped on a chain and landed right on one of those axes?
I'm betting Skarr get used as a Khorne Herald, or CSM Khorne lord a lot.  Just give him a pair of Berzerker chainaxes and call it a day!
~What's your artistic opinion on the new kits?